Moto Honda da Amazonia Ltda. (HDA), a Honda motorcycle and power products production and sales subsidiary in Brazil, held a ceremony on November 10, 2016 to commemorate the 40th anniversary of the company's production in Brazil, which began in 1976. The ceremony was attended by Takahiro Hachigo, President, CEO & Representative Director of Honda Motor Co., Ltd.; Issao Mizoguchi, COO for Regional Operations (Latin America) of Honda Motor Co., Ltd. and President and Director of HDA; as well as HDA associates and stakeholders.
In 1976, HDA began motorcycle production of the CG125 model with 276 associates and annual production capacity of 2,200 units. Since then, HDA has been increasing its production volume mainly with its best-selling mass-production models, the CG Series, and achieved the 10-million-unit cumulative motorcycle production milestone in 2007, and the 20-million-unit milestone in 2014.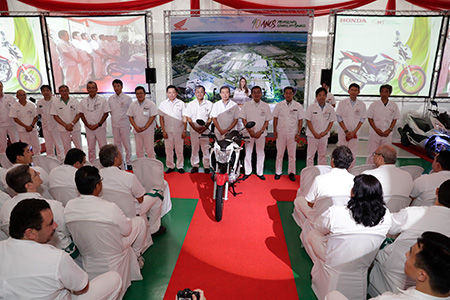 Striving to deliver products that please its customers in a timely manner, HDA has been engaging in integrated production that includes every process from the production of a wide variety of parts and components to final assembly at its plant in Manaus. In addition, at the R&D Center located within the same property, HDA has been strengthening the development of products that accommodate the unique needs of the region. As a result of the continuous offering of products that live up to the expectations of local customers, HDA's motorcycle unit sales now account for 80 percent of overall motorcycle unit sales in Brazil.
Moreover, in addition to the production and sales of motorcycles, HDA has been making a strong effort in the area of traffic safety awareness activities. As a part of such efforts, HDA has built three Traffic Safety Education Centers so far in Brazil.
Comments by Takahiro Hachigo, President, CEO & Representative Director of Honda Motor Co., Ltd.: "I am very proud of the fact that Honda has been able to deliver joy to our customers for so long through our motorcycle business in Brazil. At the same time, I would like to express sincere appreciation to our customers for their longstanding support of Honda. While keeping the "joy of our customers" in mind, we will continue creating challenging products unique only to Honda."
Commemoration Ceremony at HDA
<History of Honda Motorcycle Production in Brazil>
| | |
| --- | --- |
| November 1976 | Motorcycle production began |
| September 1987 | One-million-unit cumulative motorcycle production milestone achieved |
| September 2002 | Five-million-unit cumulative motorcycle production milestone achieved |
| August 2007 | 10-million-unit cumulative motorcycle production milestone achieved |
| August 2014 | 20-million-unit cumulative motorcycle production milestone achieved |
<About Moto Honda da Amazonia Ltda.>
| | |
| --- | --- |
| Establishment: | July 1975 |
| Production Start: | November 1976 |
| Investment Ratio: | 100% Honda South America Ltda. |
| Location: | Manaus, Amazonas, Brazil |
| Representative: | Issao Mizoguchi, President and Director |
| Business: | Production and sales of motorcycles and power products |
| Employment: | Approximately 10,000 associates |
| Major Products: | POP 100i, Biz125, CG160, NXR160, etc. |