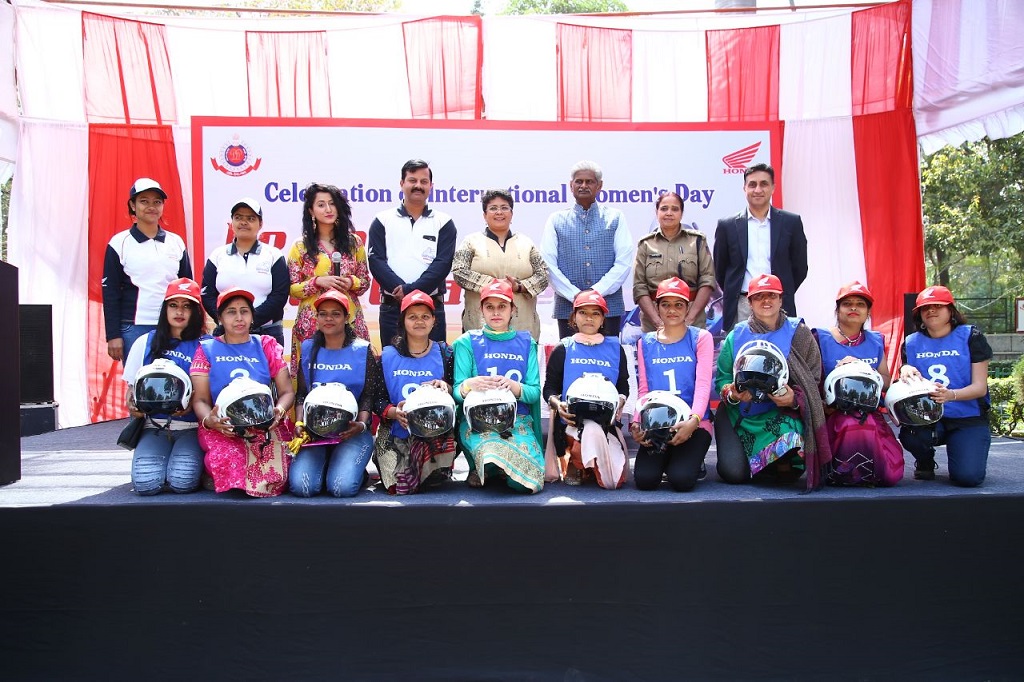 Conducts 'Road Safety Awareness Programme' for women across India
Road Safety Engagement Programme inaugurated @ Honda Traffic Training Park, Roshnara Bagh, New Delhi
Unique Pan-India Road Safety initiative conducted to educate women at 11 Honda Traffic Training Parks across 10 Cities
International Women's Day Rally flagged off in 42 cities across India
New Delhi, March 08, 2017 – On the occasion of International Women's Day, Honda Motorcycle & Scooter India Pvt. Ltd. (HMSI) in association with Delhi Traffic Police inaugurated a Road Safety Engagement programme for women at Honda Traffic Traning Park, Roshnara Bagh, New Delhi
The programme was inaugurated in the august presence of Ms. Garima Bhatnagar- IPS Joint Commissioner, Traffic, Delhi Police, Mr. S.B.S. Tyagi- IPS, Additional Commissioner, Traffic, Delhi Police, Ms. Nirmala Devi- Assistant Commissioner, Traffic, Delhi Police and Mr. Ashish Choudhary- Divisional Head, Sales & Marketing, HMSI at the Honda Traffic Training Park, Roshnara Bagh in New Delhi today.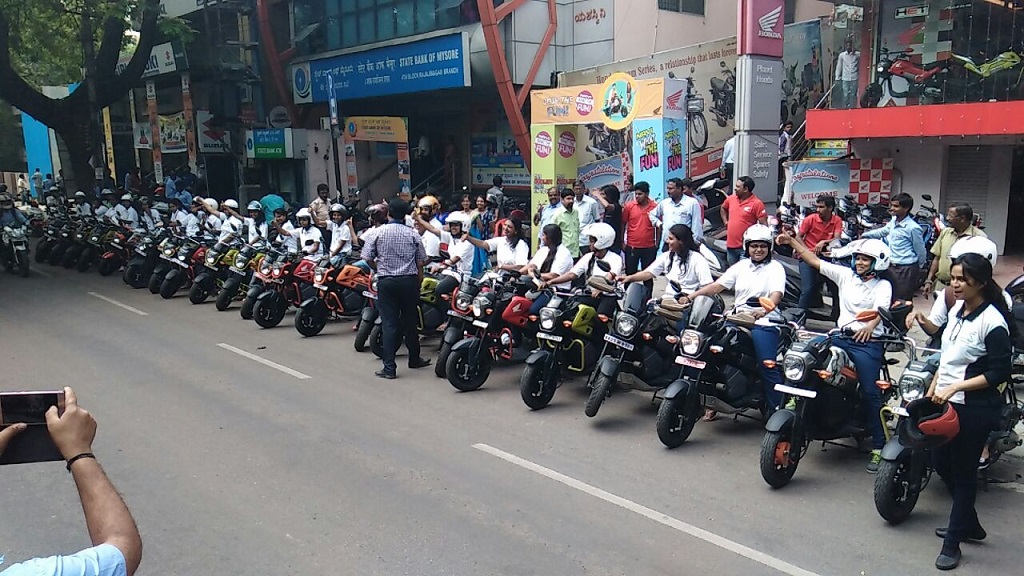 Road Safety Initiative across 11 Honda Traffic Training Parks in 10 Cities
A unique pan India social initiative aimed at educating women on not only the intricacies of 'road-safety, but also providing training on techniques of self-defence. The initiative drew participation from more than 2,000 women across 11 Honda Traffic Training parks in Delhi*2, Chandigarh, Ludhiana, Jaipur, Bhubaneswar, Cuttack, Yeola (Nashik), Hyderabad, Indore and Coimbatore.
This year, special zones focussing on building more confident women 2-wheeler riders and road users were created at all Honda traffic training parks. Participants were taught the significance of using proper riding gear and the importance of maintaining correct riding posture while riding. To ensure safe braking while riding a two-wheeler, Honda created a safe braking zone and trained women on impact of progressive braking and CBS with Equalizer. At the mounting and de-mounting wing of the Safety Zone, women were educated on the easiest way to mount and de-mount the vehicle using the main stand, thereby ensuring safety and convenience.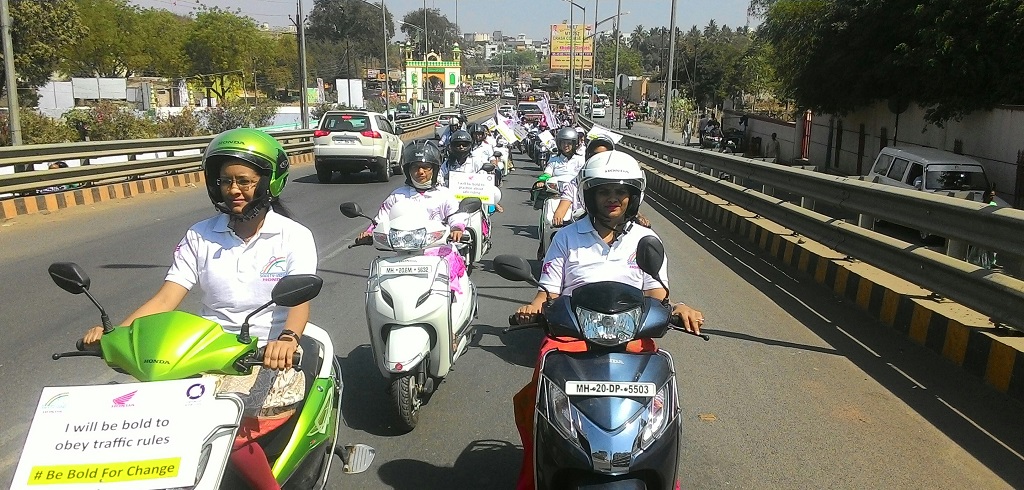 To make it a memorable experience for participants, a Game Zone, a Fun Zone and a Creative Zone were also setup. Women enjoyed various games and won Honda merchandize. Mehendi and tattoo artists were also present at the venues. Participants took part in painting road safety themed canvases. Participants were asked to frame a message on road safety for a lucky draw contest. The winners were distributed Honda merchandise.
Adding another dimension to the innovative riding trainer activity, participants got a chance to experience a 3D view while using the 3D riding simulator.
A health check-up camp was setup at all traffic parks to provide free of cost general body check-up to all women participants.
International Women's Day Rally flagged off across 42 cities
Spreading the message of bold and empowered Indian women across the country, Honda also flagged off International Women's Day Rally in 42 cities across India which received overwhelming participation from around 1800 women riders. The rally covered all major traffic junctions of cities to emphasize on safety aspects and educated women riders on road safety measures.
Excerpts from the company:
Commenting on the occasion Mr. Yadvinder Singh Guleria, Senior Vice President – Sales and Marketing, Honda Motorcycle and Scooter India Pvt. Ltd. said, "We are extremely thrilled to have received an overwhelming response from the Road Safety Engagement programme and rallies conducted across the country. The broader objective of this activity is to build more confident 2 Wheeler riders on the road. Being an independent mobile citizen on 2Wheels is a testimony of bold and empowered Indian woman. On this occasion, I would also like to thank all the participants who came forward and joined us in celebrating the spirit of womanhood."
Honda's Road Safety commitment:
Globally, road safety is Honda's top priorities since 1970. In India, Honda 2Wheelers is promoting road safety right from its inception in 2001. Since then, the company has educated more than 10 lakh people of all age groups on safe riding. Leading the cause from the front, Honda 2Wheelers is the first two-wheeler brand in India to adopt 11 traffic training parks across India in Chandigarh, Ludhiana, Jaipur, Delhi*2, Bhubaneswar, Cuttack, Yeola (Nashik), Hyderabad, Indore and Coimbatore.
Honda recently conducted pan-India 'Road Sign IQ Survey', which saw participation from almost 1,500 two-wheeler riders across 10 key Indian cities during the National Road Safety Week. The survey showed that 78% of Indian 2Wheeler riders do not recognise even half the road signs. With this, Honda educated over 24,000 people on road safety in 250 cities during National Road safety week 2017.