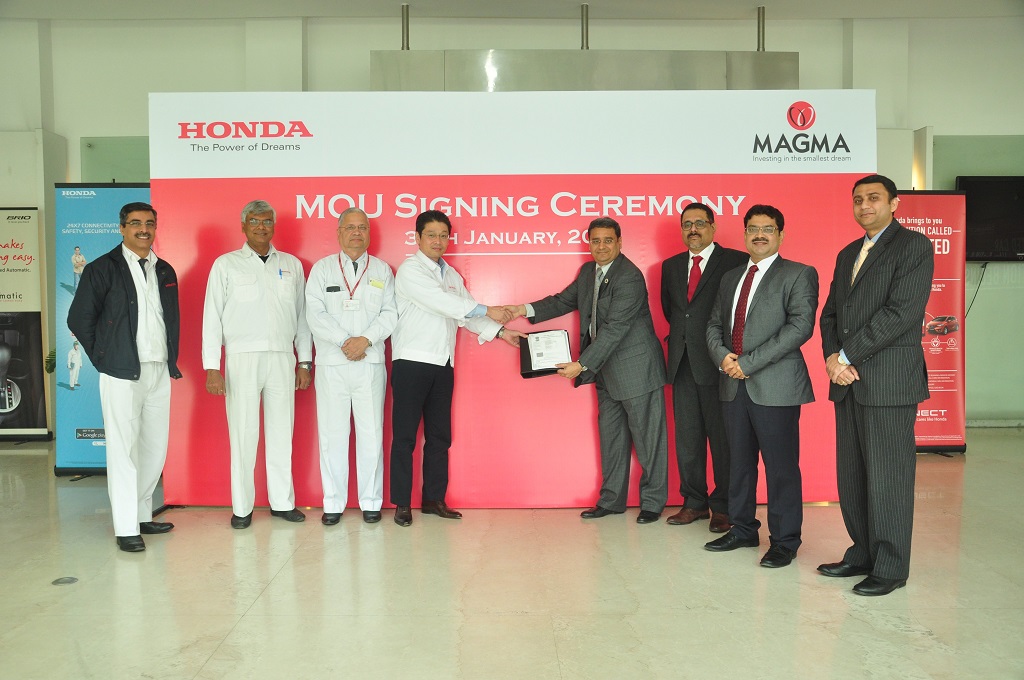 New Delhi, January 30, 2016: Honda Cars India Ltd., leading manufacturer of premium cars in  India, today signed a Memorandum of Understanding (MoU) with Magma Fincorp Limited, a leading Non Deposit taking NBFC for financing their cars across India. This association will help customers by providing them convenient and easy availability of auto loans with a wider reach.
Magma Fincorp Limited will offer car loans up to 90% of the cost of the car, for tenure ranging up to 5 years at competitive rates. This facility will be available at all the branches & locations covered by Magma Fincorp Limited and 275 facilities of Honda Cars India Ltd.
Speaking on the occasion Mr. Raman Kumar Sharma, Sr. Vice President and Director, Honda Cars India Ltd. said, "We are glad to associate with Magma Fincorp to provide end to end car finance facilities to our customers. Honda is a customer centric company and respects the needs and aspirations of our customers. This tie-up will provide a single window for purchase of the car including its finance and will give better buying experience to our customers."
On this occasion Mr. Sachin Khandelwal, Chief Sales Officer & CEO & MD, Magma Housing Finance said"Magma brings to the table, in additional to Urban presence, a special focus on RURBAN sector (Rural and Semi-urban) with a widespread coverage through 228 branches and presence across 1,600 Talukas & 2,900 Locations. Magma has a base of 6.5 lac plus "active customers" & manages a Loan book of about Rs 19,000 crore.
Magma and Honda, leading players in their respective fields complement each other perfectly & would enable the prospective customers of Honda Cars, the privilege & opportunity of owning a Honda Car even in remote areas through Magma," he added.
Mr. Sumit Mukherjee, National Business Head of Asset Based Finance in Magma Fincorp Ltd, said"Our Field force of 3700 address the informal & "Rurban" customer segment with limited banking access & no prior credit history. These customers are taking a loan for the first time. This is real time financial inclusion at work. Our Field Officers are equipped with Tablets & printers making them capable of operating from any location (virtual office) which allows Electronic transfer of loan application with all documents from point of sale. Due to this we are able to increase Penetration, Turnaround Proposals faster & convert leads better resulting in significantly better customer engagement & customer experience. Our field officers are capable of providing single day decisions with offerings up to 90% with maximum loan tenures up to 5 years."
About Honda Cars India Ltd
 Honda Cars India Ltd., (HCIL) leading manufacturer of passenger cars in India was established in December 1995 with a commitment to provide Honda's latest passenger car models and technologies, to the Indian customers. HCIL has two state-of-the-art manufacturing facilities at Greater Noida, U.P and Tapukara, Distt. Alwar, Rajasthan.
The company's product range includes Honda Brio, Honda Jazz, Honda Amaze, Honda Mobilio, Honda City and Honda CR-V. Honda's models are strongly associated with advanced design and technology, apart from its established qualities of durability, reliability and fuel-efficiency. The company has a strong sales and distribution network with 275 facilities in 177 cities spread across the country.