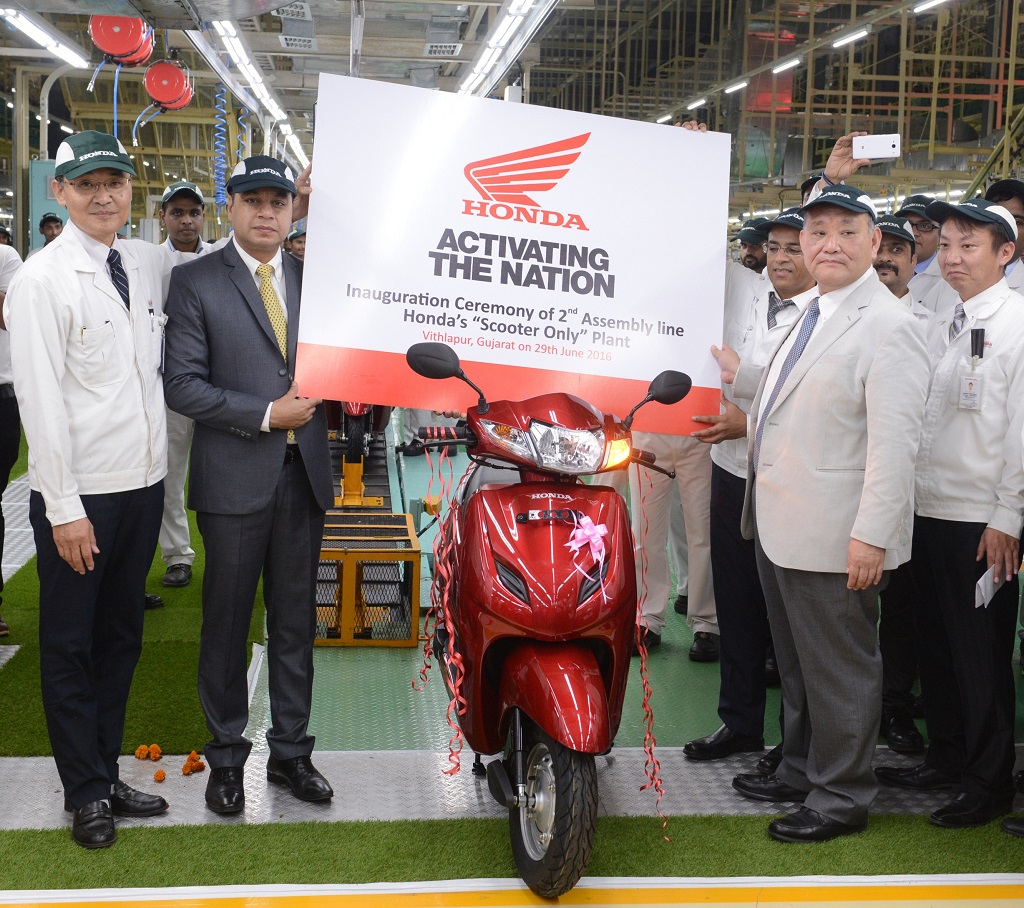 ~ Honda's 'Fastest Ever Expansion' to 100% capacity creation achieved in just 4 months of plant inauguration ~
Production expands by new 0.6 million units to 1.2 million units annually at 4th plant in Vithalapur
With this expansion, Honda's combined annual production capacity is 5.8 million units in 4 Plants
With increased scooter production before festival Honda gears up to expand its leadership in scooters
Honda Motorcycle & Scooter India Pvt. Ltd. today inaugurated the 2nd assembly line of its landmark fourth manufacturing plant at Vithalapur (Mandal taluk, Ahmedabad district) in the western state of Gujarat.
Realizing Dreams with Speed
Adding an additional 6 lac units annual production capacity, the 4th plant's total capacity has now reached 1.2 million units annually. The second assembly line inaugurated today is an exclusive scooter assembly line and will produce India's largest selling two-wheeler Activa.
This expansion increases HMSI's total annual production capacity to 5.8 million units, including 1.6 million units at first plant (Haryana), 1.2 million units at second plant (Rajasthan), 1.8 million units at third plant (Karnataka) and another 1.2 million units at the fourth plant (Gujarat).
Elaborating on this milestone, Mr. Keita Muramatsu, President & CEO – Honda Motorcycle & Scooter India Pvt. Ltd. said, "India is not only the World's No. 1 two-wheeler market but is also going to be the No. 1 contributor to Honda global 2Wheeler sales for the first time in this fiscal year 2016-17. Scooterization, a trend seen earlier in developed markets of the world, is firmly driving the Indian 2Wheeler momentum today. The scooter segment is growing at 30% compared to 15% growth of two-wheeler industry*.
Adding on this occasion, Mr. Yadvinder Singh Guleria, Senior Vice President, Sales & Marketing- Honda Motorcycle & Scooter India Pvt. Ltd. said "Today, Honda is leading the Scooterization of India with a 58% market share. The new 2nd assembly line addition further supports Honda in cementing its undisputed leadership in scooter segment. Ending the 17 year old monopoly of motorcycle, Honda's iconic automatic scooter ACTIVA is now the new India's largest selling 2Wheeler in 2016."
* Year on year growth for April-May, FY'16-17
What further gives Honda the strategic edge is that it is the Honda
Only 2Wheeler company in India to distributer operational production capabilities across 3 geographical regions in India (Manesar and Tapukara – North, Narsapura – South and Vithalapur – West), which in turn fuels Honda's reach closer to its customers and helps it serve them faster. 
Employment & Investment
With its fourth plant, Honda 2Wheelers is giving a big boost to economic development in Gujarat. Honda and its 23 vendors have together invested close to INR 2,200 crore and generated nearly 9,000 new employment opportunities in the State! Of this, Honda's fourth plant is directly employing close to 3,000 Associates and has entailed a total investment of INR 1,100 crore.
Positive contribution to society
After accelerating economic development with its fourth plant, Honda has ushered in the next wave of social development in the Ahmedabad district. Honda is empowering local population to emerge as main beneficiaries of this growth story and its CSR contribution has reached close to INR 70 million. Honda's CSR approach in Gujarat focuses on holistic economic progress, social enrichment, better healthcare facilities and infrastructure development with environment conservation.
Details of Honda's manufacturing facilities:
 

 

                Timeline

1st plant

Manesar

Haryana

2nd plant

Tapukara

Rajasthan

3rd plant

Narsapura

Karnataka

4th Plant

Vithalapur

Gujarat

HMSI total annual production capacity
Till FY'2010-11
1.6M units
—
—
—
1.6 million units
FY'2011-12
1.2M units
—
—
2.8 million units
FY'13-14
1.2M units
—
4.6 million units
FY'15-16
1.8M units
0.6M units
5.2 million units
FY'16-17
1.2M units
5.8 million units