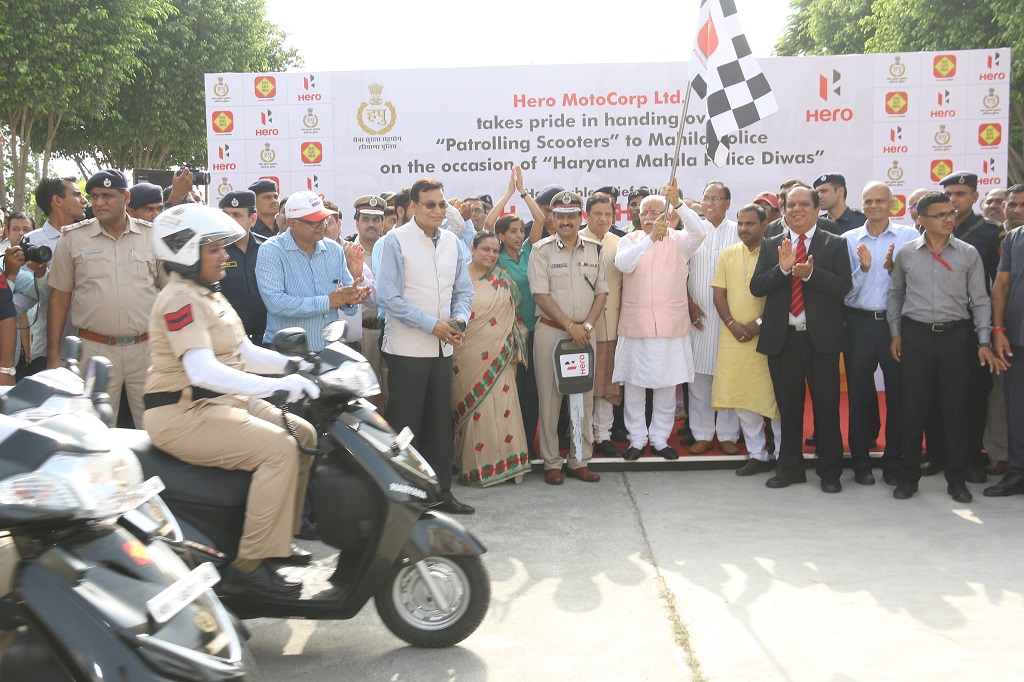 Hero Motocorp'S Csr Program Builds Statewide Association With Haryana Police
Presents 100 New Duet Scooters To Women Police Officers Under 'Project Sakhi'
Over 200 Hero Two-Wheelers Presented Across Five Major Cities In The State So Far
Hisar, August 5, 2017: Hero MotoCorp Ltd, the world's largest two-wheeler manufacturer, presented 100 new Hero Duet scooters to the women police officers of Haryana Police department on the occasion of 'Mahila Police Diwas' here today.
Equipped with sirens, traffic lights and PA systems, the Hero Duet scooters will make it convenient for the women police personnel in their patrolling activities, which will go a long way towards meeting the key objectives of 'Project Sakhi' – a Hero MotoCorp programme aimed at enabling the safety and security of women across the state.
Mr. Vijay Sethi, Head –CIO & Head – CSR, Hero MotoCorp, handed over the scooters in the presence of Shri. Manohar Lal Khattar, Hon'ble Chief Minister of Haryana. Also present on the occasion were Mr. BS Sandhu, IPS, DGP Haryana and other senior police and government officials.
Speaking on the occasion, Mr. Vijay Sethi, CIO & Head – CSR, Hero MotoCorp said, "As the market leader and a responsible corporate citizen, Hero MotoCorp is committed to promoting Road Safety and Women Empowerment. We are constantly engaged in increasing awareness on these key topics through a series of programmes at the national and regional levels. In Haryana, we have a long-term association with the state police department to bring about effective change in the society, and I am confident that today's initiative will further strengthen this partnership." 
Hero MotoCorp has handed over 200 two-wheelers to Haryana Police since last year, under various initiatives such as 'Project Sakhi' in Gurugram and Rewari and two-wheeler training schools in Sonepat and Karnal. To further strengthen the riding capabilities of the police force, two-wheeler riding simulators have also been introduced at various Haryana Police Academies.
Hero MotoCorp also runs a Student Police Cadets (SPC) program in association with the Haryana Police, which has been a resounding success since its inception. Students from 50 schools in Gurugram are enrolled in multiple planned activities to inculcate sensibilities such as respect for law and community skills in their personalities. This programme instils social values in the students, while providing them with physical fitness training.
Under the aegis of its CSR initiative, Ride Safe India, Hero MotoCorp also conducts various nationwide programs to promote road safety.
Hero MotoCorp has also adopted Traffic Parks at Gurugram, Delhi, Rourkela, Lucknow, Hyderabad and Nagpur, which are equipped with Riding Simulators and other state-of-the-art facilities, where Road Safety awareness programs are conducted regularly for school and college students and other institutions in partnership with the local Traffic Police.