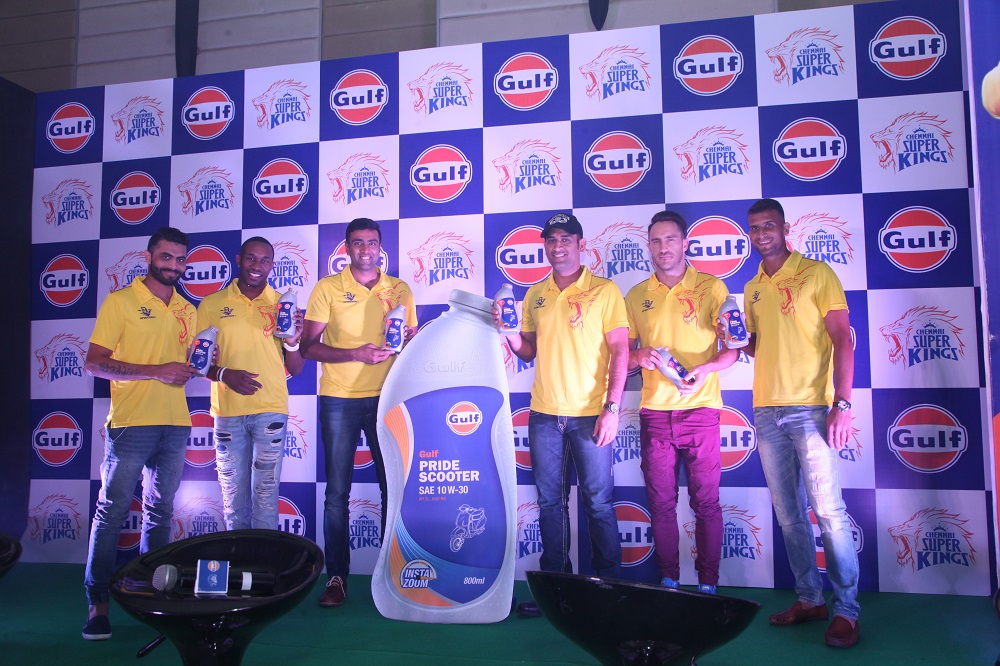 Over the past few years, the two-wheeler industry has exhibited a positive CAGR growth. A major contributor to this growth has been the rapid rise in the number of scooters in the market. Keeping this opportunity in mind, Gulf Oil Lubricants India Ltd launched Gulf Pride Scooter 10W-30 engine oil in Ahmedabad. This Scooter oil was launched by team Chennai Super King and Gulf Oil's brand ambassador Mr. MS Dhoni. The launch took place at The Courtyard by Marriott and the event was attended by a total of 200 participants including Gulf management team, distributors and customers from the Ahmedabad.
With this new product launch Mr. Ravi Chawla, MD. Gulf Oil Lubricants India Ltd, commented, "The Gulf Pride Scooter Oil will definitely provide us additional thrust for our growing 2-wheeler lubricant sales. With sales of scooters growing close to four times faster than that of motorcycles in India, Gulf Oil's aim is to be present at the points of consumption where scooter owners can choose to buy our product to experience superior benefits i.e. instant pick-up (Insta Zoom) "
Gulf Pride Scooter 10W30 is high-performance 4-stroke engine oil specially designed for modern scooter engines fitted with automatic transmission and dry clutch. Its low friction formula and unique friction modifier ensures minimum 'loss of transmission' which in turn ensures faster pick-up and smoother ride. It is blended from special performance additives and premium base oils with enduring thermo-oxidative stability that protects the compact and enclosed scooter engines operating at higher temperatures and keeps them clean.
The Gulf Pride Scooter 10W-30 engine oil can be used for scooters manufactured by Hero, Honda, Mahindra, Piaggio, Suzuki and Yamaha.
About GOLIL 
"Gulf Oil Lubricants India Limited (GOLIL), part of the $18bn Hinduja Group, is an established player in the Indian lubricant market. It markets a wide range of automotive and industrial lubricants. Today, the Gulf brand is present in more than 100 countries across five continents, with values of 'Quality, Endurance & Passion' as its core attributes. The Gulf Oil International Group's core business is manufacturing and marketing an extensive range consisting over 400 performance lubricants and associated products for all market segments.