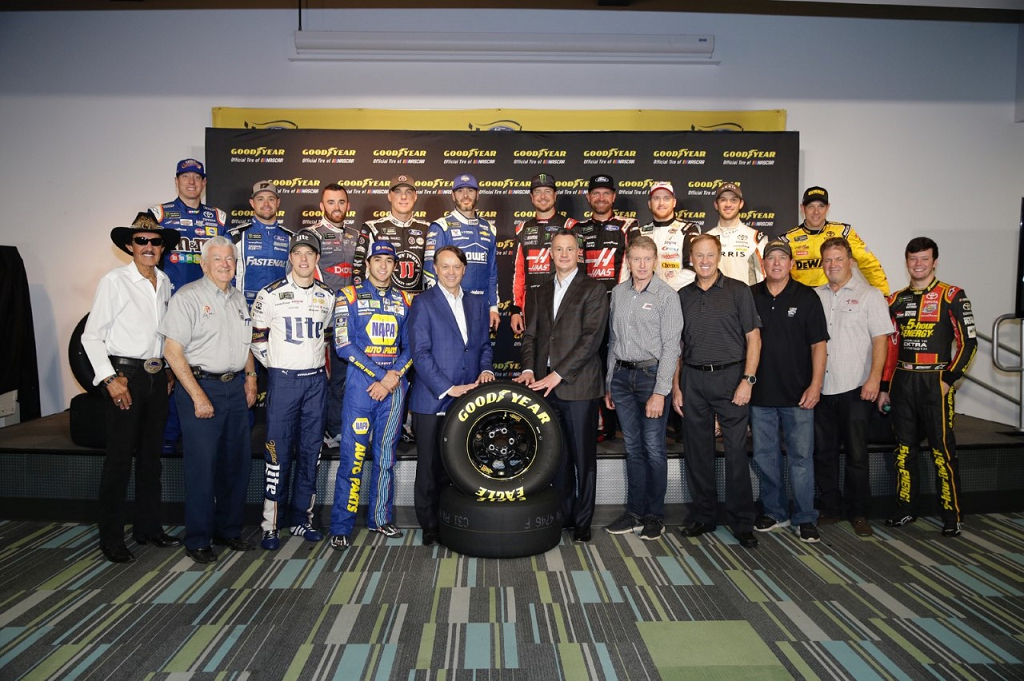 –  Goodyear Remains Exclusive Tire Supplier Across All Three National Series
–  Renewed Multi-Year Agreement Extends Six Decades of Partnership
DAYTONA BEACH, Fla., November 21, 2017 NASCAR and The Goodyear Tire & Rubber Company today announced a renewed, multi-yearsponsorship agreement that ensures Goodyear is the exclusive tire of NASCAR's top three national series.
The newly signed agreement continues Goodyear's designation as the "Official Tire of NASCAR" and extends an uninterrupted relationship that startedin 1954. Goodyear and NASCAR's six decade-long relationship is one of the longest-running sponsor programs in any major sport.
"We proudly join Goodyear in celebrating our renewed and longstanding partnership," said Brent Dewar, NASCAR president. "For more than half acentury, NASCAR and our teams have trusted Goodyear tires. Our partners' commitment to innovation and excellence plays a key role in our unyieldingpursuit to deliver the best racing product in the world."
From the introduction of the racing slick in 1972 to the radial tire in 1989 to multi-zone tread design in 2013, Goodyear and NASCAR have consistentlyinnovated to deliver compelling racing. NASCAR has served as a proving ground for Goodyear, preparing and supplying tires that meet the most grueling anddemanding conditions. The technology that goes into a tire to withstand and perform in those conditions helps inform and differentiate Goodyear's consumertires.
"We are tremendously proud of the pivotal role Goodyear plays in the best racing competition in the world and excited that NASCAR drivers will be crossing the finish line on Goodyear tires in the years ahead," said Richard J. Kramer, chairman, chief executive officer and president of Goodyear. "With thisnew agreement in place, we celebrate our enduring relationship with NASCAR and the continuing value of NASCAR to the Goodyear brand."
Goodyear produces more than 100,000 tires for NASCAR's top three series every year and each tire is custom-built by the hands of passionate Goodyearassociates in Akron, Ohio – Goodyear's global headquarters – and donned with the name of the employee who helped produce it. The depth of the relationship hasbeen built on competition, shared passion and brand growth for the two organizations. Goodyear's industry-leading brand has been amplified through the durationof the relationship generating awareness for the tiremaker with NASCAR's passionate fan base. For five consecutive years, Goodyear has been the most-recognizedsponsor in NASCAR, according to the 2016 NASCAR sponsor loyalty survey conducted for SportsBusiness Journal/Daily by Turnkey Sports & Entertainment.
About NASCAR
The National Association for Stock Car Auto Racing, Inc. (NASCAR) is the sanctioning body for the No. 1 form of motorsports in the United States. NASCARconsists of three national series (Monster Energy NASCAR Cup Series™, NASCAR XFINITY Series™, and NASCAR Camping World Truck Series™), four regional series,one local grassroots series and three international series. The International Motor Sports Association™ (IMSA®) governs the IMSA WeatherTech SportsCarChampionship™, the premier U.S. sports car series. Based in Daytona Beach, Fla., with offices in eight cities across North America, NASCAR sanctions more than1,200 races in more than 30 U.S. states, Canada, Mexico and Europe. For more information visit www.NASCAR.com and www.IMSA.com, and follow NASCAR onFacebook, Twitter, Instagram, and Snapchat ('NASCAR').
About Goodyear
Goodyear is one of the world's largest tire companies. It employs about 65,000 people and manufactures its products in 48 facilities in 22 countries aroundthe world. Its two Innovation Centers in Akron, Ohio and Colmar-Berg, Luxembourg strive to develop state-of the- art products and services that set the technologyand performance standard for the industry.