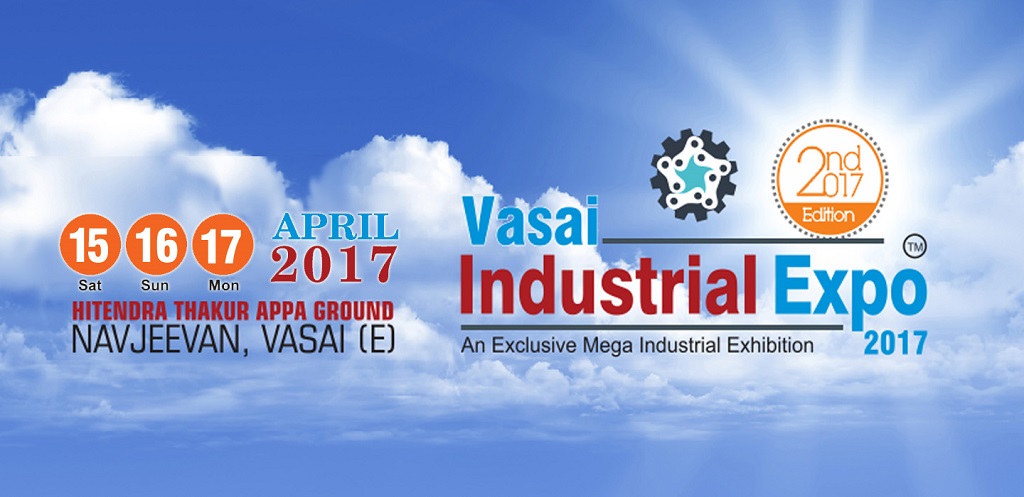 2nd Edition of 3-day Vasai Industrial Expo between 15th – 17th April 2017
Mumbai 12th April 2017 – Vasai, one of the fastest developing city of Maharashtra and one of the biggest Industrial zones in India with more than 15,000 Manufacturing units facilitated the first Vasai Industrial Expo a year ago.
Organised by EXHICON, the event has grown to become another pioneering initiatives of EXHICON in the category of geographical shows highlighting the USP's of the said region.
This year the event looks impressive with 50 % growth in the exhibit area. The 3-day combined Industrial Show is scheduled to be held between 15-17 April 2017 and is spread over 20,000 sq.mt outdoor location in Vasai Industrial Zone.
Hitendra Thakur Appa Ground, Vasai (East) will see 3 Air-conditioned German structures to host the show and in accordance with global benchmarks.
The event is expected to be inaugurated by by Shri. Subhash Desai, Minister of Industries, Maharashtra along with Shri Pravin Pote, Minister of State for Industry and Mining, Public Works, Environment, Govt. of Maharashtra.
Shree Khsitij Thakur, MLA of Vasai , Dr. Rajiv Patil, First Mayor of Vasai, Smt Pravina Thakur, sitting Mayor of Vasai and Shri Sagir Dange, first Dy Mayor of Vasai will grace the function as the guests of honor along with Shri Ashok Grover, Chairman of Govalis Industries Association and other distinguished guests.
M Q Syed, Founder of EXHICON shares, "Exhicon has conceptualized in 2014, the geographic shows at different industrial belts of Maharshtra. Since then,The Tarapore Industrial Expo ( 2015), Vasai Industrial Expo ( 2016) were successfully organised in respective belts, the 3rd edition of such Industrial expo is a step forward to this initiative".
The event is upported by NSIC , a government of India undertaking which has offered upto 100% sponsorship for exhibitors.
Over the years, Vasai has witnessed the growth of major industries like Chemicals, Paper, Packaging, Pharmaceuticals, Plastics, Rubber, Engineering, Textiles, Wood, Glass & Food products. "Statistics say, the various Industrial Units in Dahanu, Palghar and Tarapur region having a collective strength of around 4000 industrial units in this industrial belt", adds Syed who has been instrumental in creating numerous thought-provoking trade fair properties and initiatives in India.
The 3-day event will prove as a platform for Introduction to new and Existing Industrial products in Market, will give Live Demonstration of Industrial Products to be launched, Workshops for SME & MSME sector and more. The event will host seminars on Day 2 with various key speakers /companies). NSIC will also make announcements of 100 % Subsidy and several other facilities & schemes. The Day 3 will be Closing ceremony evening 5 pmfollowed by felicitation and consensus report.
The event is supported Govalis Industries Association, MACCIA, SME Chamber of India, & Palghar Manufacturers Association Several notable companies participating in the show include Mahindra & Mahindra, Maxworth, VDA Technology, Atharva Group, Ruchi Plast, Epson India, Grizonte Business Solutions Ltd, Roof Glaze, Binary Engineering, United Tools Corporation of India to name a few.