SHANGHAI, March 22, 2017 – The figures are stark. Nearly 1.8 billion people – or about 25 percent of the world's population – don't have access to safe drinking water,[1] and an estimated two-thirds of the world's population may face water shortages by 2025.[2]
In India, more than 81 percent of adults, well over the global average, say they have changed their behavior as a result of water concerns, according to research conducted for Ford Motor Company as part of the Ford 2017 Trend Report.[3]
Ford has been changing too in order to address the need to conserve water – and is moving ever closer to its goal of using zero drinking water in the car-making process. In 2016, Ford Asia Pacific used 15 percent less water to produce each vehicle compared to 2015. That's enough to fill two bathtubs or 1,000 half-liter bottles of drinking water.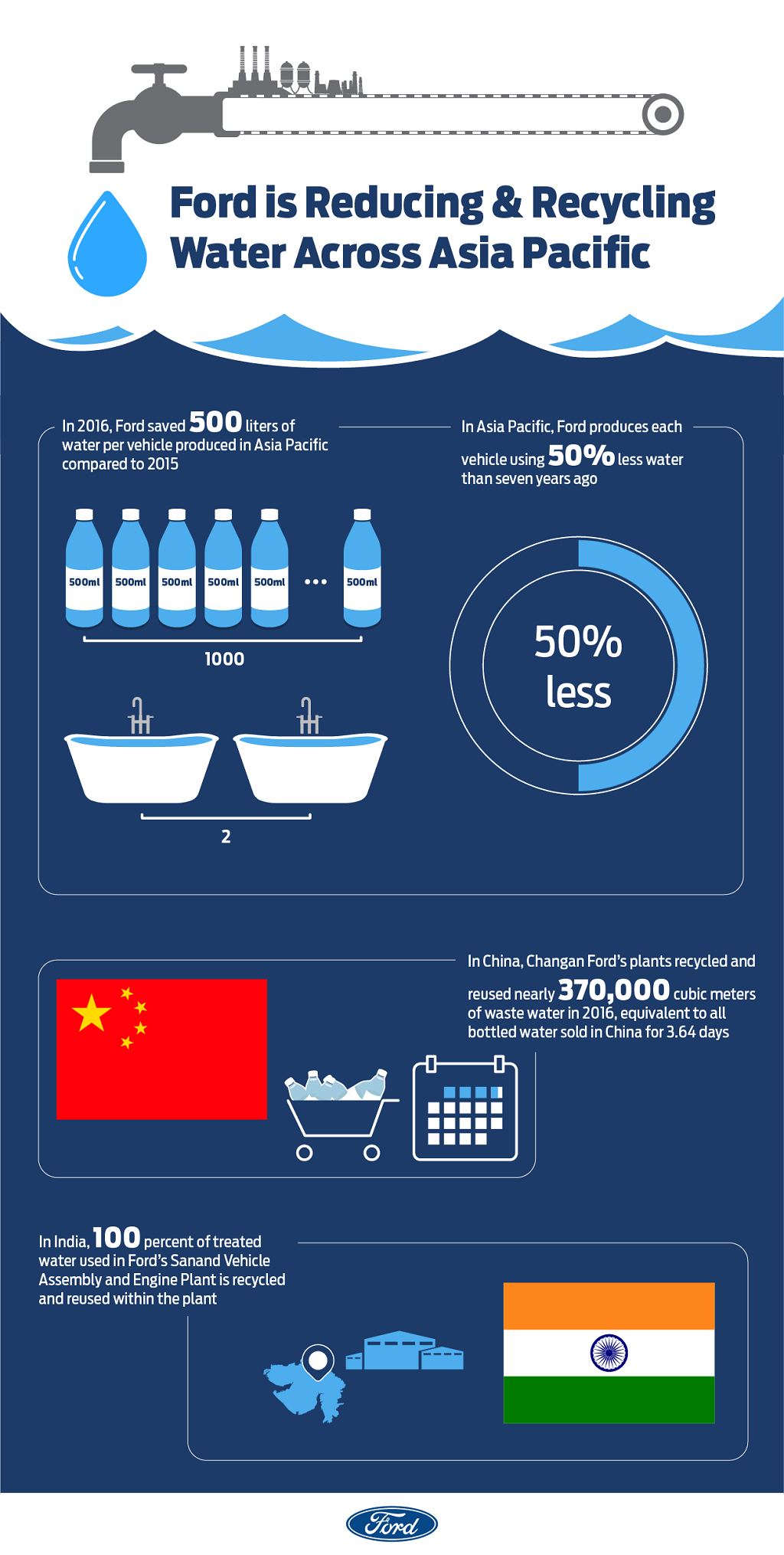 Overall, the company has halved its water usage per vehicle in the region over the past seven years.
"Just as people are changing their mindset and behavior, Ford is too," says Cynthia Williams, director, Sustainability, Environment, & Safety Engineering, Ford Asia Pacific. "We're doing our part to conserve water in our plants and support the local communities where we do business to make the most of this precious resource."
Saving water in manufacturing plants
Ford has saved 10 billion gallons of water from 2000 to 2015, a decrease of 61 percent – enough to fill over 15,000 competition-sized swimming pools. By 2020, Ford has targeted a water usage reduction of 72 percent when compared to 2000. That roughly means for every one gallon of water Ford used in manufacturing in 2000, it aims to use about one liter by 2020.
In Asia Pacific, Ford and its local partners have achieved significant water reduction by implementing new technologies such as its new paint and lubrication processes – saving hundreds of thousands of liters of water per year. Highlights include:
In India, Ford's plants in Chennai have achieved zero liquid discharge and have also installed equipment to harvest rain water to further reduce the use of drinking water. 3,000 cubic meters of rainwater was harvested for use in 2016. At Ford's Sanand Vehicle Assembly and Engine Plant, 100 percent of treated water is recycled and reused within the plant property.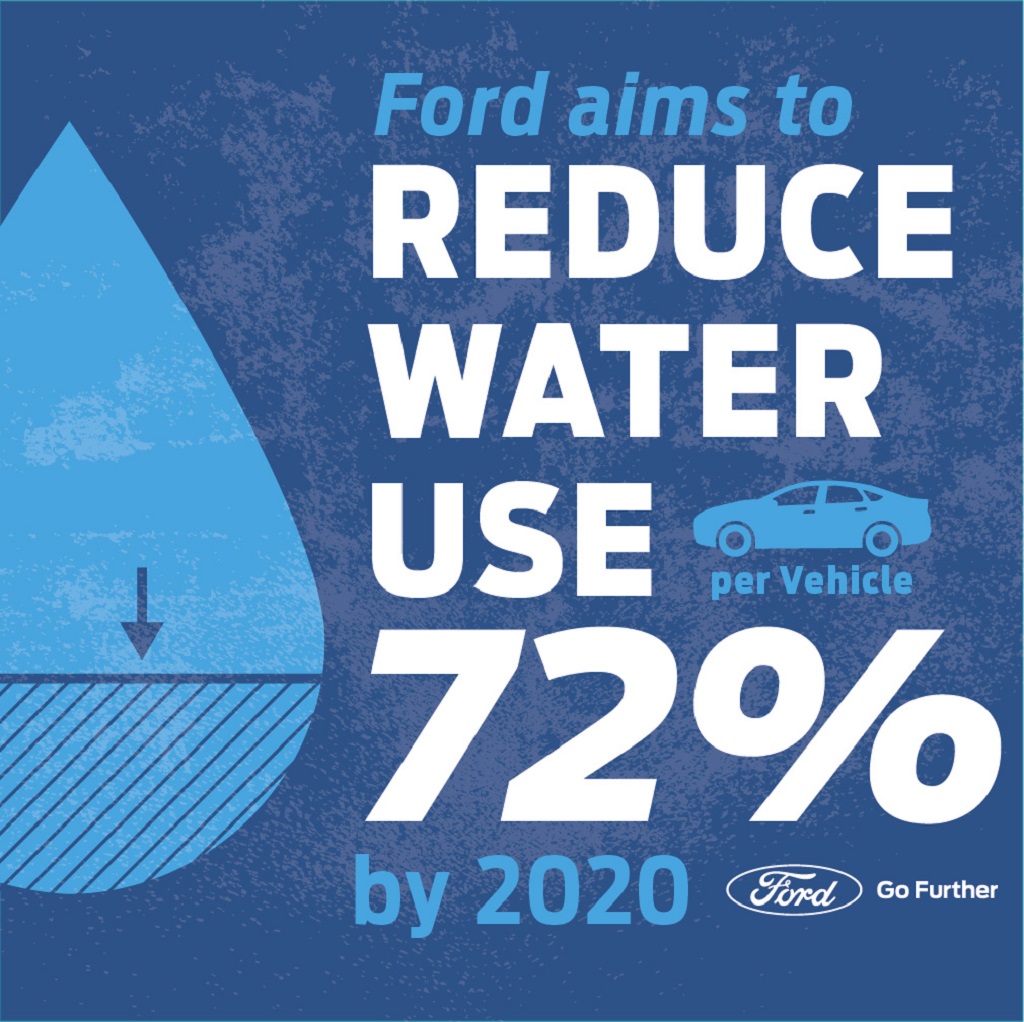 In China, Ford reduced water use per vehicle produced by almost 50 percent compared with 2011, while local partner Changan Ford's plants recycled and reused nearly 370,000 cubic meters of waste water in 2016.
Over the past year in Thailand, Ford installed filters for cooling tower operations at the company's joint-venture Auto Alliance Thailand (AAT), which will save around 7,000 cubic meters of water per year. Ford Thailand Manufacturing increased its water efficiency by coordinating its fire hydrant testing schedule with its irrigation schedule, saving around 5,000 cubic meters of water per year.
Working with communities to conserve water
Sustainability — and specifically water conservation — is an important part of Ford's work in Asia Pacific. In 2016, the company contributed more than US$340,000 to projects in Thailand, China, India and several other countries to provide communities with access to clean water, to protect or restore water management systems, and to educate future generations about the importance of one of our most precious natural resources.
In India, Ford's partnership with the Rotary Club and the Environmentalist Foundation of India included project funding of more than US$70,000 over the past three years, to help protect water storage and management systems damaged by heavy flooding in Chennai.
In China, Ford has worked tirelessly to recognize the work of China's grassroots environmental leaders through its Conservation & Environmental Grants, China (CEGC) program. Of the 28 projects funded in 2016, nine were directly related to water, and were granted a total of US$95,000 (650,000 yuan) to cover water source protection, water pollution control and education, and wetland conservation.
In Thailand, Ford was part of two major clean water projects in 2016. The Thailand Clean Water Community Project was one of two winners of the inaugural Bill Ford Better World Challenge in 2016 and the recipient of a US$200,000 grant. Through this project, the World Vision Foundation, with the help of Ford employee volunteers, has rebuilt a water system in Chathanburi that will benefit 13 schools in the province and more than 3,300 local residents.
The Water Go Green program, which brought clean water to the Ban Khlong Nam Daeng School in Rayong province, was the result of strong collaboration between Ford employees and dealers to build water tanks made of concrete and reinforced steel which are equipped with solar-powered pumping systems.
In Laos, Ford is helping to give communities increased access to clean water: a US$25,000 donation to World Vision Laos enabled the building of water tanks and other new water storage systems, benefitting nearly 2,000 people in three villages in Luang Prabang province's Phoukhoun District.
In Guam, Ford is working with the Water and Environmental Research Institute of the Western Pacific (WERI) to contribute a US$20,000 donation to 'Guam Water Kids', a project that helps educate children on the importance of conserving freshwater resources.
Global recognition for sustainability efforts
In 2017, Ford was named one of the World's Most Ethical Companies by the Ethisphere Institute for the eighth year in a row – the longest streak for any auto manufacturer. The honor recognizes Ford's focus on being a good corporate citizen, which includes reducing the environmental footprint of its supply chain and responsible mineral sourcing.
In addition to Ethisphere Institute, Ford has been recognized by several third-party organizations for its efforts in sustainability, including:
2017 World's Most Admired Company by Fortune
2016 The Just 100: America's Best Corporate Citizens by Forbes
2016 America's Best Employer by Forbes
2016 Top Green Company by Newsweek
2016 World's Most Attractive Employer for Engineering and IT by Universum
2016 100 percent on the Human Rights Campaign's Corporate Equality Index.
[1] World Health Organization, "Drinking-Water," November 2016
[2] World Wildlife Fund, "Water Scarcity," 2016
[3] LOOKING FURTHER WITH FORD report (BAV Consulting, Global Survey 2016)