IndianBlueBook Releases 1st Edition of the 'India Pre-Owned Car Market Report' 2016
 India is expected to be amongst the Top 5 global automotive markets by 2020. The 3.3 million pre-owned car market will be large and growing at over 15% a year powered by first time buyers and upgraders
Consumers are looking for trust followed by affordability in a pre-owned car transaction. They therefore will search and research IN THE CLOUD but will conduct transactions only ON THE GROUND
Price points, unit economics, infrastructure and cost of capital make dealer economics tough. Organized players, today make up 12%, and are the fastest growing segment faring significantly better than others as they also provide superior consumer experience
Nascency of the Indian market make it structurally different from the US and China. Business, economic or operating models cannot be just transplanted.
Metros and non-metros are nearly equally big markets – Nearly 277 million consumers online (primarily metros) with a greater number offline. Online / offline hybrid business models are essential
Structurally, the bulk of Indian wholesale auction market is limited primarily to repossessions, with other auction segments having limited near term potential
Significant headroom for pre-owned car financing as penetration today is at approximately 15%
\IndianBlueBook (IBB), the industry first pricing and analytics platform for  new and pre-owned vehicles in India, today released the 'India Pre-owned Car Market Report', a first of its kind in-depth study on the Indian pre-owned car market. The report attempts to 'connect the dots' in the rapidly growing pre-owned vehicle segment and provide insights into scale, stage and structure of the multi-faceted Indian pre-owned car industry. In its first edition, it also analyzes the Indian market relative to two other important markets – the United States and China. These relative country assessments are first of their kind globally.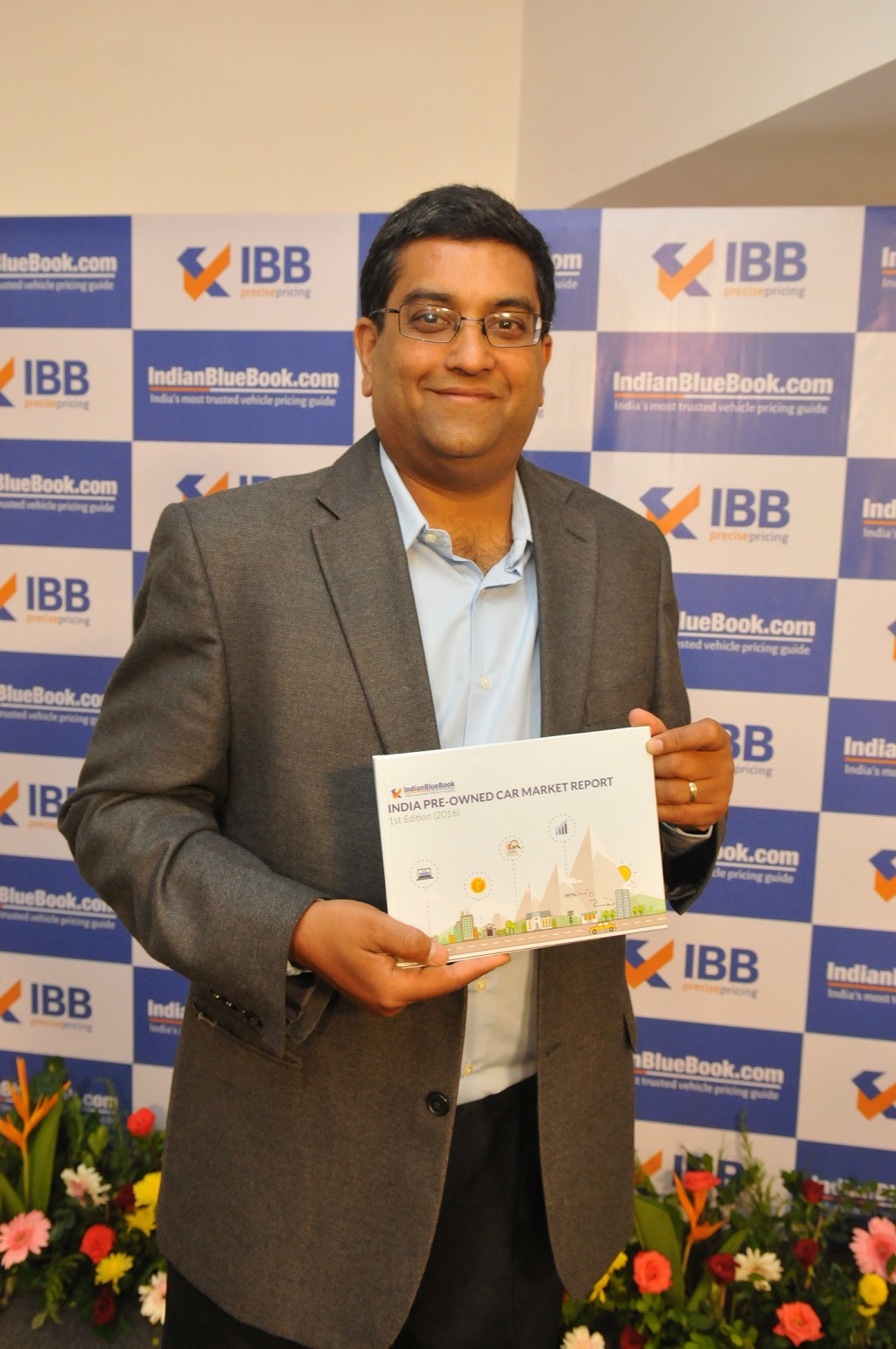 The report is a result of a collective effort of the IndianBlueBook team and its partners in India and overseas. It has leveraged India's largest multibrand used car footprint "on the ground" via the Mahindra First Choice Wheels Ltd's franchise network and significant presence "in the cloud" with a suite of industry leading online properties including but not limited to Indian Blue Book (www.indianbluebook.com)  and eDiig (www.eDiig.com) platforms.
"Over the last 24 months the pre-owned vehicle industry has been the subject of much attention from variety of industry stake holders such as investors, Automotive OEM's, car dealers, financial institutions and consumers. However little is specifically understood about the industry due to severe paucity of data. This first of its kind report should be extremely useful to all stake holders in assessing the Indian pre- owned vehicle industry both domestically and in the global context." said Dr. Nagendra Palle, Managing Director & CEO, Mahindra First Choice Wheels Ltd.
Key highlights:
 Scale: Market has reached critical mass, shows significant potential 
India is expected to be amongst the top 5 automotive markets in the world by 2020.
At 3.3 million units, the pre-owned car market is growing at over 15% a year (organized segment is growing at over 25% a year)
Just under half (45%) of all pre-owned cars sold are in Metros. Non-metros account for over half (55%) the pre-owned car volume sold and are growing faster than the metros.
The North leads the pre-owned car market in India. At 36% it represents the largest geography, followed by the West (27%), South (26%) and East (11%).
The North and West regions exhibit more organized channels than in the South. The East, while more organized, is a significantly smaller market and also highly concentrated in a few areas.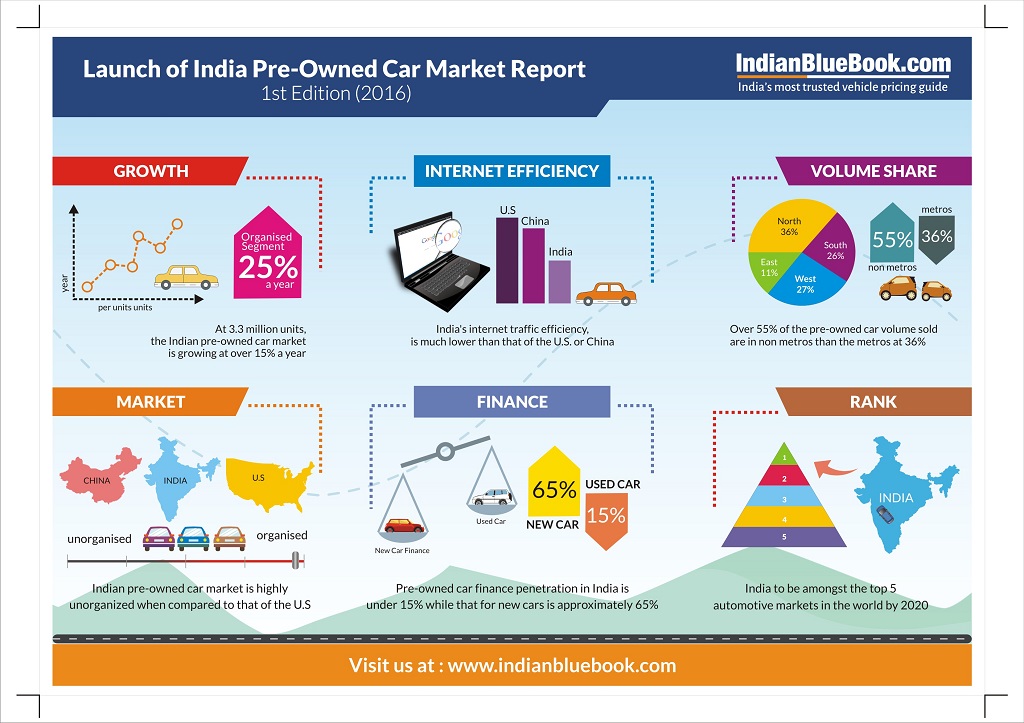 Structure: Largely unorganized retail & wholesale
The market is supply-constrained, with inventory turns at dealers under 30 days vs. traditionally 60+ days in the U.S.
Pre-owned car channels are highly fragmented with four primary market segments:

Organized: 12% market share, Average Volume at 16 per month
Semi-organized: 35% market share. Average Volume at 9 per month
Consumer to Consumer: 34% market share
Unorganized: 19% market share. Average Volume at <3 per month

The unorganized sector is highly fragmented. It accounts for the bulk of the dealer population (58%) and only 19% of the total volume.
There are no formal wholesale channels for dealers to procure pre-owned cars.
Stage: Developed in some ways, nascent in many
India's motorization rate lies at 22 cars/1000 people. US is over 800 cars/1000 people with a car parc that is 10X that of India.
Like that of the U.S., the pre-owned car market in India is larger than its new car market (1.2X). China's pre-owned car market, though larger in volume compared to that of India's, is less evolved at 0.5X that of its new car market.
Scale and price point are major drivers – dealer productivity and gross margins make India a relatively shallow market (dealer economics).
Indian pre-owned car market is highly unorganized, when compared to the U.S., but more organized than that of China.
There is significant headroom for pre-owned car financing, with growth expected in the coming years – Pre-owned car finance penetration in India is under 15% while that for new cars is approximately 65%.
Finance penetration is significantly higher within the organized channel (40% across the metros and non-metros), while the semi-/unorganized channel is highly fragmented with higher channel costs for lenders.
There are over 6,000 approved NBFCs in local markets that are funding pre-owned vehicles in India.
Customer profile and buying behavior:
50% of buyers are in the 25-34 years age segment.
Average age of a pre-owned car at the time of sale is 4 years with average ticket size at INR 3-4 lakhs.
For more than half (55%), a pre-owned car is the first in the family.
Affordability, followed by value for money are primary reasons why customers consider pre-owned cars. The buyer looks for a trusted source and quality product to complete his pre-owned car transaction.
To read the complete report please click the below link: