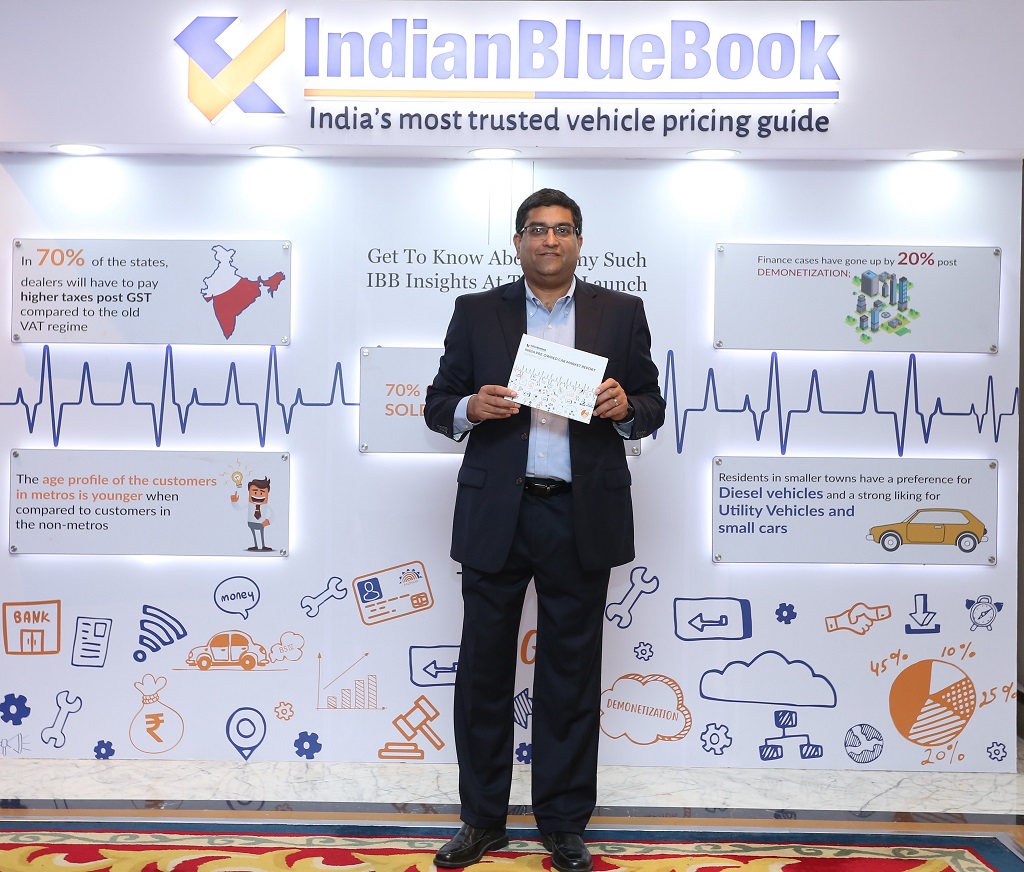 IndianBlueBook Releases 2nd Edition of the 'India Pre-Owned Car Market Report' 2017
The 3.6 million pre-owned car market grew at 9%; Demonetization reduced market size by 0.2 million units, roughly 6% of the overall market
GST regime, as it exists today, imposes a significantly higher burden on the dealer – on a pan-India basis – roughly twice the rate that was otherwise being incurred
Long-term, with transaction transparency increasing, including expected RTO reforms, prices are expected to adjust to accommodate the new tax structure
The pre-owned car market continues to organize rapidly; organized and semi-organized segments grew by 36% and 12% by volume while the customer-to-customer (C2C) and unorganized segments have remained flat
The demonetization ruling and greater access to credit have allowed for increased finance penetration in the organized segment; finance cases have gone up by 20% post-demonetization
At 70-80% new car finance penetration numbers are not too far off those in mature markets; however, at 15%, significant headroom for pre-owned car financing remains
Mumbai, September 13, 2017: IndianBlueBook (IBB), the industry first pricing and analytics platform for  new and pre-owned vehicles in India, today released the second edition of the 'India Pre-owned Car Market Report'.
Over the past year, the market has been hit by significant "jolts" in the form of three major market reforms – Demonetization in November 2016, BSIII/BSIV in March 2017 and GST in July 2017. In addition to updates to the basic market metrics presented in the first edition, the report also reviews the impact of the recent disruptions on the overall market.
"While these reforms have no doubt disrupted the status quo, they have necessitated that all stakeholders change with the times and become "more organized". Not withstanding the short term hiccups, we strongly believe these market reforms are good for the organized industry in the long term." said Dr. Nagendra Palle, Managing Director & CEO, Mahindra First Choice Wheels Ltd.
The report is a result of a collective effort of the IndianBlueBook team and its partners in India and overseas. It has leveraged India's largest multibrand used car footprint "on the ground" via the Mahindra First Choice Wheels Ltd.'s franchise network and significant presence "in the cloud" with a suite of industry leading online properties including but not limited to IndianBlueBook (www.indianbluebook.com), eDiig (www.eDiig.com) and inspection platform (www.autoinspekt.com) platforms.
Key highlights:
How has the market changed since 2016?
India is expected to be amongst the top 5 automotive markets in the world by 2020.
The pre-owned car market will be an important enabler for new car industry growth; 25-28% of all new car transactions are accompanied by a trade-in
Pre-owned car channels are highly fragmented with four primary market segments:

Organized: 15% market share, Average Volume per dealer at 17 per month
Semi-organized: 36% market share. Average Volume per dealer at 9 per month
Unorganized: 17% market share. Average Volume per dealer at 4 per month
Consumer to Consumer: 32% market share

The 3.6 million pre-owned car market grew at 9%; Demonetization reduced market size by 0.2 million units, roughly 6% of the overall market
The pre-owned car market continues to organize rapidly; organized and semi-organized segments grew by 36% and 12% by volume while C2C and unorganized segments have remained flat
Dealer count across India is essentially flat, with organized dealers growing fastest at 23% yoy; we expect this growth to continue over the next few years
How have the market reforms impacted the industry?
GST regime, as it exists today, imposes a significantly higher burden on the dealer – on a pan-India basis – roughly twice the rate that was otherwise being incurred
In 70% of states, dealers will have to pay higher taxes post-GST, compared to the old tax regime
Current GST structure is expected to give a fillip to C2C transactions
Long-term, with transaction transparency increasing, including expected RTO reforms, we expect prices to adjust to accommodate the new tax structure
The cash crunch induced by demonetization led to customers postponing their decision to buy pre-owned cars; leading to a fall in volume in November 2016
On account of demonetization, the organized segment of the pre-owned car market has grown faster and at the expense of the semi-organized and unorganized segments
Finance cases have gone up by 20% post demonetization
Insights on the Total Cost of Vehicle Ownership
The scenario of buying a one-or two-year old vehicle is perfect for shopping in the certified pre-owned (CPO) car market
Car owners can save on the initial depreciation loss through engaging in a pre-owned car transaction; it is however, vital to TCO across vehicles when making a purchase decision
Diesel hatchbacks command higher residuals in comparison with their petrol counterparts
Not all vehicles age at the same rate, as represented by their residual values
Localized activities and dense dealer networks are key for superior residuals in the luxury segment in India
Self-driven rentals command lower residuals when compared with white and yellow-board vehicles
What are consumers telling us about pre-owned car ownership?
The age profile of customers in metros is younger when compared to those in the non-metros
Smaller towns are more amenable to buy older vehicles when compared with the metros
70% of pre-owned cars sold are under Rs. 4 lakh
A greater share of organized transactions in the metros are finance-driven in comparison to those in the non-metros
Residents in smaller towns have a preference for diesel vehicles and a strong liking for utility vehicles or small cars
About IndianBlueBook
IndianBlueBook.com is India's first pre-owned car valuation guide. With exclusive access to a large number of car transactions that take place every day through different channels, IBB derives scientific and insightful inferences that lead to vehicle price discovery. Whether you're buying or selling a vehicle, IBB helps you discover its real worth. With a backbone of transaction data through a variety of consumer and B2b channels, IBB analytically deduces pricing index which is then used to derive the benchmark market price of any vehicle. In essence, IBB is a one-of-a-kind valuation platform based on rigorous research and pure rationality. It is driven by the sheer passion to demystify millions of transaction data points, thus ensuring that you never overpay or never undersell. IBB offers a wide array of tools such as Total Cost of Ownership (TCO) and Residual Value Analysis (RVA), regularly updated reviews and insights via its blog, and a platform that enables its customers looking to buy or sell used vehicles, thereby serving as a one-stop shop for customers looking to research vehicles.
Please click below link :