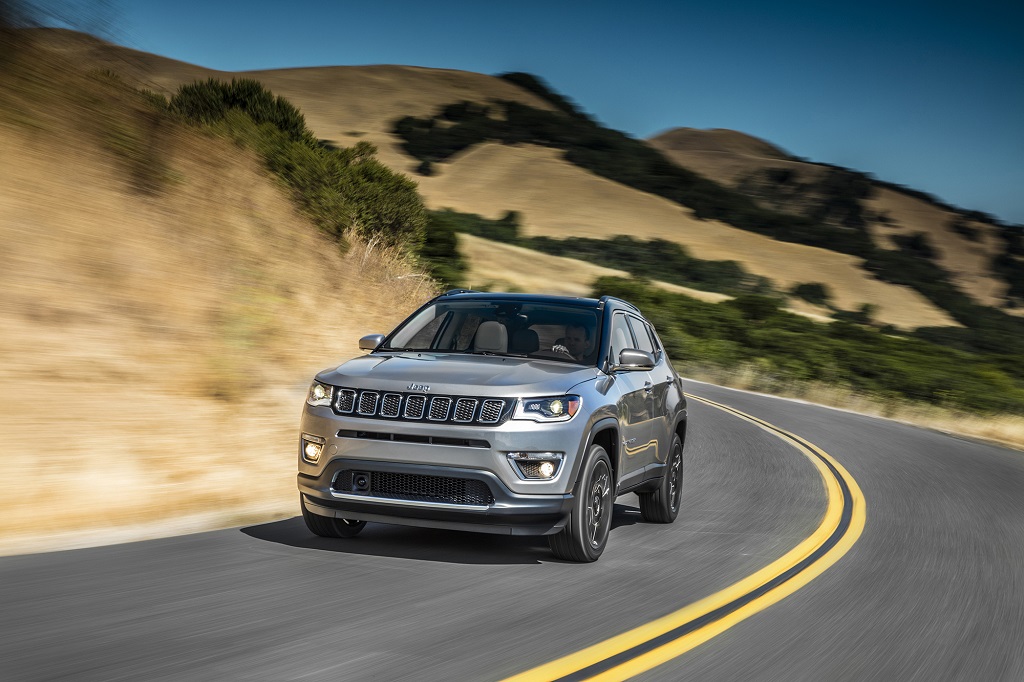 2017 Jeep® Compass: An all-new global compact SUV delivering unsurpassed 4×4 capability, world-class on-road driving dynamics, advanced fuel-efficient powertrains and premium styling
Most capable compact SUV ever with the most advanced 4×4 systems in its class
Premium, distinguished, authentic Jeep exterior styling includes signature design elements like the seven-slot grille and trapezoidal wheel arches
Interior includes sculptured forms, high-quality materials and state-of-the-art technology
FCA's "small wide 4×4 architecture" combines best-in-class capability with exceptional on-road driving dynamics
Fourth-generation Uconnect system with touchscreen includes Apple CarPlay, Android Auto
Packed with more than 70 available advanced safety and security features across global trims
Built in four countries – India, China, Brazil and Mexico for consumers all around the globe
The all-new 2017 Jeep® Compass expands the brand's global reach with an unmatched combination of attributes that includes legendary and best-in-class 4×4 off-road capability, advanced fuel-efficient powertrains, premium and authentic Jeep design, superior on-road driving dynamics, and a host of innovative safety and advanced technology offerings.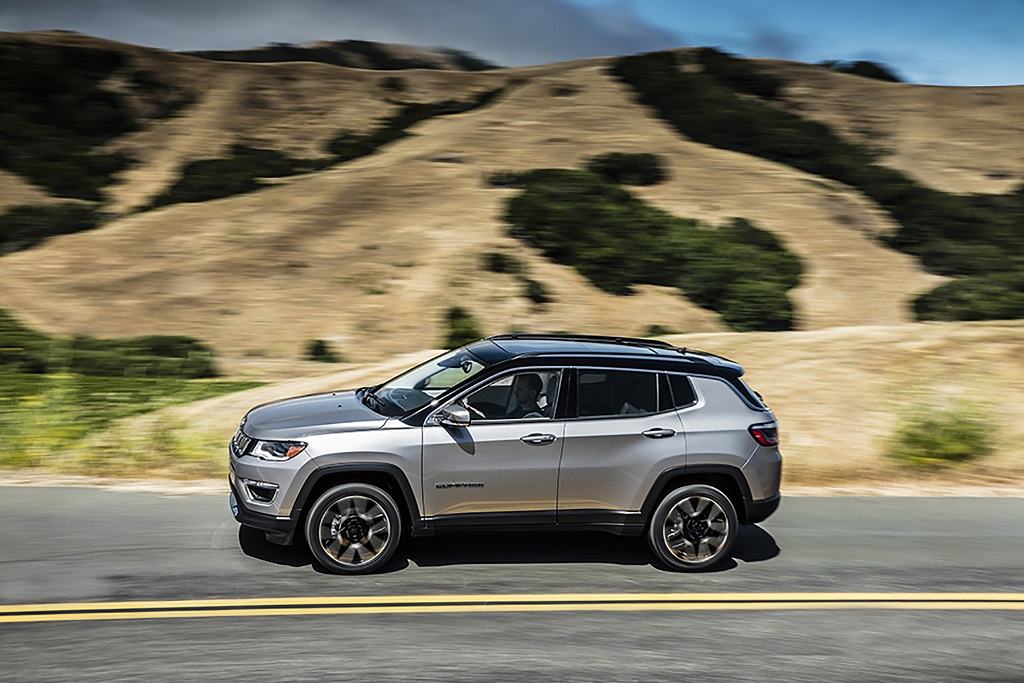 A truly global all-new compact SUV, the 2017 Jeep Compass will be manufactured in India, China, Brazil and Mexico, for consumers in more than 100 countries around the world
"Our all-new 2017 Jeep Compass enters an extremely important and growing segment worldwide, and does so with an unmatched list of attributes that includes benchmark 4×4 offroad capability, exceptional on-road driving dynamics, fuel-efficient powertrains, countless advanced technology and safety features, all wrapped in a premium, authentic Jeep design," said Mike Manley, Head of Jeep Brand – FCA Global. "Built around the world for customers everywhere, Jeep Compass raises the bar in the compact-SUV segment."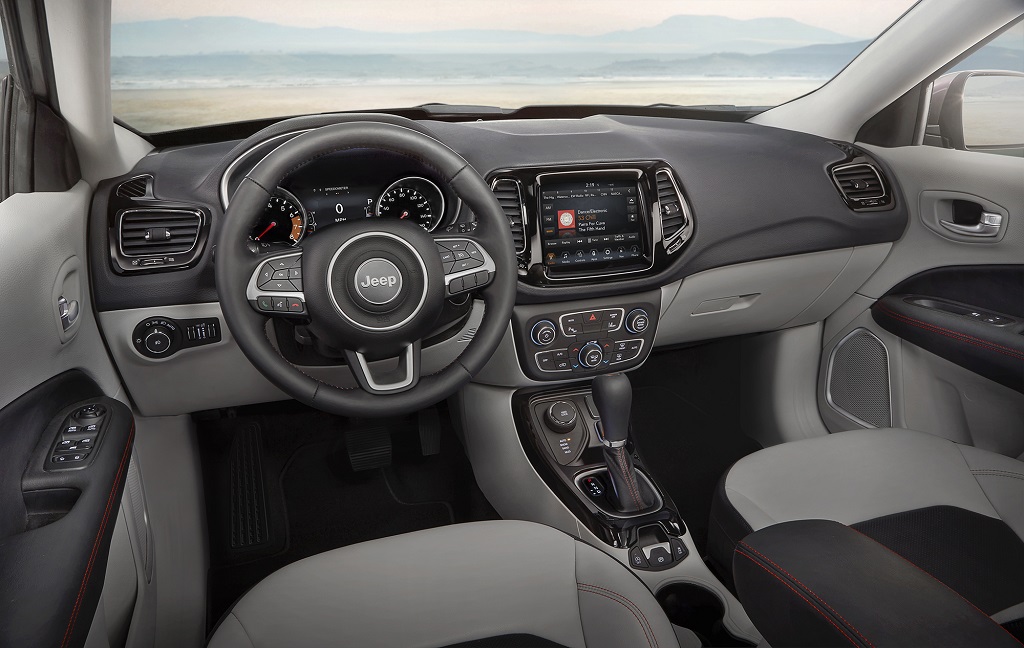 The 2017 Jeep Compass, during its India launch mid next year, will be available in three trim configurations.
Best-in-class off-road capability with two leading 4×4 systems
The all-new 2017 Jeep Compass delivers best-in-class off-road capability, courtesy of two advanced, intelligent 4×4 systems, each of which can send 100 percent of available torque to any one wheel:
Jeep Active Drive – SelecTerrain 4×4 system
The Jeep Active Drive SelecTerrain 4×4 system provides the best four-wheel-drive performance on- or off-road and in any weather condition. Compass features a disconnecting rear axle and power take-off unit (PTU), in order to provide 4×4 models with enhanced fuel economy. Jeep Active Drive SelecTerrain 4×4 system instantly engages when 4×4 traction is needed.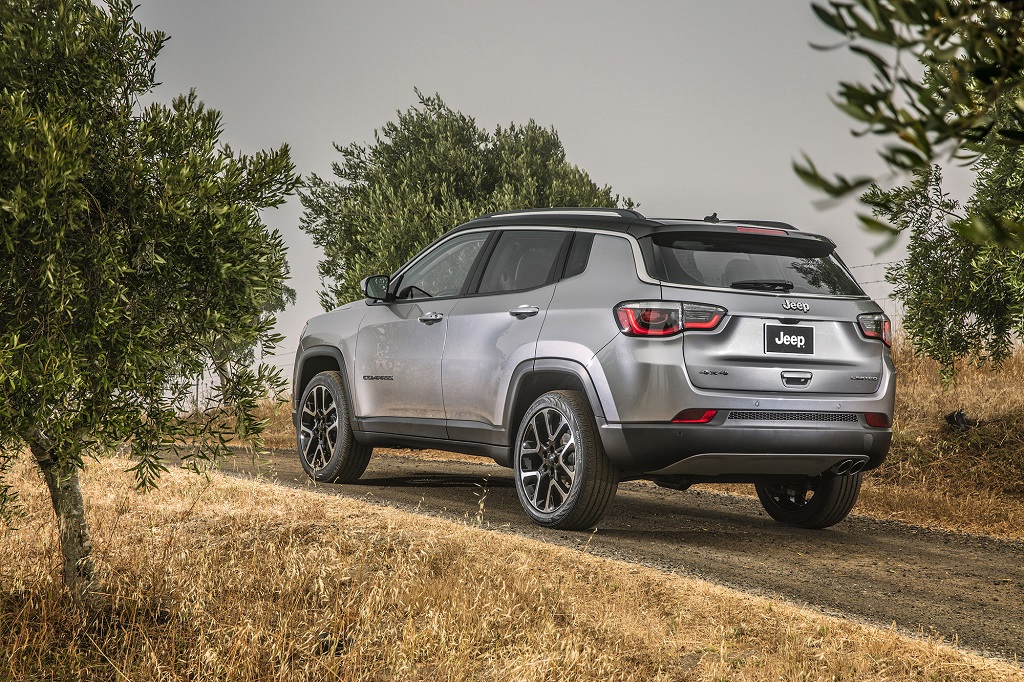 Superior on-road driving dynamics
The all-new 2017 Jeep Compass, in India will get FCA's "small wide architecture," a fully independent suspension with Frequency Selective Damping in front-and-rear-strut system, and precise electric power steering combine to deliver superior on-road driving dynamics.
Compass boasts a rigid foundation. The upper body structure and frame are engineered as a single unit for a stiff and more mass-efficient structure, and it is designed and built with an extensive use of high-strength steel and liberal use of structural adhesives. More than 65 percent high-strength steel is used for maximizing vehicle dynamics and crash performance while optimizing weight efficiency.
Advanced fuel-efficient powertrains
A total of five engines – three gasoline and two diesel – will be offered, across different markets worldwide. India will get a petrol and a diesel powertrain in manual and automatic transmission options
Authentic Jeep design with premium features and open-air freedom  
The all-new 2017 Jeep Compass features a premium, sculptural design aesthetic. The exterior design is expressive and emotional with a wide stance and exceptional glass-to-wheel proportions. The all-new compact SUV is immediately recognizable as a Jeep with its distinctive traditional Jeep design cues. Jeep designers gave the legendary seven-slot grille a fresh look by setting each of the individual chrome slots in a Gloss Black field. Headlamp bezels featuring a black outline add personality and attitude to the front of the all-new Jeep Compass.
The exterior of the 2017 Jeep Compass features a traditional clamshell hood with a double break line and center bulge.
A fast, dramatic roofline and muscular fenders and shoulders create a stunning profile. The available Gloss Black painted roof adds a unique, premium appearance in the compact SUV segment.
A standout feature of the rear of the Compass is its unique LED tail lamps. Slim and rectangular in shape, the tail lamps flow into the liftgate for a commanding yet premium appearance instantly recognizable as a Jeep Compass on the road or trail.
Upscale interior design boasts premium features and technology
The all-new 2017 Jeep Compass interior design showcases a premium interior highlighted by sculptural surface elements and precise technical detail.
The trapezoidal center stack bezel is a characteristic Jeep design cue and sports a color and finish that complements the interior choice. The center stack houses a touchscreen display, a feature that will be market-specific. The center console neatly integrates the functional features of the Jeep Compass, including gear-shift selection, Selec-Terrain controls, engine stop-start (ESS) controls, climate and volume control knobs, and easily accessible media charging and connectivity ports within the cubby bin.
The driver's cockpit is thoughtfully designed and features a 3.5- or 7-inch LED driver information display (DID) instrument cluster. The available full-color 7-inch DID – the largest in the segment – displays information that the driver may configure for easier access while driving. The Jeep steering wheel with integrated audio, voice and speed controls enables drivers to keep their hands on the wheel and attention focused on the road ahead.
Clever and thoughtfully designed storage solutions are abound throughout the cabin, including a stylish mesh side pocket in the front passenger footwell that can hold a notebook or tablet device, and an inventive multi-level rear cargo floor.
Advanced technology that delivers thorough use of all-new infotainment systems The all-new 2017 Jeep Compass offers a new Uconnect system delivering communication, entertainment and navigation features that drivers and passengers desire.
More than 70 available advanced safety and security features Safety and security were paramount in the development of the all-new 2017 Jeep Compass, which offers more than 70 available active and passive safety and security features – across global markets. Consumers can drive with confidence as Compass includes "safety cage" construction with more than 65 percent high-strength steel.