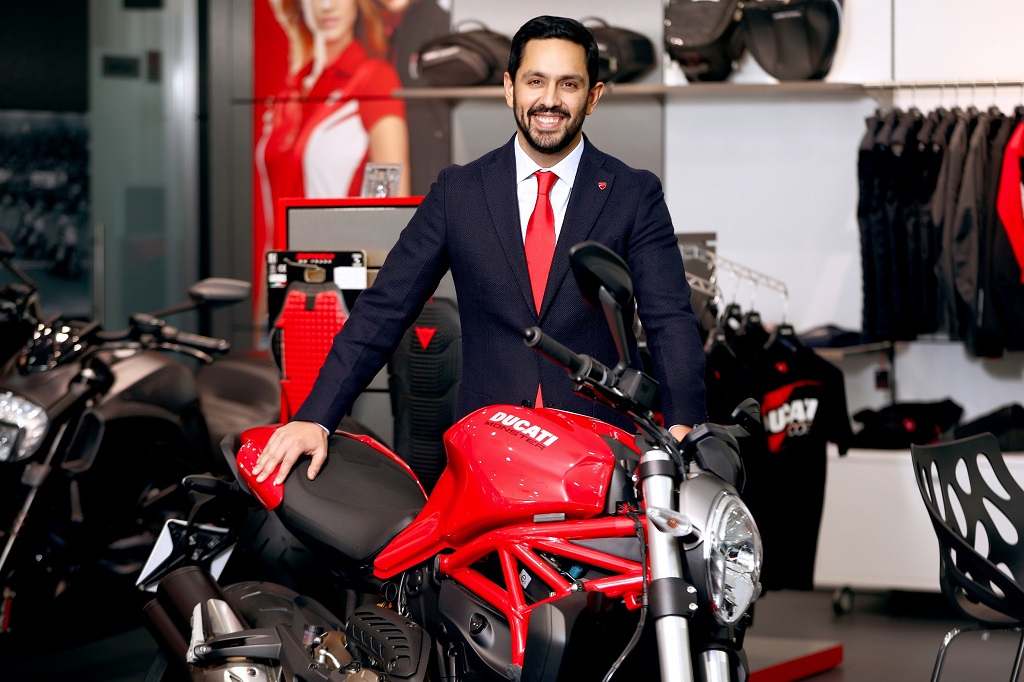 Ducati India Pvt. Ltd. registers growth of 18% in 2016 in a market that grew by 4.6%
Ducati's market share grows from 6.4% to 7.7%
Ducati Multistrada leader in category with an 89% share
Ducati India will launch five completely new models in 2017
New Delhi, 8 February 2017 – Ducati India Pvt. Ltd. has registered an 18% increase in sales during 2016, passing the significant milestone of 1000 Ducatis sold in India.
With the addition of the new models and a growing dealership network, the company has delivered 580 motorcycles in 2016. Having expanded its network now to five dealerships including Bangalore, Pune and Ahmedabad, the brand is continuing to grow.
Ravi Avalur, Managing Director of Ducati India said: "Our growth has confirmed Ducati's ability to excite the Indian market. In 2017 we will have a robust network of ten dealerships across the country. The Ducatisti community is also growing with three Desmo Owners Clubs operational and two more in the pipeline. We're looking forward to a great 2017 for Ducati."
Ducati India has seen healthy sales across its range. The Diavel Dark and Carbon continue to be sales drivers for the Italian manufacturer, accounting for 17% of total sales in 2016, while the Ducati Scrambler registered a 38% growth over the previous year. The very popular Ducati Monster represented 19% of Ducati India's sales and high demand for the company's Superbike 959 Panigale scored an impressive 12% of total sales even though deliveries only started in July 2016. The adventure touring category* with displacement higher than 1000cc grew by 127% in 2016 with the Ducati Multistrada 1200 taking a staggering 89% share of the category.
The successful result in India was also supported by a constant influx of new models, including the XDiavel, Multistrada 1200 Enduro, Hyperstrada 939 and Hypermotard 939.
Globally, Ducati Motor Holding enjoyed further growth in 2016, delivering 55,451 motorcycles to customers all over the world, an increase of 1.2% compared to 2015 (54,809). Ducati India will launch five new models in 2017 and looks to the future with confidence and expectation of further growth.
About Ducati Founded in 1926, Ducati has been producing sport-inspired motorcycles since 1946. Today, their motorcycles are characterized by performance engines with Desmodromic valve actuation, innovative design and avantgarde technology. Covering several market segments, Ducati's range of motorcycles is divided into model families which include: Diavel, Hypermotard, Monster, Multistrada, Scrambler, and Superbike.
These authentic icons of "made in Italy", together with an extensive range of associated accessories and technical and lifestyle apparel, are distributed in over 80 countries around the world, with concentration on the European, North American and Asia-Pacific markets. In addition to the Bologna factory located in the Borgo
All sales data is based on automobile sales data release by SIAM (multi-cylinder above 500cc) and actual sales of Ducati India Pvt Ltd * The adventure touring category does not include cruiser and sport-bike touring motorcycles.
Panigale area, Ducati has a plant in Thailand, which opened in 2011 and assembles motorcycles for the Asian market, and, since 2012, another in Brazil that assembles motorcycles for South America.
Ducati competes in both the World Superbike and MotoGP World Championships. In Superbike Ducati has won 17 Manufacturers' titles and 14 Riders' titles and in 2011 passed the historic milestone of 300 race victories. Ducati have participated in MotoGP since 2003, winning both the Manufacturers' and Riders' titles in 2007.