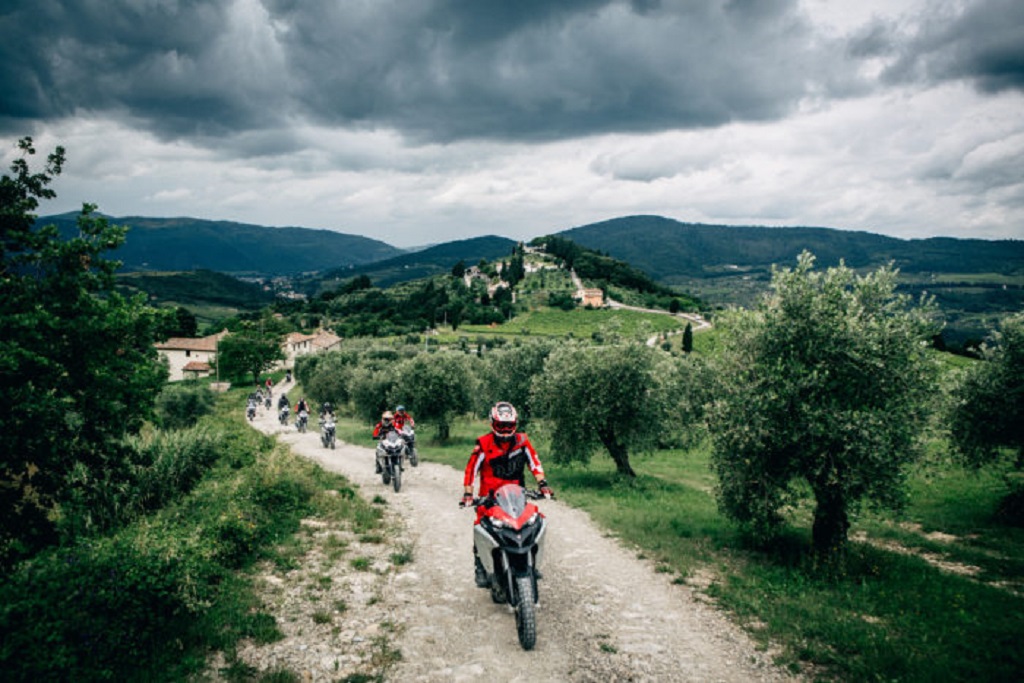 To celebrate the 90th anniversary of Ducati, all is set for the Globetrotter 90th round-the-world trip, reaching places and discovering people who made the history of the Italian motorcycle manufacturer
Vir Nakai and six other Globetrotters have been selected out of applications from all over the world to ride the Multistrada 1200 Enduro
Vir Nakai is the first Globetrotter and is scheduled to officially start the ride on July 4th, from the Ducati factory in Borgo Panigale (Bologna, Italy)
Now that the seven Ducati Globetrotters 90th have been selected, theround-the-world trip is ready to retrace the most significant stages of the 90 years of history belonging to Ducati. Over 30,000 kilometres await the seven "torchbearers" split into a relay race as they step in to replace each other on the Multistrada 1200 Enduro, recording the places and people that have built the brand's history in an online diary at www.globetrotter90.ducati.com.
Vir Nakai will leave on Monday July 4, 2016, exactly 90 years after Ducati was founded, starting out from the Borgo Panigale factory. Having taken part in the World Ducati Week, the major gathering taking place from July 1 – 3 at the Misano World Circuit "Marco Simoncelli", a parade of motorcycles from the DOC's (Ducati Owners Clubs, the heart of the Ducati Community), will escort him from Misano to Bologna to officially start this extraordinary adventure.
The seven riders, with their characteristic globetrotter attitude, will respectively undertake the seven different legs of this round-the-world trip on a Multistrada 1200 Enduro. A relay across 3 continents, passing from one to another will be a specially designed "torch" created by the Ducati Design Center to symbolically spread the fire of passion around the globe, the passion that burns and fuels the spirit of Ducati.
It was by no means a simple task selecting the finalists. Choosing the "magnificent seven" was a very methodical operation, which began in April with an online "casting" on the Ducati website. Regardless of gender, amateur or professional, or the nationality, enrolment was open to everyone. Just a few days after the contest started, the number of applications rocketed far beyond all expectations.
Vir Nakai, said: "I am totally shocked and excited because I would have never imagined I would get so far. The selection round was an amazing experience and it's going to get even better. The final decision for Ducati would have been very tough considering that the 13 other Globetrotters finalists from all over the world are such a brilliant bunch of people. I can't wait to ride!"
After close scrutiny, 14 semi-finalists were chosen, and on June 14 were called up to the Bootcamp in the scenic setting of the Castello di Nipozzano, in Tuscany. The location spanning over 600 acres, hosted the DRE Enduro, a real Ducati riding academy where one can learn technical skills and off road riding tricks under the supervision of experienced and qualified riders, led by Beppe Gualini of ex-Dakar fame. Ducati staff examined 14 candidates, who were tested on the Ducati Multistrada 1200 Enduro on the basis of basic mechanical skills. As a result, seven Globetrotters from seven different countries were designated, ready to embark on the greatest adventure of their lives.
THE SEVEN GLOBETROTTERS AND SEVEN STAGES
1. BOLOGNA-MOSCOW Rider: VIR NAKAI – INDIA
37 years old, Vir has a motorcycle repair shop in Mumbai, but he is a travel writer and photographer. Motorcycling is all his life has been since he was a child, travelling on the tank of his father's bike. "There is no other adventure in the world but the one you can find riding a motorcycle," he says. He has travelled throughout India, from the Himalayas to Bangalore, and in the coming venture he would like to "absorb every drop of it in order to become a part of it, smell the scents, smile and tell the tale".
2. THE TRANS-SIBERIAN ROUTE Rider: STEVE FRASER – AUSTRALIA
50 years old, from Kalamunda, Perth, Steve describes himself as a "professional photographer and adventurer". Specialised in portraying panoramas, at the age of 8, Steve would run home from school to get on his little bike and ride it into the night. He loves to learn about new cultures and experience the intense sense of adventure while riding a motorbike. Sharing the experience is what he is passionate about.
3. JAPAN Rider: JESSICA LEYNE – BELGIUM
27 years old, from Leke, Flanders, Jessica is a maths teacher and web designer – but above all, as she says, "has more oil and fuel than blood in her veins". She has visited Norway and Romania, Slovakia and Italy riding her motorcycle, with no obstacles that would have stopped her – not even the frozen visor, mud up to the saddle or as much as a fractured wrist. Because "on a motorbike I've had many challenging days, but I've never had a single bad day".
4.SAN FRANCISCO – INDIANAPOLIS Rider: EDUARDO GENERALI – BRAZIL
28 years old, from Itu, São Paulo State, Eduardo is a travel guide and instructor. His passion for bikes, which his father passed on to him, has become his job. He arranged and conducted tours through the Atacama desert in Chile, in Patagonia and Bolivia. But the journey that he loved most was the one accomplished with his brother – 30,000 km from Brazil to Alaska. He loves motorcycling so much, that when he's not riding, he's planning the next trip.
5. INDIANAPOLIS – LISBON Rider: SAMUEL BENDALL – USA
31 years old, from Los Angeles, a brilliant journalist and photographer, at the age of 5, Samuel decided to devote himself entirely to his passions: writing, photography, travel and especially motorcycling, also as an instructor. "Since I was a child, I've always wanted to explore, learn about new cultures and travel the world" says this Ducati Globetrotter. "Today I can finally accomplish that dream on a Multistrada Enduro and it's going to be awesome!"
6. LISBON – ISLE OF MAN Rider: HUGO WILSON – UK
54 years old, motorcycle magazine publisher, Hugo comes from Stamford in Lincolnshire – the land of Isaac Newton, Margaret Thatcher, as well as of great explorers such as Sir John Franklin. He has travelled by motorcycle mostly around Europe and the Mediterranean. A writer and photographer, he admits his passion for motorcycling started at the age of 10 when he first saw his cousin's Ducati. "It was love at first sight! And when I finally bought my first bike, it could only have been a Ducati… Once a Ducati, always a Ducati."
7. THE ISLE OF MAN – BOLOGNA Rider: TIMO SCHÄFER – GERMANY
30 years old, from Karlsruhe, Timo is a mechanical engineering student with a passion for motorcycles that he acquired from his brother. His first motorcycle was a Cagiva Elephant, so he likes to say that Ducati actually was a question of fate (the Cagiva Elephant had a Ducati engine, when the latter became part of the Castiglioni Group). Cheerful and enthusiastic, he wants to live every adventure to the full.