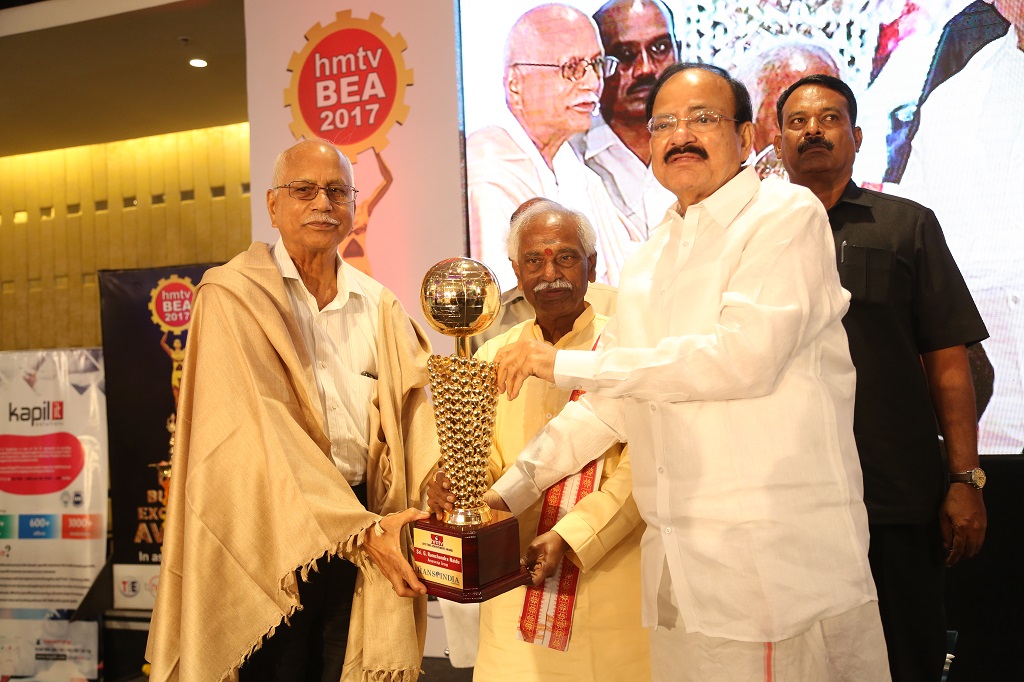 Hyderabad, 9th May, 2017: Amara Raja Group's Founder and Chairman, Dr. Ramachandra N Galla has been felicitated with the 'Lifetime Achievement Award' at the Business Excellence Awards- 2017. The awards were organized by the HMTV news channel, a Hyderabad Media House Ltd. Company.
The Award was presented by Union Ministers Sh. M. Venkaiah Naidu, Parliamentary Affairs and Urban Development and Sh. Bandaru Dattatreya, Labour & Employment Ministry. The grand ceremony which took place in Hyderabad was attended by business leaders and top CEOs of various business houses.
The Business Excellence Awards were selected by a seven-member jury comprising Mr. Ramesh Loganathan, Professor-IIIT and representatives from CII, FTAPCCI, HYSEA, CREDAI and IT companies. The jury went through hundreds of nominations and chose the best nominees in 14 sectors.
About Hyderabad Media House Business Excellence Awards 2017
Hyderabad Media House, which runs HMTV, a leading Telugu news channel, and publishes The Hans India, a leading English daily newspaper decided to honour companies, business leaders and entrepreneurs from the two Telugu states. This is an attempt from our side to celebrate entrepreneurial spirit and business acumen. 'Business Excellence Awards 2017' were presented to the companies, business leaders and entrepreneurs who excelled. The selection for these awards was done in a professional and transparent way.
About Amara Raja Group
Amara Raja is amongst India's leading business conglomerates with interests spanning verticals from the production of lead acid batteries (AMARON brand), power conversion products, sheet metal products, precision components, electronic products, Infrastructure Development, industrial services to food processing. Amara Raja Group with their flagship company Amara Raja Batteries Ltd, are one of the largest manufacturers of Automotive and Industrial batteries in India. Amara Raja Group employs a work force of around 14,000 employees with a Net revenue of around Rs 6000 Crores (USD 885 Million) during financial year 2015-16.