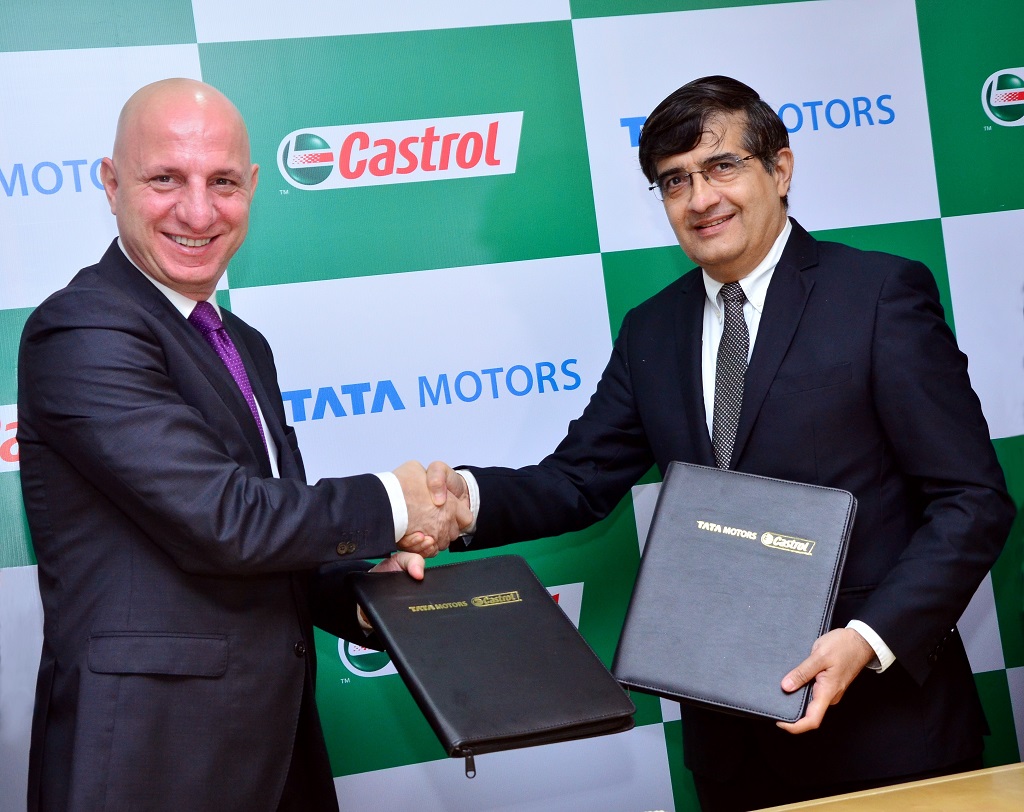 Castrol and Tata Motors today signed a new Strategic Partnership Agreement which will see the two companies working even closer together going forward. Castrol is a major supplier, approved by Tata Motors Passenger Vehicle Division to provide the entire range of lubricants including engine oils, gear oils, transmission fluids and ancillary products.
Castrol and Tata Motors have a long and enduring relationship of over three decades and have worked closely together to deliver high performance products and outstanding services for Tata Motors customers. In the passenger vehicle segment, Castrol and Tata Motors have worked together to co-engineer dedicated products to suit the requirements of the passenger vehicle range, including the recently launched, Tiago.
Speaking at the signing ceremony held in Mumbai today Mr. Mayank Pareek, President, Passenger Vehicle Business, Tata Motors, said, "Castrol has been a trusted partner with Tata Motors over the last several years. Our companies share similar values and are focused on delivering the best product quality and services and delightful customer experiences. We are glad to extend our partnership with Castrol and look forward to working closely with them to leverage the exciting growth opportunities in the passenger vehicle market."
As part of the ongoing partnership, Castrol provides Tata Motors workshops with the high performance Professional series of lubricants including Castrol GTX Professional Diesel, Castrol MAGNATEC Professional T5W30 and Castrol EDGE 0W40 engine oils. Through its wide distribution network, covering over one lakh retail outlets across the country, Castrol enables Tata Motors workshops and retail customers access to the complete range of Castrol's pioneering technology lubricants.
Both the companies also work closely in the area of safety and skill development in Tata Motors Franchised workshops, besides collaborating on joint campaigns and promotional activities to generate further footfalls in workshops.
Commenting on the Tata Motors – Castrol partnership, Omer Dormen, Managing Director, Castrol India Limited, said: "Castrol's relationship with Tata Motors goes beyond providing pioneering technology products and outstanding service, to collaborating with them to enhance their customers' experiences. Castrol values this long standing relationship and we look forward to building on that relationship and developing new synergies as our partnership strengthens and flourishes".