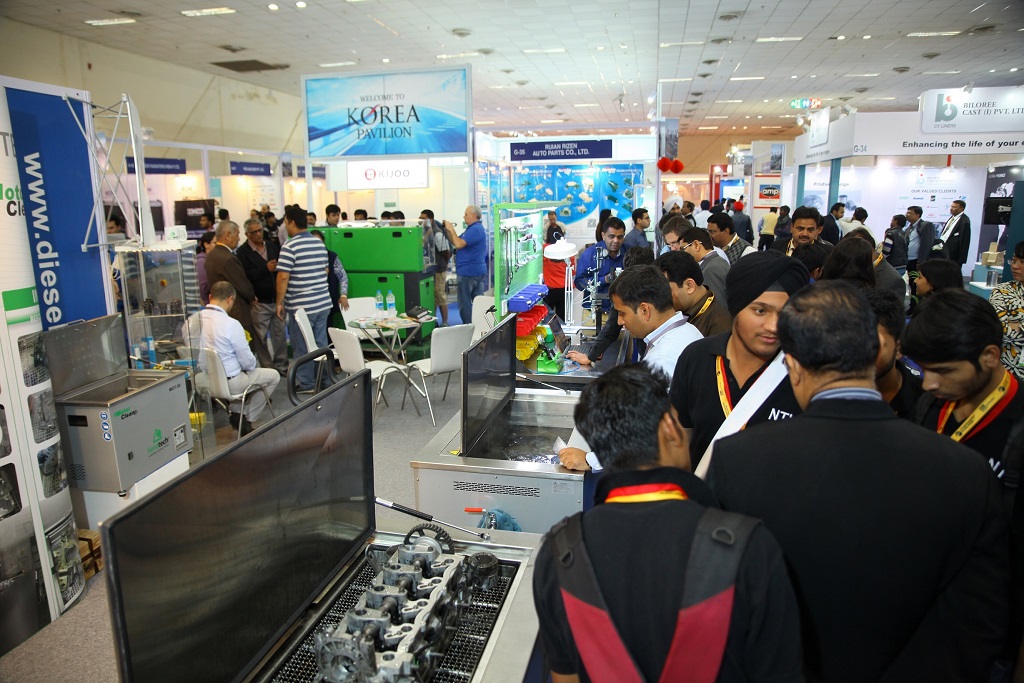 The business potential of ACMA Automechanika New Delhi remains indisputable, with bookings intensifying for the fair scheduled in March 2017. In comparison to last year, the exhibition space has increased substantially with participation from many newcomers and industry leaders like Schaeffler Group, Ample Autotech, Elofic, ZF India, Shriram Pistons, Valeo India, Mansons, Liqui Moly, and ACDelco among others.
While ACMA Automechanika New Delhi will extensively cover the automotive aftermarket through its six product categories – Parts & Components, Electronics & Systems, Accessories & Customizing, Repair  & Maintenance, Management & Digital Solutions and Car Wash, Care & Reconditioning; a unique 'New Product Zone' will showcase latest specialty products, auto components and innovative aftermarket accessories on the show floor.
Demand for floor space from international players continues to remain high with pavilions from China, Germany, Korea, Singapore, Taiwan and the UK already confirmed. Jointly organised by Auto Component Manufacturers Association (ACMA) and Messe Frankfurt Trade Fairs India Pvt Ltd, the 2017 edition will also see some new initiatives along with a series of conference sessions alongside the fair.
Mr. Vinnie Mehta, Director General, ACMA said: "ACMA Automechanika New Delhi is an eminent global platform for the auto ancillary industry to showcase their capabilities and offerings for the aftermarket as also harness business opportunities. Needless to say, this edition will also contribute towards creating awareness on genuine-product availability and evolving the aftermarket distribution chain."
When it finally opens for business from 21 – 24 March 2017 at New Delhi, ACMA Automechanika New Delhi will be the center of business for the auto components and aftermarket players to collaborate and exchange technical know-how – providing the much needed impetus to India's Automotive Mission Plan (AMP) 2026.
Moreover, ACMA and Messe Frankfurt aims to build an anti-counterfeiting network for knowledge sharing and addressing the rising concerns on counterfeit products sold in the replacement market. Counterfeiting is rapidly growing and raising serious concerns about vehicle safety in the country. Higher margins make it easy to push counterfeit products into the market. Therefore taking a strong stand, ACMA's ASLI-NAQLI' and 'Messe Frankfurt against Copying' campaigns will ensure that exhibitors and visitors gain knowledge and understand various safety standards.
The previous edition of ACMA Automechanika New Delhi in 2015 witnessed a 58 percent growth in business visitors and 72 percent from decision makers. Confident that the platform will be bigger, better and busier this time round, Mr Raj Manek, Executive Director and Board Member of Messe Frankfurt Asia Holding Ltd said: "ACMA Automechanika New Delhi will feature today what the industry will need tomorrow – in terms of competitive aftermarket products and technical expertise which we are sure will drive up the exhibitor and visitor quality from its previous editions."
ACMA Automechanika New Delhi will take place from 21 – 24 March, 2017 in Halls 7A-E, 8, 9, 10, 11, 12 and 12A of Pragati Maidan, New Delhi.