More chassis modules, truck & van driveline as well as powertrain modules for passenger cars will be produced at the extended plant from 2020 onwards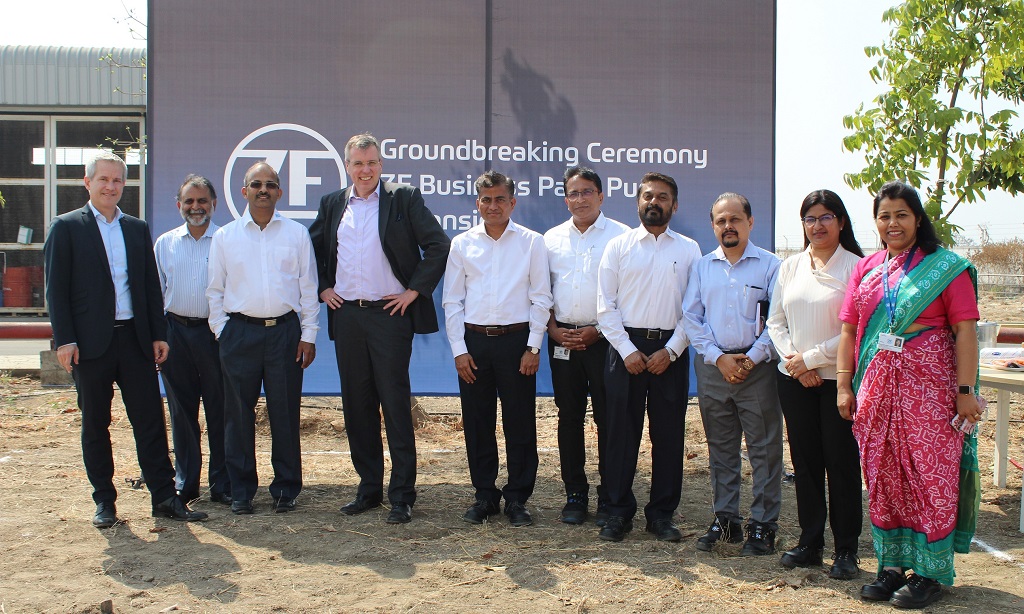 India, 05 February 2019: Only four years after its inauguration in 2015, business at ZF Group regional headquarter in Chakan, Pune is growing and requires a next extension step. The current facility with its 16,770 sqm built-up space is fully utilized with today's Commercial Vehicle, Car Powertrain and Aftermarket business.
By year-end a new production complex with 4,000 sqm will be completed and offers additional space to accommodate further production and warehousing activities.
"This investment is a strong signal for the region and the commitment to grow business in the region" states Dr. Holger Klein, Member of Board of Management, ZF Friedrichshafen AG, "India is an important growth market for ZF and therefore we are expanding our presence here".
 "I am proud of the hard work of our employees, which lead ZF on a positive growth path in the Indian market. With this investment into new building infrastructure we assure that we will also be able to fulfil growing customer demands in future" said Mr. Suresh KV, Head of ZF India Pvt. Ltd.
ZF Friedrichshafen AG
ZF is a global leader in driveline and chassis technology as well as active and passive safety technology. The company has a global workforce of 146,000 with approximately 230 locations in some 40 countries. In 2017, ZF achieved sales of €36.4 billion and as such, is one of the largest automotive suppliers worldwide.
ZF enables vehicles to see, think and act. The company invests more than six percent of its sales in research and development annually – in particular for the development of efficient and electric drivelines and also in striving for a world without accidents. With its broad portfolio, ZF is advancing mobility and services for passenger cars, commercial vehicles and industrial technology applications.
ZF India
ZF Group, a global leader in driveline and chassis technology as well as active and passive safety technology, has been present in the Indian market for more than 5 decades. ZF operates in India through seven legal entities; two hundred percent legal entities and five joint venture partners. The regional headquarters; ZF India Pvt. Ltd., is a multi-product facility based in Chakan, Pune. The group has a strong manufacturing presence in the country that has steadily grown to spread across 14 manufacturing locations in India. ZF Aftermarket division provides a wide range of spare parts for product brands SACHS, Lemfoeder, and TRW with strong service support. For passenger cars, ZF supplies active and passive safety systems, steering systems, clutch systems, axle drives and chassis. ZF makes steering systems, transmissions, chassis systems, axles for trucks and off-highway applications. The company also supplies gearboxes for wind turbines. Additionally, the ZF Group supplies high-end technology products, such as transmissions, axle drives and suspension components for luxury and high-performance passenger cars and buses in India. Other applications of ZF products include rail, aerospace, marine and armored vehicles.
ZF is increasing its local aftermarket and service presence that caters to these various segments and product portfolios. The group has a strong local mechanical engineering team that supports product development and application and design engineering for both the automotive and non-automotive customers. Additionally, ZF has recently set-up its first Technology Centre in Hyderabad which focuses on development in the areas of electronics, embedded software and mechanical engineering. The consolidated resource strength for the group in India, including the JV partners is more than 12,000 employees.