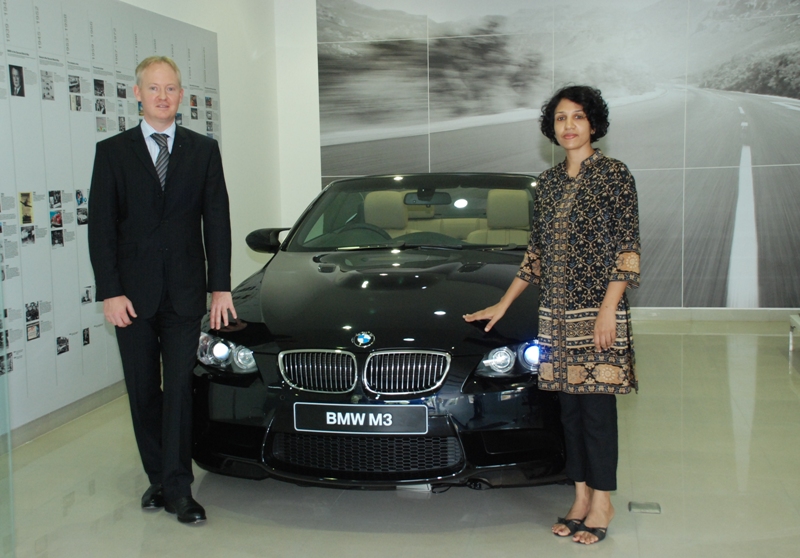 BMW India announced the opening of Kun Exclusive, Coimbatore a satellite facility of Kun Exclusive, Chennai, Dealership Partner for BMW India in Tamil Nadu.
The new sales and service outlet brings to Coimbatore world-renowned BMW standards of sales and service and the same international experience as any BMW sales and service centre worldwide.
The facility is located on Aerodrome Road near NK Palayam, Ondipudur and is comprised of a fully equipped workshop and a sales outlet at the same location. The facility covers approximately 5000 sq ft of space that includes almost 500 sq ft of new car display area.
Commenting on the occasion, Mr. Owen Riley, Director After Sales, BMW India said, "We are proud to announce that our sales and service facility in Coimbatore is now operational. This facility, in partnership with Kun Exclusive, also initiates phase II of our expansion in India and is reflective of BMW's efforts to connect with customers and prospects across the state to provide high quality services that are at par with international standards."
Ms. Vasanthi Bhupathi, Managing Director, Kun Exclusive said, "It is a matter of great pride to enhance our relationship with BMW India. We believe that our presence in Coimbatore will provide customers and prospects enhanced reach and service facilities. We view this as an exciting growth of our partnership with BMW".
As with every other BMW dealership, the staff from this facility of Kun Exclusive will be provided intense training in management of sales, service, spare parts and business systems to ensure customers receive best-in-class pre and post sales ownership experience.
BMW India has now stepped into Phase 2 of its Dealer Network activities. BMW India will further expand operations in 10 additional cities by end of 2010 which will include dealerships in Jaipur, Lucknow, Ludhiana and satellite facility in Coimbatore.
BMW India
Headquartered in Gurgaon (National Capital Region) BMW India is a 100% subsidiary of the BMW Group. The initial investment in India is 1.1 billion Indian Rupees.
The wide range of BMW activities in India include the establishment of a production plant in Chennai (Tamil Nadu) and development of a dealer organisation across major metropolitan centres of the country.
In medium term, BMW India will employ around 200 people; up to 600 additional jobs will be created in the dealer and service network.
On 29 March 2007, BMW India officially opened its production plant in Chennai. The BMW Plant Chennai produces the BMW 3 Series and BMW 5 Series Sedans in petrol and diesel variants and has a capacity to produce 3000 units per year on a single shift basis.
Presently, 12 dealers represent BMW in the Indian market; Bird Automotive (Gurgaon, NCR), Deutschen Motoren (New Delhi); Navnit Motors (Mumbai), Infinity Cars (South Mumbai); Krishna Automobiles (Chandigarh); Navnit Motors (Bangalore), Delta Motors (Hyderabad), Kun Exclusive (Chennai), Bavaria Motors (Pune), OSL Prestige (Kolkata), Parsoli Motors (Ahmedabad) and Platino Classic (Kochi) . Owing to an exuberant growth potential, BMW is hopeful of multiplying its annual sales volume and has already chalked out an extensive dealer strategy to support its plans.
BMW dealerships presently display the BMW 3 Series (325i, 320i and 320d, 320d Highline) and BMW 5 Series (525i, 530i, 520d, 530d and 530d Highline) that are produced at the BMW Plant Chennai. BMW dealerships also display the BMW 6 Series (650i Coupé and 650i Convertible), BMW 7 Series (750Li), BMW X3 (X3 xDrive25i, X3 xDrive20d), the BMW X5 (X5 xDrive48i and X5 xDrive30d) and the BMW X6 (X6 xDrive50i and X6 xDrive30d) which are available in the country as CBU's (completely built-up units). The BMW M3 Coupé, BMW M3 Convertible, BMW M5, BMW M6 Coupé, BMW M6 Convertible, BMW 6 Series Individual and BMW 7 Series Individual can also be ordered at BMW India dealerships.
BMW India has also established an International Purchasing Office (IPO) at its Headquarters in Gurgaon. The IPO will focus on the development of exports from India to the BMW Group International Production Network and there work towards increasing the sourcing share from India over the next years. The activities include the identification and assessment of potential suppliers taking into account BMW's requirements for quality, technology and logistics. The IPO will explore procurement of production material (components) as well as IT and Engineering Services.
BMW Financial Services
BMW Financial Services is currently active in more than 50 countries worldwide offering competitive financial solutions for BMW and MINI customers. In 20 countries, BMW Financial Services offers its services through leading local banking and insurance partners.
BMW India has partnered with Bajaj Allianz General Insurance for offering motor insurance and with ICICI Bank to offer customised financial solutions and ORIX Auto Infrastructure Services Limited for leasing services for its customers. These products and services are offered through the BMW Financial Services.