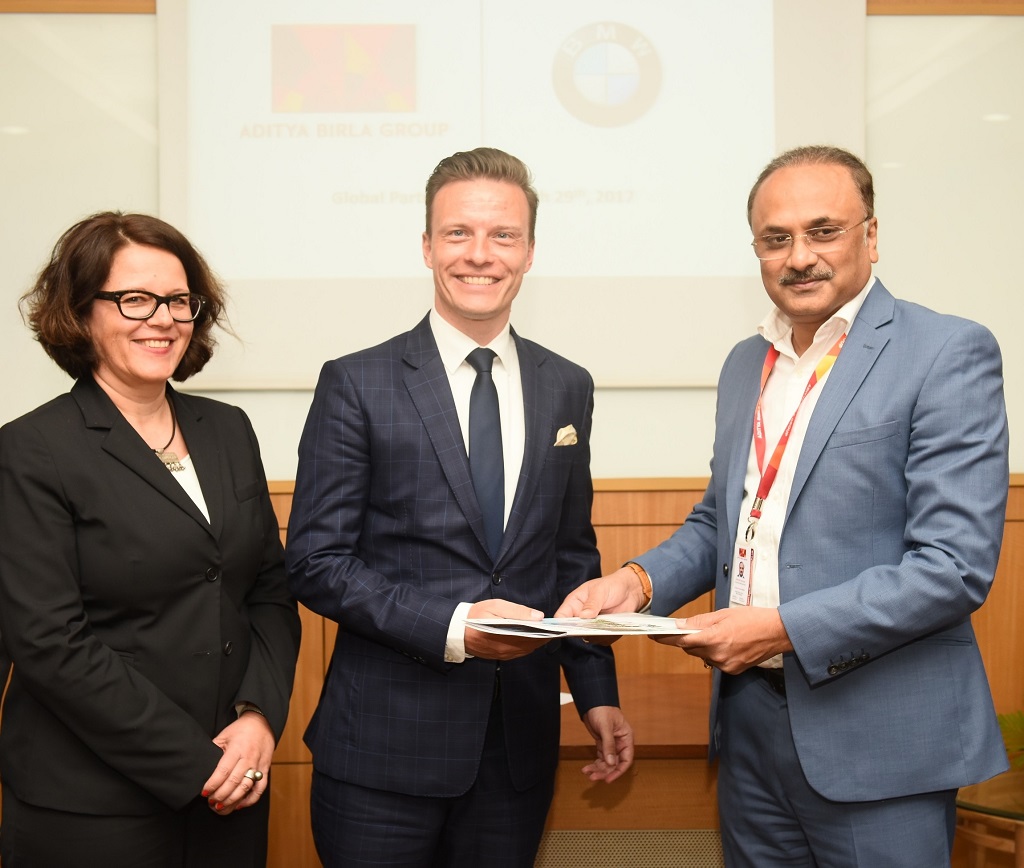 BMW Group to be the preferred premium mobility supplier for Aditya Birla Group across 50 countries and 70+ companies internationally.
Mumbai. BMW Group has entered into an international alliance with the Aditya Birla Group for preferred mobility solutions. The agreement spans globally across several countries such as India, Italy, Spain, Switzerland, Belgium, Germany, Austria, France and UK. The association comprises of a wide variety of privileges on the extensive product portfolio of the BMW Group such as preferential pricing, customized financial services and the state-of-the-art aftersales support.
Mr. Rene Gerhard, Director- Sales, BMW Group India said, "The BMW Group has been a pioneer in automotive excellence and has successfully created outstanding premium mobility solutions for its discerning customers. Our alliance with Aditya Birla Group is yet another step to bring the immersive BMW experience closer to our exclusive clientele. With the fascinating choice of products at attractive prices, customized financial solutions and unparalleled service offerings, Aditya Birla Group employees across the world will now be able to experience the 'Sheer Driving Pleasure' in its greatest form."
Mr. Subrato Sarkaar, Joint President – Corporate Administration, Aditya Birla Group said, "Aditya Birla Group is happy to be associated with an innovative, aspirational brand like BMW. This initiative is a first of its kind and will give our employees an enhanced user experience & service benefits, globally. It is an excellent reflection of our collaboration and partnership with BMW Group internationally."
BMW Group India
With its three brands, BMW, MINI and Rolls-Royce, the BMW Group has its sight set firmly on the premium sector of the Indian automobile market. Along with automobiles and motorcycles, the BMW Group's activities in India comprise of financial services for its premium clientele. Till date, BMW Group has invested 11.3 billion Indian Rupees (€ 167 million) in its subsidiaries in India. (BMW India –INR 4.9 billion (€ 69 million) and BMW Financial Services India – INR 6.4 billion (€ 98 million).
BMW India is a 100% subsidiary of the BMW Group and is headquartered in Gurgaon (National Capital Region). The wide range of BMW activities in India include a manufacturing plant in Chennai, a parts warehouse in Mumbai, a training centre in Gurgaon NCR and development of a dealer organisation across major metropolitan centres of the country.
BMW Plant Chennai started operations on 29 March 2007. The BMW Plant Chennai locally produces the BMW 1 Series, the BMW 3 Series, the BMW 3 Series Gran Turismo, the BMW 5 Series, the BMW 7 Series, the BMW X1, the BMW X3 and the BMW X5. BMW dealerships also display the BMW 6 Series Gran Coupe, the BMW X6, the BMW Z4, the BMW M3 Sedan, the BMW M4 Coupe, the BMW M5 Sedan, the BMW M6 Gran Coupe, the BMW X5 M, the BMW X6 M and BMW i8 which are available in the country as Completely Built-up Units.
The total number of employees at BMW Group India is over 650. More than 1,200 additional jobs have been created in the dealer and service network.
BMW India is the pioneer in bringing luxurious dealerships to India. BMW India has set a decisive course by setting up BMW dealerships of international standards across the country. BMW India has also set very high standards in service quality and customer care. Currently, BMW India has 41 sales outlets in the Indian market.
BMW India offers 'BMW Premium Selection' with the finest range of pre-owned BMW vehicles that are carefully selected and comprehensively examined for quality. BMW Premium Selection vehicles can be ordered through exclusive BMW Premium Selection dealerships at 13 locations in the Indian market.
BMW i stands for visionary electric cars and mobility services, inspiring design and a new understanding of premium that is strongly defined by sustainability. BMW i8, plug-in hybrid sports car, is available at four BMW i dealerships as a Completely Built-up Unit (CBU).
BMW Motorrad officially started its operations as a part of the Indian subsidiary of BMW Group in 2017. Earlier, BMW Motorrad was operating in India with importers who had sales outlets in Mumbai and New Delhi. Presently, BMW Motorrad is in the process of setting up the team and dealer network in India.  In the initial phase, BMW Motorrad has set up dealerships in Ahmedabad, Bangalore, Mumbai and Pune. BMW Motorrad dealerships in India will display  BMW S 1000 RR, BMW R 1200 RS,  BMW R 1200 RT, BMW K 1600 GTL, BMW R 1200 R, BMW S 1000 R, BMW R NineT, BMW R NineT Scrambler, BMW R 1200 G S Adventure, BMW R 1200 GS, BMW S 1000 XR which are available as Completely Built-up Units (CBU).
MINI has successfully established itself as a premium small car brand in India. Presently, the MINI model range in India includes the MINI 3-door, MINI 5-door, MINI Convertible, MINI Countryman and the MINI Clubman. MINI has established five exclusive dealerships in India.
The International Purchasing Office (IPO) established in Gurgaon identifies and assesses potential suppliers for BMW, MINI, and BMW Motorcycles taking into account BMW Group's requirements for quality, technology and logistics. The IPO strongly focuses on increasing the sourcing of production material (components) as well as IT and engineering services from India to the BMW Group international production network.
BMW Financial Services India is a 100% subsidiary of the BMW Group and is headquartered in Gurgaon (National Capital Region). BMW Financial Services India operates with three business lines: Retail Finance, Commercial Finance and Insurance Solutions (as corporate agents). The services offered through BMW Financial Services India are significantly valuable to the premium clientele who require exclusive and flexible financial solutions. Service excellence is the primary focus of operations across all business lines.
BMW Financial Services India offers solutions for retail automobile financing for BMW customers and multi make customers, financing for fleet owners and commercial financing for BMW dealerships and multi-make dealerships. Commercial finance solutions offered to BMW India dealerships further strengthen operations in the country and reinforce the BMW brand. BMW Financial Services India also offers BMW Lease for individuals and corporate customers. BMW Financial Services India offers insurance solutions (as corporate agents) to its customers through its cooperation partner in India.
The BMW Group
With its three brands BMW, MINI and Rolls-Royce, the BMW Group is the world's leading premium manufacturer of automobiles and motorcycles and also provides premium financial and mobility services. As a global company, the BMW Group operates 31 production and assembly facilities in 14 countries and has a global sales network in more than 140 countries. In 2016, the BMW Group sold approximately 2.367 million cars and 145,000 motorcycles worldwide. The profit before tax was approximately € 9.67 billion on revenues amounting to € 94.16 billion. As of 31 December 2016, the BMW Group had a workforce of 124,729 employees. The success of the BMW Group has always been based on long-term thinking and responsible action. The company has therefore established ecological and social sustainability throughout the value chain, comprehensive product responsibility and a clear commitment to conserving resources as an integral part of its strategy.
Aditya Birla Group
A US $41 billion corporation, the Aditya Birla Group is in the League of Fortune 500. Anchored by an extraordinary force of over 120,000 employees, belonging to 42 nationalities, over 50 per cent of its revenues flow from its overseas operations spanning 36 countries through companies like Novelis Inc., Columbian Chemicals Company (Birla Carbon), Domsjo Fabriker AB, AV Group NB Inc., Swiss Singapore Overseas Enterprises PTE Ltd., Aditya Birla Grasun Chemicals (Fangchenggang) Ltd., Hindalco Ind. Ltd., Grasim Ind Ltd, Ultratech, Idea Cellular among others.