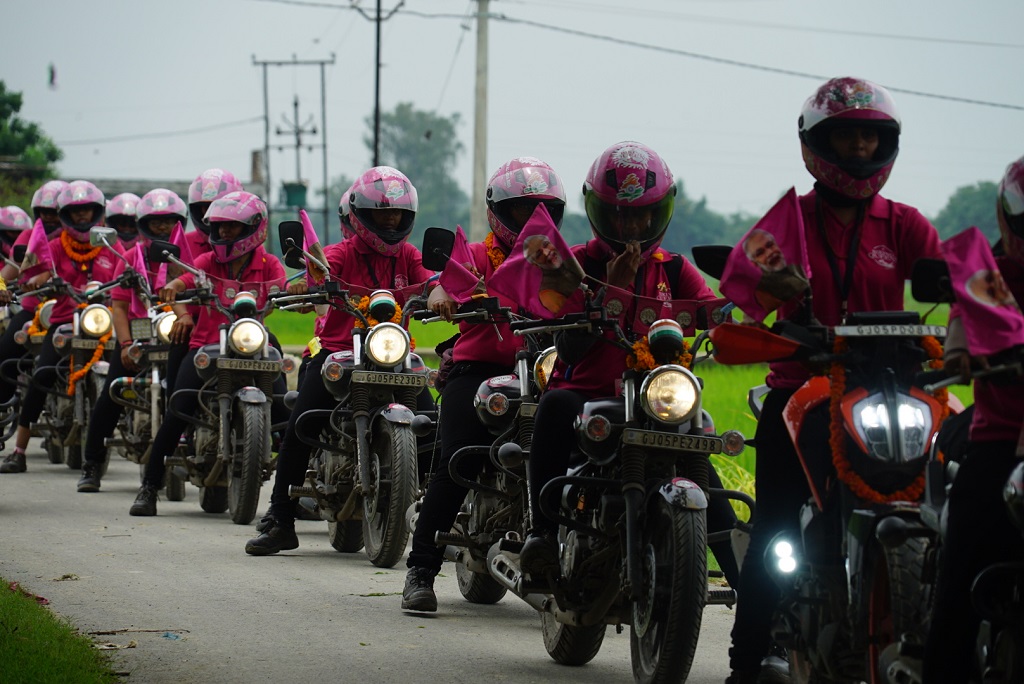 Biking Queens distribute educational kits to children and hygiene kits to women at Nand Ghar
Biking Queens give the Prime Minister's message of Swacch Bharat and  Beti Bachao,Beti Padhao to children at Nand Ghar
Varanasi, Aug 3, 2017: In a country where women are expected to adhere to their household roles, it was a unique sight when more than 50 women rode to the Nand Ghar in Nagepur on their bikes. The villagers came together to welcome the 'Biker Queens' from Surat at their Nand Ghar's doorsteps. Led by Dr. Sarika Mehta, the biker group visited Nand Ghars today, in the Hon'ble Prime Minister's model villages 'Nagepur' and 'Kakaria'. The ladies presented 'educational kits' to children and 'hygiene kits' to women.
Vedanta Limited, in partnership with the Government of India's Ministry of Women and Child Development, plans to modernize around 4,000 anganwadis, which will focus on children's health and education and skilling women. In order to develop and upgrade the infrastructure of anganwadis, the Union Government has allocated a separate budget every year under the Integrated Child Development Scheme (ICDS) to improve overall functioning.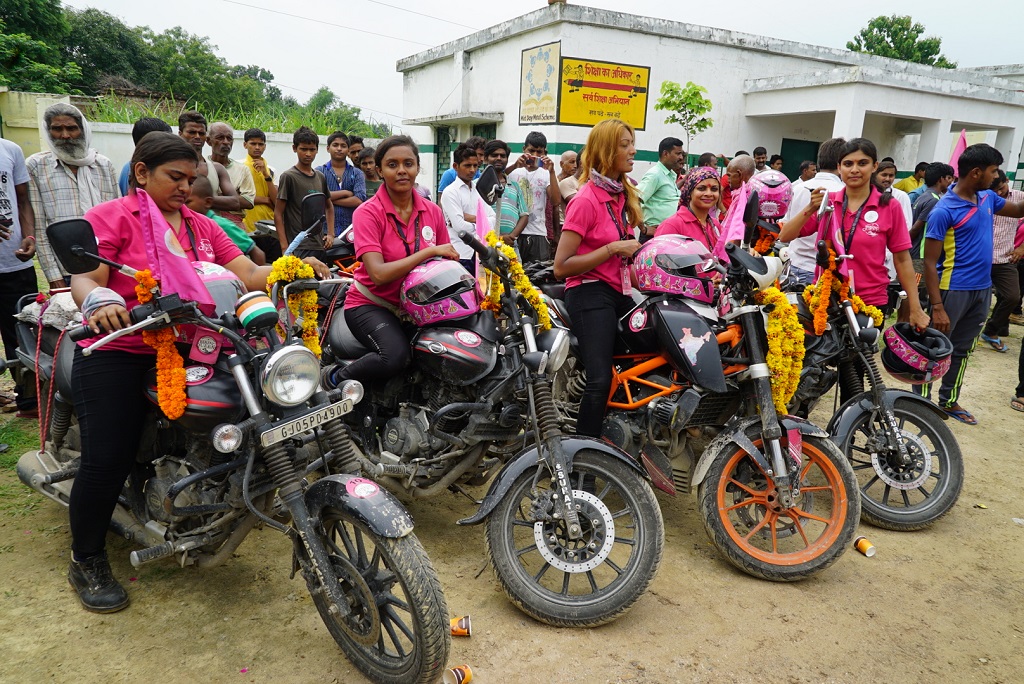 Nand Ghars are a network of Modern Anganwadis with an integrated approach to child welfare and skill development for women. Constructed using state of the art Schnell technology, the structure is fire and damp resistant and is also earthquake proof. Nand Ghars are equipped with BaLA designs (Building as learning aid) and TV for delivering interactive learning for holistic development of children. Each cluster of Nand Ghars is equipped with a mobile health van to ensure primary healthcare for children, pregnant and lactating mothers.
Speaking on the occasion, Dr. Sarika Mehta, who leads the Biking Queens group said, "Nand Ghar is a unique initiative which will propagate the Prime Minister's efforts towards Women Empowerment and child education. I am happy that we met so many women and children who are benefiting by the presence of a modern facility in their village. Women here are motivated through skill trainings to become self-dependent. It was very inspiring to meet them."
Mr Anil Agarwal, Chairman, Vedanta, said, "The Nand Ghar project aligns with the government's vision and commitment to providing quality education for children and job creation through skill development for women, across the country. The 'Nand Ghar' will be a game changer for poverty alleviation by delivering long term benefits to communities through interactive learning, healthcare and skills training in a world class infrastructure".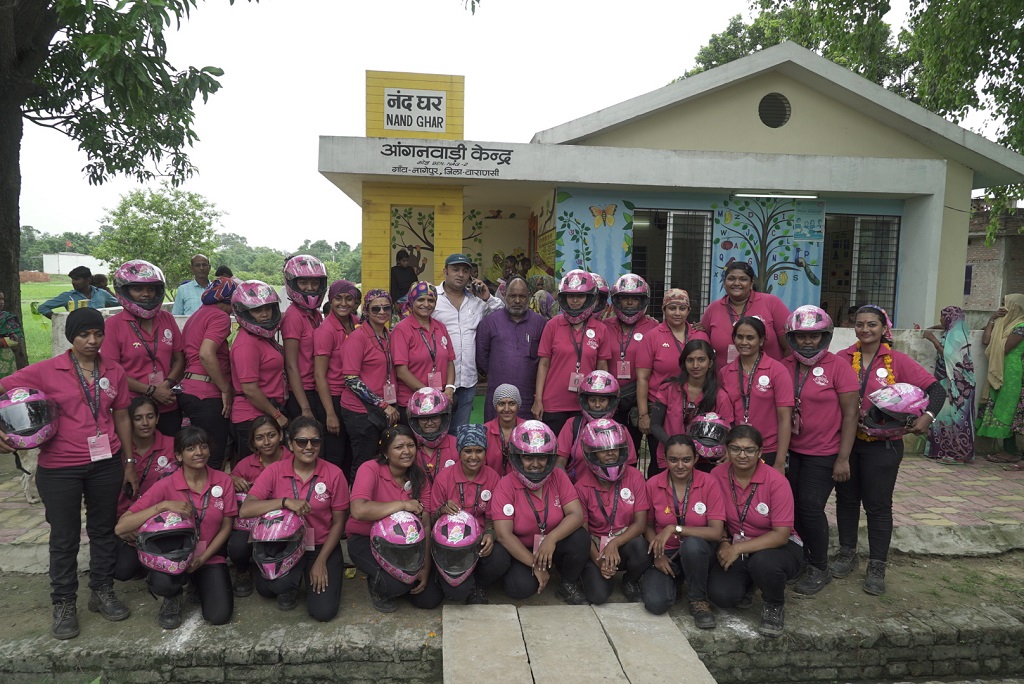 Nand Ghars are Vedanta's commitment towards the nation's most valuable resources – its children. Nand Ghars will be run on an integrated education model which will provide interactive learning and e-learning for children in the age group of 3-6 years. Additionally, Nand Ghars are designed to provide entrepreneurship development training to women to broaden the base of economic development in Uttar Pradesh. The women at Nand Ghar will be provided entrepreneurship training and assistance in establishing their business through credit disbursal and market linkages.
About Project Nand Ghar:
A service delivery unit established under the Integrated Child Development Scheme (ICDS) by the Government of India, the Nand Ghar is an extension of the existing Anganwadi initiative. Vedanta has joined hands with the Government of India to transform Early Childhood Care and Education Centres, in India. Nand Ghar will use state of art construction technology and has added benefits of round the clock electricity through Solar panels, e-learning in a stimulating environment, clean drinking water through RO purifiers and primary healthcare through mobile medical units.
Nand Ghars will run as children's education and health center in the morning and train women in entrepreneurial skills in the second half. This will be a revolutionary measure to eradicate malnutrition in children and create women entrepreneurs across India. An estimated 25 lakh community members including children will benefit through this project each year.
About Vedanta Limited
Vedanta Limited is a diversified natural resources company, whose business primarily involves producing oil & gas, zinc – lead – silver, copper, iron ore, aluminium and commercial power. The company has a presence across India, South Africa, Namibia, Australia and Ireland.
Vedanta Limited is the Indian subsidiary of Vedanta Resources Plc, a London-listed company. Governance and Sustainable Development are at the core of Vedanta's strategy, with a strong focus on health, safety and environment and on enhancing the lives of local communities. The company is conferred with the Confederation of Indian Industry (CII) 'Sustainable Plus Platinum label', ranking among the top 10 most sustainable companies in India.
Vedanta Limited is listed on the Bombay Stock Exchange and the National Stock Exchange in India and has ADRs listed on the New York Stock Exchange.