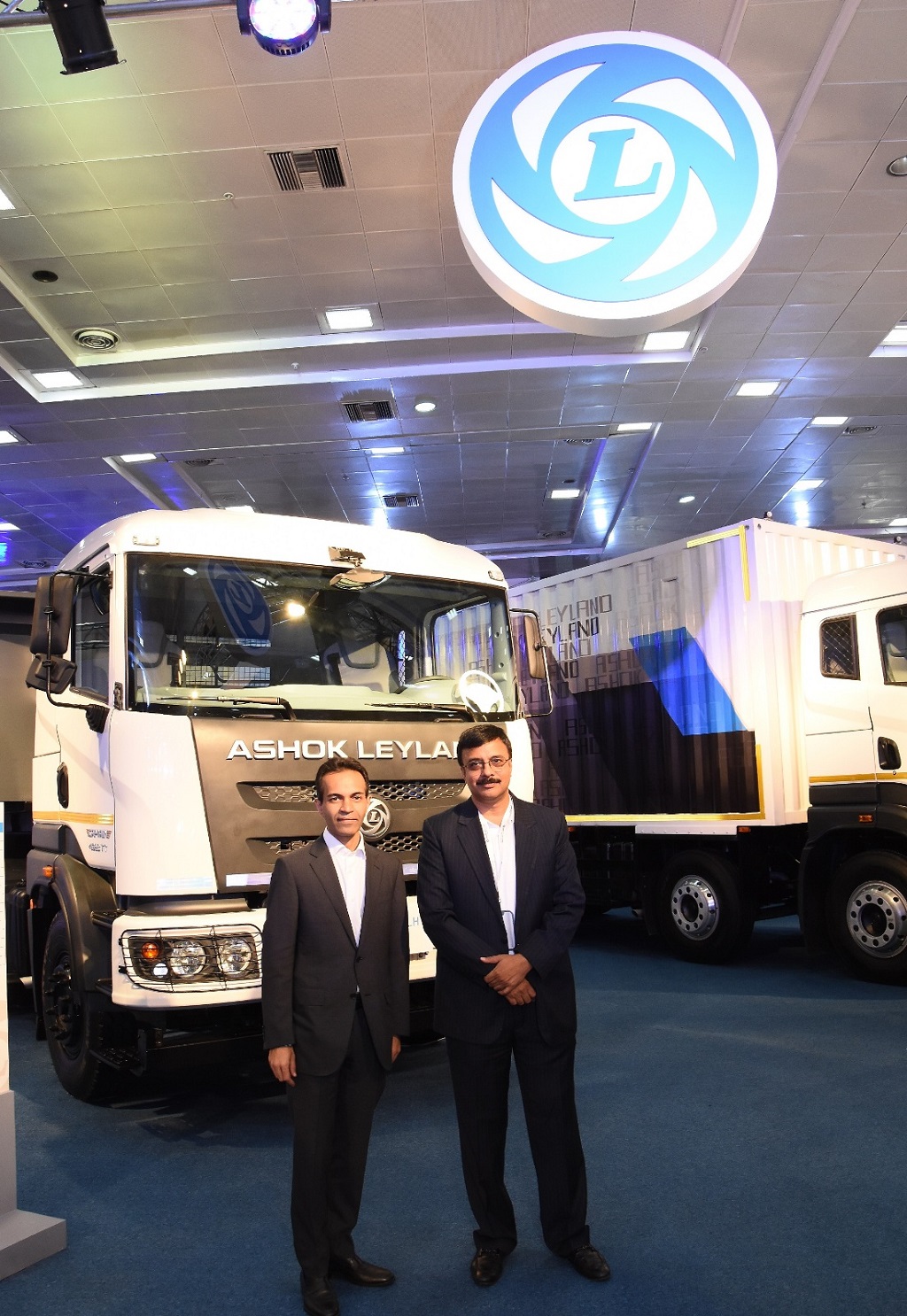 iEGR technology will bring significant cost efficiencies vis-à-vis competition
The only domestic OEM to use iEGR technology above 130HP
21st April, 2017, Chennai: Ashok Leyland, flagship of the Hinduja Group, and the 2nd largest commercial vehicle (CV) manufacturer in India, today showcased its full range of future ready products, based on Intelligent Exhaust Gas Recirculation (iEGR) technology, and industry-leading services at its annual Global Conference 2017 in Chennai. Pioneering the indigenous development and application of the iEGR technology, Ashok Leyland will be the only domestic OEM to implement this technology successfully for its products above 130HP. Thus, Ashok Leyland has, once again, brought its technology prowess and Indian innovation to the fore for the benefit of its customers.
Intelligent Exhaust Gas Recirculation (iEGR) technology is a simple yet innovative solution to achieving the desired results in order to meet the BS4 norms. This technology is not only better suited to Indian conditions compared to Selective Catalytic Reduction (SCR) technology (based on European technology) but will also prove to be hugely cost effective, easy to operate and hassle-free to maintain. All of which will benefit the Ashok Leyland customer, resulting in better margins compared to products by OEMs which are based on SCR technology.
With iEGR technology as the highlight, the Company displayed a mix of over thirty innovative products and services, featuring trucks, buses, light commercial vehicles (LCVs), simulators, quick service bikes and gensets.
Sharing his views at the Global Conference 2017, Mr. Vinod K. Dasari – Managing Director, Ashok Leyland, said, "Ashok Leyland has many innovative class leading firsts to its credit through the years. This showcase of the iEGR technology across our product range bears further testimony of our capability to roll-out technology-led future ready products. More so this indigenous technology will help us deliver on our brand promise of 'Aapki Jeet, Hamari Jeet' in multiple ways. For our customers it will mean ease of use and better cost efficiencies. For the environment it will mean more efficient fuel combustion and improved emissions. The indigenous development of iEGR technology will also mean faster time to market and minimal cost of implementation. We will emerge as the ONLY OEM in India to have achieved this."
Taking the brand promise of 'Aapki Jeet, Hamari Jeet' further, the Company has, in recent years, expanded its network rapidly to cater to its wide set of customers. It has 1000 touch-points with an additional 5000 outlets for Leyparts, the genuine spare parts brand. A service centre at every 75kms on all major highways, Ashok Leyland delivers its "Tatkaal" promise of reaching customers within 4 hours and getting their vehicle back on-road within 48 hours.
Similarly, there are a slew of initiatives and programs by the Company which is defining the aftermarket business in the CV industry:
Add-on service packages: Packages like Annual Maintenance Contract, Extended Warranty Package and ALCOVER aim at giving peace of mind for the customers. Comprehensive cover, Pan-India support, Genuine parts, etc. at reasonable cost help in better uptime and profitability
Cabin Repair Facility: First of its kind service in CV industry assuring quality and quicker returns for dealers
Express Bay: Ensures hassle free service with repair time assurance to the customer. For dealers this helps in better productivity, efficiency and utilization
Fully Built Vehicle System: The ideal repair centre for fully built vehicles through Ashok Leyland authorised dealers
KNOW: Knowledge On Wheels is a unique initiative which provides on-site training to channel partners and others. Built on an eComet or a Boss truck, this classroom on wheels is a fully equipped with all the amenities and features to make learning easy and accessible
Workshop Automation: Ashok Leyland's cutting-edge automated workshops ensure minimal repair time, improved labour productivity, higher inventory turnover and consistent service experience
Accident care call centre: 24×7 call centre that provides complete accident care for Ashok Leyland vehicles
Quick Service: Innovative service idea where a mechanic is dispatched on a two-wheeler as soon as a call is made after a breakdown resulting in quicker resolution of the problem
Eas-E-Pay: It is a one stop solution for quick and secured payments anywhere any time
SPARK: Spare Parts Accelerated Reforms Kick-off is a program where overall supply-chain is made more effective resulting in increased competitiveness and multifold growth in revenues
Samriddhi: Recognizing the potential, commitment and contribution of the workshop employees, this program aims at bringing competitiveness in the field of service
KAM Cell: Currently 429 KAM Customers are enrolled pan-India. A dedicated team at the head office ensures the best and fastest resolution to any problems and also helps in fleet updation.
Personal accident insurance policy: A first in the industry where all workshop employees are covered on and off duty without any extra cost
Mobile Wheel Alignment Facility: An eComet or a Boss which can go on site of a break down for immediate resolution and better uptime
List of products displayed at the Global Conference
| | | |
| --- | --- | --- |
| SN | Model | Vertical |
| 1 | Captain 3718/BS4 with container | Trucks |
| 2 | Captain 3118/BS4 with pol tank | Trucks |
| 3 | Captain 2518 /BS4 Haulage | Trucks |
| 4 | Captain 3123 /22CM BS4 | Trucks |
| 5 | U 2518 /16 Box /9sBGS BS4 | Trucks |
| 6 | Captain 4923/ LH /with AC/tip trailer BS4 | Trucks |
| 7 | Captain 2523 LH/ RMC | Trucks |
| 8 | Cargo 1618 /BS3 24 feet container | Trucks |
| 9 | U 4019 BS4 | Trucks |
| 10 | Captain 2532 mining tipper | Trucks |
| 11 | GURU 1211 20ft Fully built | Trucks |
| 12 | Ecomet 1212 7Cum Tipper | Trucks |
| 13 | BOSS A1 1223 | Trucks |
| 14 | Sunshine 8.1M School bus BS4 | Bus |
| 15 | Lynx Smart 49-seater AC school bus | Bus |
| 16 | Freedom Coach / 12M Luxury Coach | Bus |
| 17 | 222 Viking 40-seater staff bus Semi reclining seats | Bus |
| 18 | Janbus LHD | Bus |
| 19 | Oyster Staff | Bus |
| 20 | Dost Plus | Trucks |
| 21 | MiTR 32 Seater | Bus |
| 22 | Partner LHD | Trucks |
| 23 | Dost RFS CNG | Trucks |
| 24 | Medium Bullet proof vehicle for State Police forces | Trucks |
| 25 | Simulator | Simulator |
| 26 | KNOW (eComet/Boss) | Trucks |
| 27 | Mobile Wheel Alignment Facility (eComet/Boss) | Trucks |
| 28 | Quick Service bike | Bike |
| 29 | 62.5 KVA Genset | Genset |
| 30 | 5 KVA Genset | Genset |

Note to Editors: For detailed information on the displayed products, please refer to the attached brochures/product information notes.