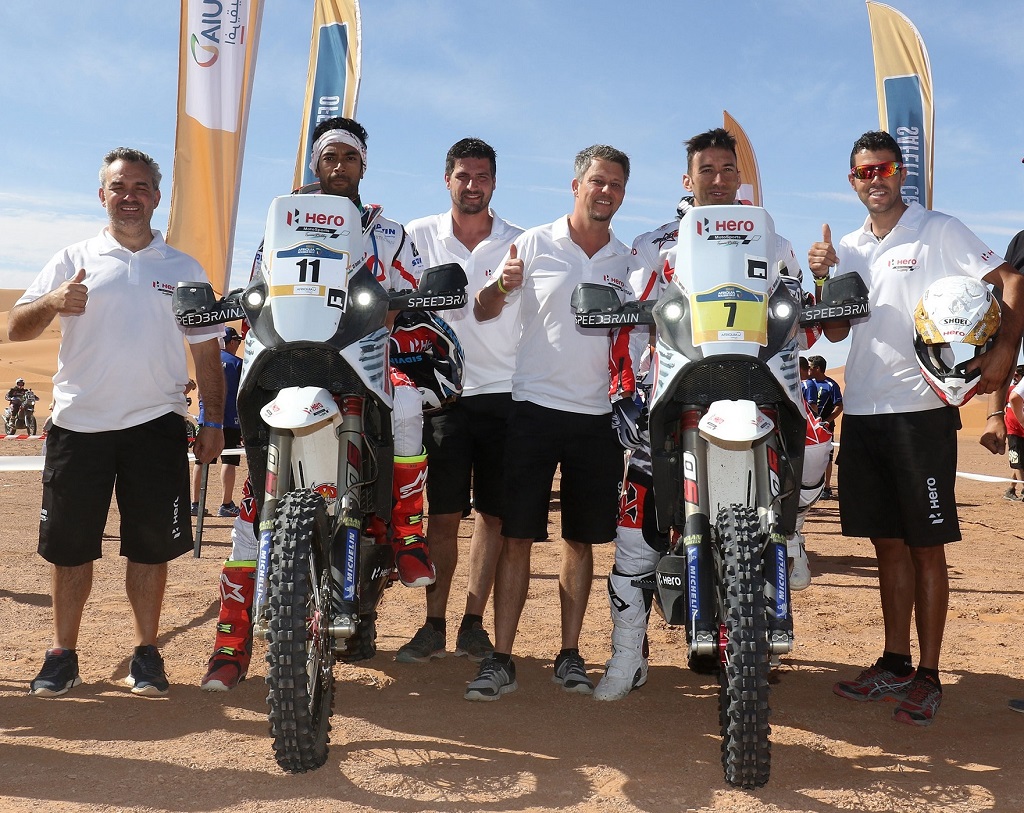 Both Riders Finish The Merzouga Rally – Jrod Finishing In Top 10
Erfoud, Morocco, May 13, 2017 The 2017 edition Afriquia Merzouga Rally concluded near the town of Erfoud, in Morocco, with the Indian team Hero MotoSports Team Rally returning yet another impressive performance at an international rally raid event.
Team rider Joaquim Rodrigues finished the Stage 6 in 2nd place, giving himself an impressive 9th position in the overall standings. His teammate and India's star rider CS Santosh ended the Rally at 17th position in the overall standings, turning-in a steady performance following a spine injury earlier in the year. He finished the 6th Stage in 24th position.
Before turning off the engines, the riders completed a total of 1,200 demanding kilometres through the Moroccan desert, to complete the Rally. The last stage of the rally tested the riders in a single loop of 50 kms, in Motocross-style.
Participating in the Rally for a second consecutive year with Hero MotoSports, this is yet another great result for the Team's Portuguese rider JRod, who is growing in promise and stature with each rally he participates in. JRod had lost a few positions in Stage 3, when he got stuck in a sand-storm and suffered a damage to the bike's cooling system.
His Indian team-mate CS Santosh ended the race in top 20, in overall rankings. This is an impressive performance from the rider, given that he was making a comeback after an injury. The performance is even more impressive because of the extremely tough conditions the riders have to face in a rally raid. But Santosh's gritty performance proved once again why he is India's best in rally racing.
With this finish, Hero MotoSports Team Rally rounded-off the first half of this season with four great perofromance – Dakar (January), Desert Storm (February), India Baja (April), Merzouga (May). The Team will continue building momentum upto the Dakar 2018, during the second half of the season. 
Joaquim Rodrigues, Rider, Hero MotoSports Team Rally said, "It was a good last stage for me, arriving second. There was a big battle happening in the dunes which was a lot of fun. I pushed hard and moved into the lead position but I lost time due to two crashes. Very happy for a good result for the Team. It was a good rally for us and now we focus on the upcoming rallies."
C S Santosh, Rider, Hero MotoSports Team Rally said, "What a great end to a fantastic 6 days of racing here in Morocco. It has been a year since my journey with Hero began and I have definitely made a lot of progress from the way I rode last year to this year. I came here with the target to gain experience and finish the Rally with a decent result. I'm happy to have achieved both. Overall, an exciting and purposeful Rally for the whole team"
Wolfgang Fischer, Team Manager, Hero MotoSports Team Rally said, "Another 100% finish for the team with both the riders arriving at the finish line. We couldn't ask for more as it was a really good race. We overcame the challenges and our struggles and finished the race. And that's what matters. Just as last year, Merzouga is proving to be a good training and testing ground for the bikes and the riders. This year was more difficult than before in terms of navigation and to have a complete race like that is very useful for the riders. Congratulations to the whole team and greetings to India. "
Provisional Results Stage 6
1. Xavier De Soultrait       Yamaha                                               01:05:48 Hr
2. Joaquim Rodrigues     Hero MotoSports Team Rally          +00:03 sec
3. Ivan Cervantes              KTM                                                   +00:06 sec
24. C S Santosh               Hero MotoSports Team Rally          +11:48: min
Provisional Results Overall
1. Xavier De Soultrait                   Yamaha                                               14:54:36 Hr
2. Gerard Farres Guell                  KTM                                                  +13:07 min­­­
3. Franco Caimi                 Yamaha                                               +22:31 min
9. Joaquim Rodrigues     Hero MotoSports Team Rally          +01:35:07 Hr
17. C S Santosh               Hero MotoSports Team Rally          +03:37:58 Hr