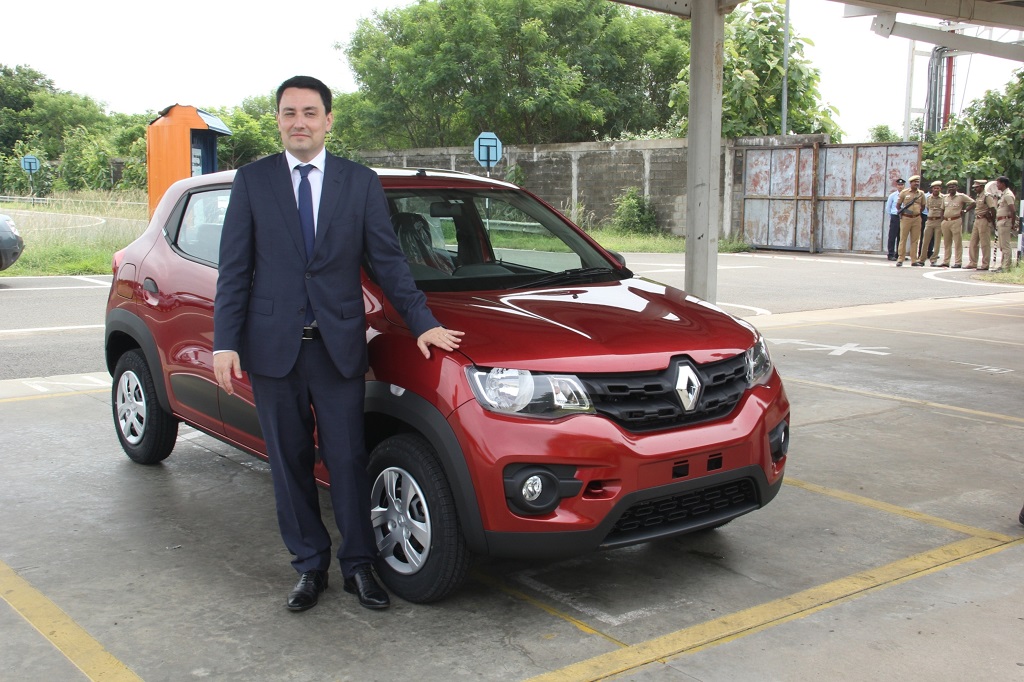 Photo caption: Ambassador of France, Mr. Alexandra Ziegler with the Renault KWID at the Renault-Nissan Alliance plant in Chennai.
Ambassador of France to India, Mr. Alexandre Ziegler visited the Renault-Nissan Alliance plant at Oragadam near Chennai today. The ambassador was accompanied by key officials from the Consulate General of France.
Ambassador of France to India, Mr. Ziegler said, "I am pleased to be at this world-class Renault-Nissan Alliance facility that demonstrates a perfect mix of global standards and local talent. It is good to see the growing market share of Renault in India, being primarily led by the game-changer KWID which symbolizes innovation, creativity and the Make-in-India campaign – this is the very essence of Indo-French partnership. I am impressed to see the effective utilization of resources between Renault, Nissan and Datsun brands."
I am happy to know that this manufacturing facility has created enormous opportunities for local employment as well as built a healthy vendor network, further creating additional jobs" he added.
The state-of-the-art manufacturing facility is the largest Alliance production facility in the world which started operations in March 2010 following an INR 45 billion initial investment. The Alliance has invested an additional INR 16 billion. This facility has manufactured 32 Renault, Nissan and Datsun models and derivatives from its production line. The facility caters to both domestic and international markets and has developed into India's second largest car exporter with more than 650,000 units shipped to 106 countries since 2010.
Together, the manufacturing plant and R&D facility account for around 12,000 direct jobs in Tamil Nadu, with a further 40,000 in the Indian supplier chain, making an increasing contribution to the local economy.
Accompanied by Mr. Jean-Louis Theron, Deputy Managing Director of Renault-Nissan Automotive India Private Ltd (RNAIPL), the French delegation visited the manufacturing facility and test drove Renault KWID.  As part of the visit, the dignitaries were taken through the Alliance Production Way (APW) of building cars wherein they also interacted with key management personnel from the facility. In a gesture to support environment, Ambassador planted a sapling at the facility.