Electric Mobility – Scaling up Auto Component industry in India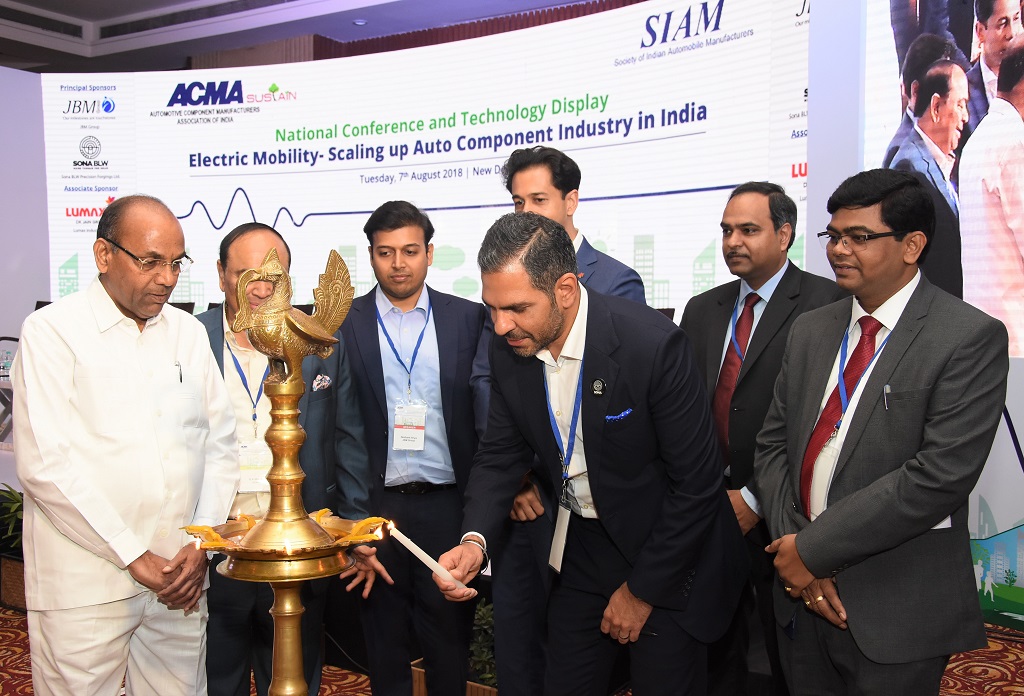 New Delhi, August 7, 2018: The Automotive Component Manufacturers Association of India (ACMA) organized a One-Day conference on "Electric Mobility – Scaling up Auto Component industry in India" on Tuesday, August 7, 2018 at the Lalit Hotel in New Delhi. The event saw an excellent turnout from the industry and participation of policymakers alike for a comprehensive discussion on the way forward.
Dignitaries present today included, Chief Guest Shri. Anant Geete, Union Minister for Heavy Industries & Public Enterprise, Mr. N.K. Minda, President ACMA, Mr. Anil Srivastava, Adviser & DG, DMEO – NITI Aayog, Mr. Sunjay Kapur, Managing Director – Sona BLW Precision Forgings Ltd., Mr. Shailesh Chandra, President Electric Mobility Business – Tata Motors Ltd., Mr. Tapan Sahoo, Chairman – Electric Mobility Group, SIAM & Sr. VP (Engg.) – Maruti Suzuki India Ltd., Mr. Nishant Arya, Executive Director – JBM Group, Mr. Deepak Jain, Chairman, ACMA (NR) & MD-Lumax Industries Ltd., Mr. Jeffrey Jacob, Partner – Roland Berger, H.E. Sergio Dario Arispe Barrientos, Ambassador of Bolivia, Shri. Nara Lokesh, Cabinet Minister for IT, Andhra Pradesh among others.

Mr. Sunjay Kapur, the Conference Chairman welcomed the Chief Guest, Shri. Anant Geete along with the other dignitaries. In his opening address Mr. Kapur said, "Beyond any measure of doubt, environmental thinking clubbed with sustainable principles, applied to mobility is the need of the hour. Albeit a daunting task, today's conference is evidence of the positive, collaborative efforts that leaders of the component industry, automobile sector, policy makers, and dynamic thinkers are taking in this direction." He further elaborated, "though there are several aspects of disruption in the automobile industry, electrification remains one of the key factors. The way forward as we all agree is electric mobility. Electric Mobility will bring about a complete transformation of the entire industry value chain, once it gains wider acceptance. With FAME-II we expect the policy to enable localization that helps grow the auto component sector."
While addressing the gathering, Union Minister for Heavy Industries & Public Enterprise Shri. Anant Geete said, "We should welcome technological innovations that benefit the nation. We need to develop a mindset and move ahead with E-Mobility. We have to move from low emission to 'No emission'. The Govt. of India will support the R&D which will be required to tackle all obstacles. India is emerging as the biggest market in the world. So, we have to safeguard the interests of our consumers and the industries while moving towards our goal."
Mr. N.K. Minda, President ACMA, while addressing the conference said, "The Industry has grown by 18.3% with a turnover of USD 50 bn. There is a huge disruption in technology and it's the right time to talk about policies related to it."
Mr. Anil Srivastava, Adviser & DG, DMEO, NITI Aayog said, "NITI Aayog has integrated different ministries to work towards E-Mobility. Focus areas like infrastructure, protocols etc. are being worked upon. Tech & Innovation will drive the Industry's growth in the coming years and we need more action to stimulate it. Mobility has to be looked at its complete paradigm. States are working together proactively to move in the direction of E- Mobility. Globally, the entire emphasis on the movement of people is shifting. E-Mobility is gaining increased importance in day to day activities and the economic activities of the country."
The three-panel sessions centered around the "Opportunities for the Auto Component Industry", "Disruption in the Auto Sector – Electrification & Connected Vehicle – the way forward for OEMs" and "Policy – State's Perspective".