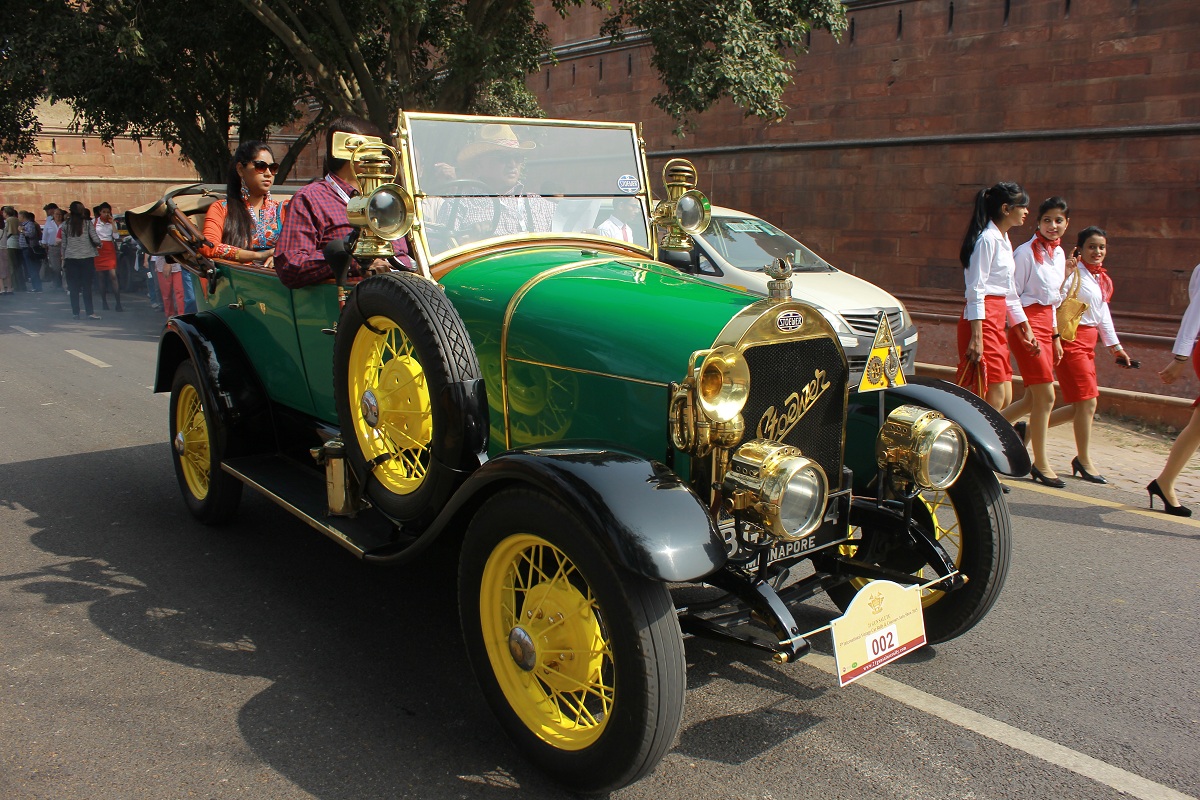 The 6th Edition of 21 Gun Salute International Vintage Car Rally & Concours Show, was flagged of from historic Red Fort by Chief Guest Dr. Mahesh Sharma, Minister of State (Independent Charge) of Tourism & Culture, and Minister of State of Civil Aviation. Rally welcomed a number of visitors and many eminent guests & renowned personalities, from around the globe. Mr. Vinod Zutshi – Secrectary, Tourism, Govt of India, Mrs. Sandra Button – Chairman of the Pebble Beach Concours d' Elegance, Mr. Mr. K.T.S. Tulsi – President, Heritage Motoring Club of India and Member of Parliament, Rajyasabha Member, addressed the gathering. A grand celebration happened with dances, dialects, cuisines, arts and culture.
Mr. Madan Mohan Founder & Managing Trustee – 21 Gun Salute Heritage & Cultural Trust said, "Experience Such Car Rally and Auto Show of International Standards would take us a step closer to spreading awareness about the vintage cars and showcase the evolution of the automobile industry to the younger generation. The 6th edition of 21 Gun Salute International Vintage Car Rally & Concours Show 2016 has definitely surpassed all the vintage events in the country in terms of the presence of vintage cars from all key states of India and the rarest of the rare vintage jewels one can find here. Also very first time vintage cars racing happened at F1 Racing Track".
"The vision of the rally is to establishing India as a world-classing Motoring Tourism destination through the 21 Gun Salute International Vintage Car Rally & Concours Show" added Mr. Madan Mohan
Bursting with excitement & enthusiasm – the spectators witnessed 125 Classic Vintage Cars & 65 Bikes rallying on the roads of Delhi. The International beauties like the 1908 Rolls Royce Silver Ghost, MAYBACH SW 38 1937, Horch 780 Cabriolet, 1959, Lister Costin Jaguar, 1933 Jaguar SS1 Coupe, JAGUAR XK 120, Mercedes 630 Murphy and many more saloons and convertibles from the imperial houses of Rolls Royce, Stutz, Buick, Ford, Chevrolet, Austin Martin and Bentley were the center of attraction.
Vintage & Classic Cars like the 1939 Mercedes TYP 230 from Jaipur, Jaguar Mark V, 1949 from Ahemadabad, 1935 3.5 Litres , Bentley along with 1938 Cadillac Series 90 & 1935 Rolls Royce Phantom II Continental from Mumbai, 1929 Mercedes Nurberg from Bangalore, Mereceds Benz cabriolet 1935 from Rajkot, 1923 ROLLS ROYCE from Kolkata, 1966 Jaguar MK II from Chennai, Dodge 1940-7 Seater limo from Pune and so many other cars from different parts of the country, were mesmerizing & took everyone around, to the next stage of exhilaration.
The motoring enthusiasts dusted off their bonnets and made their way from historic Red Fort Delhi – Netaji Subhash Marg – Ambedkar Stadium – INDIA GATE, moving Straight Towards RASTRAPATI BHAWAN, then on to PURANA QILA ROAD & then Continuing Straight following the Mahatma Gandhi Marg – Budha Temple – DND Toll, then moving towards Greater Noida, the rally continued straight towards Ambedkar Park – Following Greater Noida Express Way towards Sports City ( B.I.C ) & culminated at the Subway (Gate no- 1) for Buddha International Circuit, Greater Noida.
Organized by the 21 Gun Salute Heritage & Cultural trust, the rally also took up a social cause -'Save the Girl Child', there was a special promotion of "BetibachaobetiPadhao" on cars to promote the message of saving and empowering the girl child, which made waves all over the event.
Renowned international authorities like Mrs. Sandra Button – The Queen of Concours, Mr. Martin E. Button – Member of the Selection Committee for the Pebble Beach Concoursd'Elegance, Mr. Claus Mueller – the German Representative Ambassador for the 21 Gun Salute International Car Rally &Concours Show' since 2015, Mr. Douglas Fox – Secretary of the Malaysia-Singapore Vintage Car Club, present at the show, offered their enthusiastic support to make this event truly a world class affair.