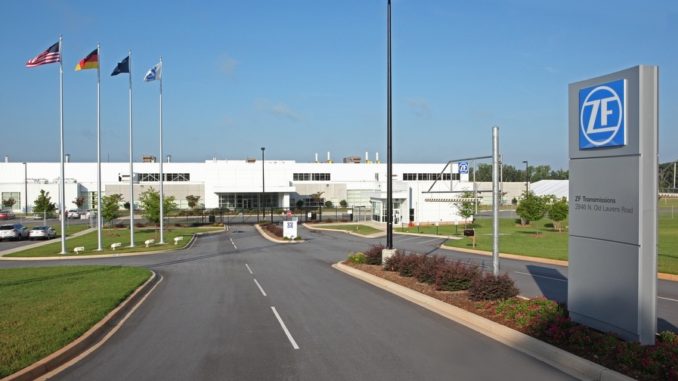 With nearly half a billion Euro, the new facility is the largest single investment in ZF's history
Planned volume production of 1.2 million 8- and 9-speed automatic passenger car transmissions
Education and training of the employees in South Carolina is of great significance for ZF
Gray Court/Friedrichshafen.ZF Friedrichshafen AG has opened a new plant for automatic passenger car transmissions in the U.S. Located in South Carolina, ZF Transmissions Gray Court, LLC is the manufacturing site of the 8-speed automatic transmission, which is already successful in the market, as well as the world's first 9-speed automatic transmission.
"We are honored to present the U.S. home of the automatic transmission," said ZF Chief Executive Officer, Dr. Stefan Sommer at the official plant opening in Gray Court on Friday. "This is an important step toward bridging the distance to our customers and having an even better opportunity of accessing North America, an important foreign market for us." About 1.2 million transmissions are expected to be produced at this plant annually; this includes 400 000 8-speed and 800 000 9-speed automatic transmissions. The new plant expands the existing capacities at the Saarbrücken location to produce 8-speed automatic transmissions.
So far, ZF has invested around EUR 300 million in building the new location, which is around 130 kilometers north-west of Columbia, the capital of South Carolina. A total of approx. EUR 450 million is planned for investment into the new location. "It is the largest single investment in the almost century-long history of ZF," emphasized Dr. Konstantin Sauer, ZF Board Member responsible for finance and the North American region. This reflects ZF's vision of great potential for the region and the company's desire to continue expanding its successful course with adequate production capacities.
The 90 000-square-meter facility – corresponding to an area of almost 13 soccer pitches – will once again become a construction site at the start of production because of the strong demand for ZF's automatic transmissions. At the Grand Opening, Dr. Sommer announced, "We will be increasing the existing footprint by almost half." By 2016, a total of around 130 000 square meters will be available so customers can be adequately served; consequently, the number of employees is expected to increase from 1 200 to 1 650.
"We are very confident," Sommer continued, "that in addition to our current customers, Land Rover and Chrysler, other automotive manufacturers will join in and benefit from the advantages of our 9-speed automatic transmission."
The new transmission is specially designed for passenger cars with front-transverse engines. Compared to today's standard 6-speed automatic transmission, it cuts fuel consumption by up to 16 percent. "Since around three quarters of all passenger cars worldwide are fitted with this drive configuration," said Sommer, "I see great potential for our new product – especially in North America."
ZF chose South Carolina because numerous automobile manufacturers and suppliers are already located in the area, and the local government provided a number of great opportunities to build a new facility. In addition, Piedmont Technical College established a new facility near ZF to aid in the training of a skilled workforce. With Clemson University in the area, it provides a great opportunity to recruit future engineers. Furthermore, the new ZF U.S. employees have been trained in the subtleties of transmission assembly by experienced, specialized ZF workers from Saarbrücken via the "Buddy Program". The employees, trained internally through this program, now work as multipliers in Gray Court and are passing on their knowledge to the subsequently recruited U.S. colleagues.
ZF's commitment to professional training and to the region has also been acknowledged by the Governor of South Carolina, Nikki R. Haley: "We are very happy that ZF has chosen to once again grow its presence here in the Palmetto State. The company continues to show its commitment to professional training for its employees, and today's announcement indicates that ZF sees South Carolina as the right place for its business. We celebrate ZF's additional EUR 130 million investment and the creation of 450 new jobs in Laurens County."