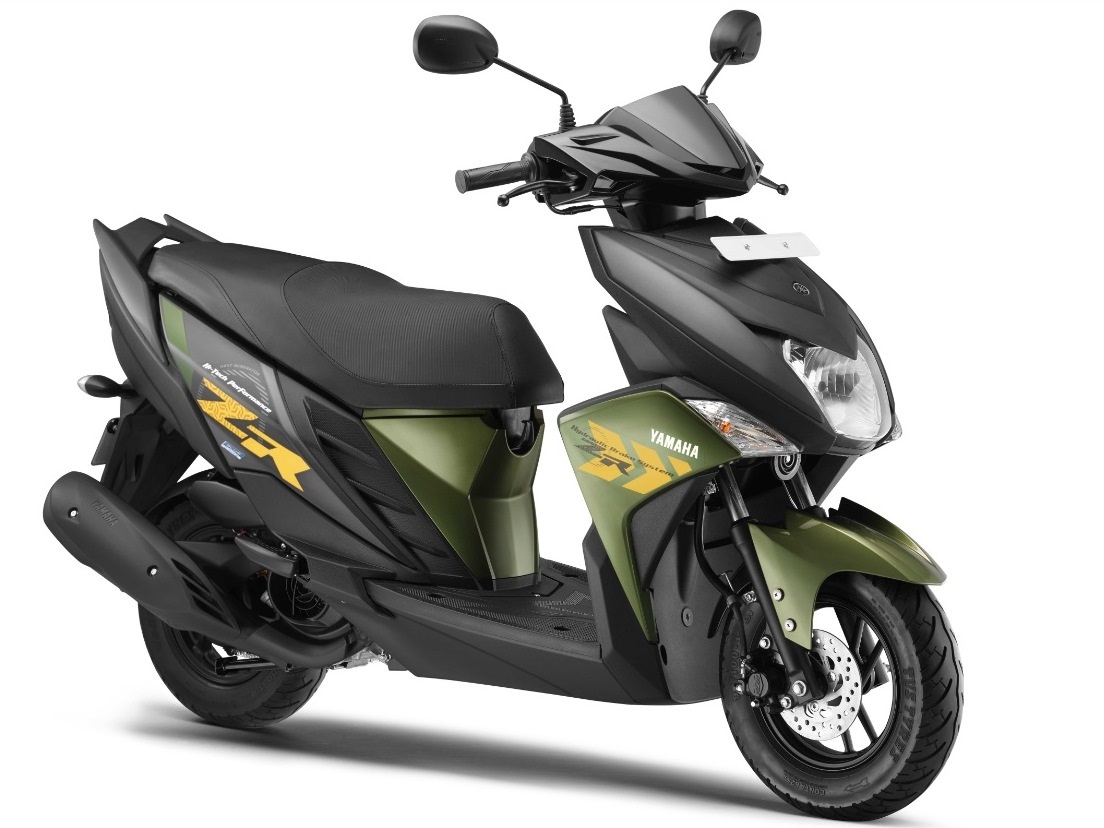 Focusing on youngsters with Yamaha's latest addition in the scooter segment
Shortly a week after the launch of the new Saluto RX, India Yamaha Motor announced today the launch of the new Cygnus Ray-ZR scooter for the Indian market which will be available from May 2016 onwards. The all new Cygnus Ray-ZR was unveiled during the 13th Auto Expo in February this year.
The Cygnus Ray-ZR was developed around the concept of a "Next-Generation Real Boy's Scooter." The new model actively adopts the latest trends among young people. It takes on a new exterior design characterized by a sense of dynamism and layered forms that gives a fresh look like no other scooter before and expresses the strength of a well-trained physique.
The design realizes the 'Real Boy's Scooter' concept by balancing the deeply-sculpted and powerful front mask, effortlessly-layered straight lines, and tail surround accentuated with a sense of speed. The Cygnus Ray-ZR is powered by an air-cooled 4-stroke, SOHC, 2-valve 113cc "BLUE CORE" engine with a continuously variable transmission (CVT) unit. It features a lightweight body (103 kg) with glamorous design and offers user-friendliness. The main features also include 1) an engine with high combustion efficiency to offer among the best fuel efficiency in its class at 66 kmpl* (*under standard test conditions) 2) Plenty of storage space (21 litres under seat storage) 3) Newly designed instrument cluster with excellent readability, even at night 4) Tubeless tyres. The new model will come in two eye-catching colors for its disk brake model to fulfill the needs of trend-conscious young riders. It will also be available in two different colors for its drum brake variant.
Till date, India Yamaha Motor has enhanced its Indian market scooter lineup by consistently launching products that respond to a wide variety of user needs, such as the Cygnus Ray aimed at female riders, the Cygnus Ray Z targeted to young people, the family-oriented Cygnus Alpha, and the premium fashion scooter Fascino.
Mr. Roy Kurian, VP-Sales & Marketing, Yamaha Motor India Sales Pvt. Ltd. added, "Out of the total demand of two wheelers in India, the scooter segment is soaring with 30% contribution to the sales and we are looking at 10% market share for this year. With Yamaha's forte to cater to youngsters with its DNA of style, sportiness and innovation, the new Cygnus Ray-ZR will surely be a treat for real boys, especially among the ones particularly keen on style and technology. Since 2012, Yamaha's Scooters were enthusiastically accepted in the market. With the launch of the Fascino in 2015, Yamaha further witnessed a steep growth in sales, which only testifies its strong product focus and market strategy. We are excited to launch the new Cygnus Ray-ZR which is all set to rev many hearts among Indian customers."
Model
Launch Date
Ex – showroom Delhi
Cygnus Ray-ZR
21st April 2016
Drum Brake model: 52,000 INR

Disk Brake model: 54,500 INR
 About Yamaha's Blue Core Technology
Implemented by Yamaha Motor Co., Ltd, (YMC), Japan on various models, "BLUE CORE" is a next-generation engine development ideal for models that take riding enjoyment, fuel efficiency and environmental performance to all-new levels. The "BLUE CORE" ideal focuses on the following three points:
Increasing combustion efficiency (combustion control)
Increasing cooling efficiency
Reducing power loss