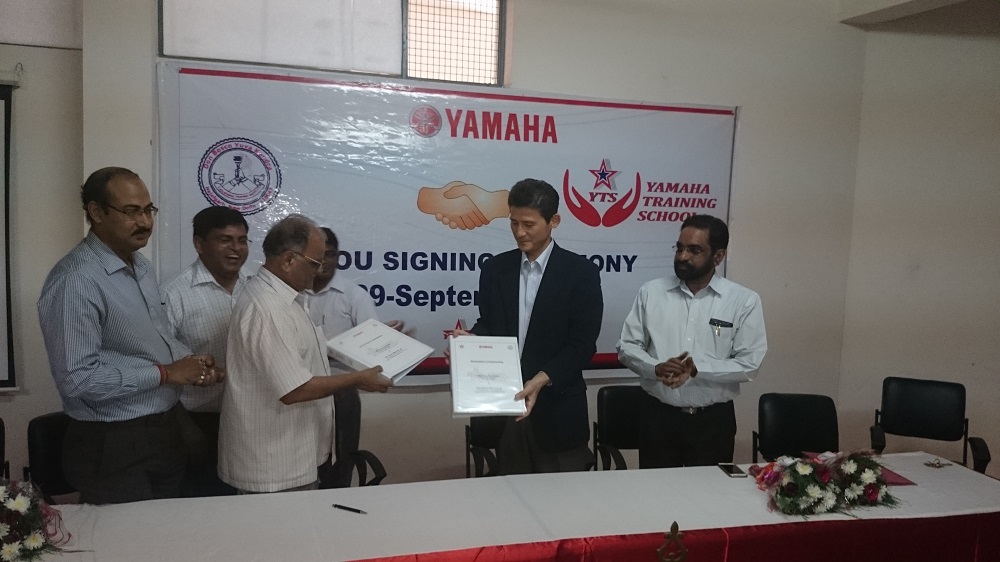 India Yamaha Motor Pvt. Ltd, today, signed a MoU with Don Bosco Yuva Kendra, one of the prestigious institutes in Najafgarh area to open Yamaha Training School (YTS) in Delhi. This initiative is to promote and encourage economically weaker youth to acquire technical knowledge and expertise, thereby supporting them to secure employment at Yamaha dealerships. As a socially responsible company, this initiative is in line with Yamaha's continued CSR initiative. Technical experts from Yamaha Technical Academy – the company's training division will be providing support in conducting the YTS program by continuously training the trainers as well as the students.
Speaking on the occasion, Mr. Hiroshi Kimura, Director, Yamaha Motor India Sales Pvt. Ltd said: "At present, there is a huge skills gap in the industry and a large number of youth are pushed towards unemployment due to lack of technical skills. With the present MoU we will develop a synergetic partnership with Don Bosco Yuva Kendra, one of the prestigious institutes from Najafgarh area of Delhi, thereby helping deserving students find employment in the automobile sector via impartment of technical training and education. These partnerships will provide a platform to the economically weaker youth to obtain a job oriented technical training in two wheeler repair and servicing that meets industry standards. Upon successful completion of this YTS course, students will receive a Yamaha Technical Academy certificate and a certificate issued by the Institute that will help them to gain suitable employment within the industry."
As a part of its continued CSR initiative,  India Yamaha Motor Pvt. Ltd is poised to adopt Government/ Private Technical Institutes and to partner with reputed NGOs across India to launch Yamaha Training Schools with Yamaha Technical Academy (YTA) certification.
Yamaha had recently launched its YTS at Bosco Boys Welfare Society, Mumbai, Don Bosco Technical Campus in Chennai, Don Bosco Technical Institute, Krishnanagar in West Bengal, YTS at Grow More Foundation, Himmat Nagar, Gujarat,  YTS at Don Bosco Technical Institute at Mampetta, Mukkom in Calicut,  YTS at Little Flower Engineering Institute, South Kalamasssery, Cochin, YTS at Don Bosco Technical Institute at Sulthan Bathery in Wayanad District,Calicut, YTS at Gram Tarang Employability Training Services (GTET), Bhubaneswar, YTS at Don Bosco Technical School, Maligaon in Guwahati and YTS in Mangalore, Karnataka at the premises of St Joseph's Technical Institute. Yamaha had earlier launched its YTS in Kolkata, at the premises of Don Bosco Technical School (DBTS) in Liluah and YTS in Aurangabad at the premises of Government Polytechnic in Aurangabad, Maharashtra. The company had also launched its YTS in Delhi earlier last year, partnering Navjyoti India Foundation – a not-for-profit organization working with marginalized sections under the inspiring leadership of Magsaysay Award winner, Dr Kiran Bedi. Yamaha's first YTS was launched in association with Dayal Bagh Engineering Institute, Agra in 2013.