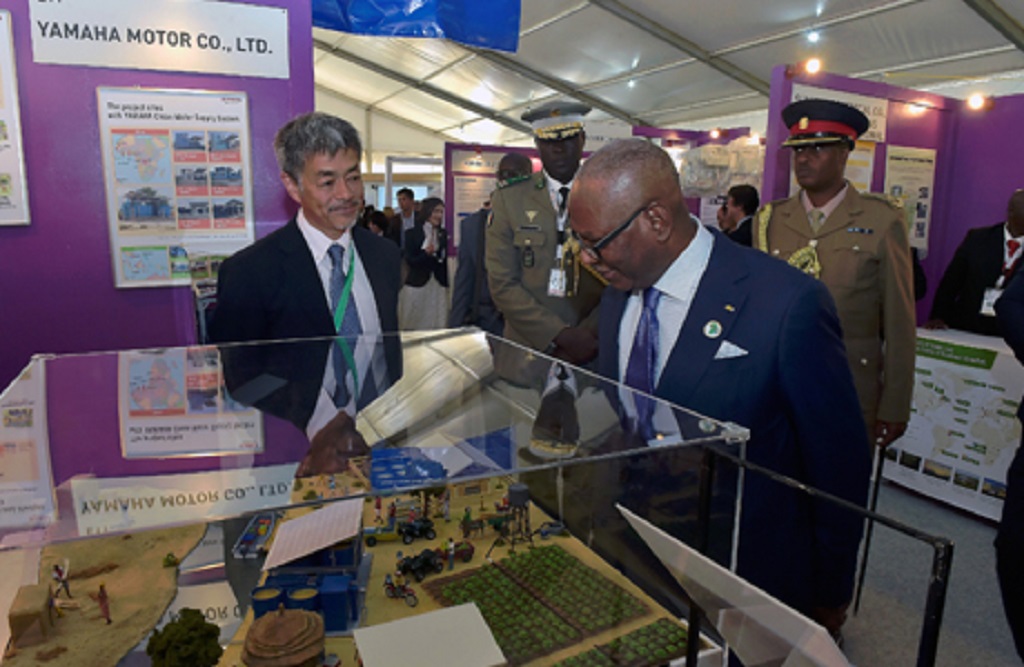 Yamaha Motor Co., Ltd. (Tokyo: 7272) announced today that it has participated in the Sixth Tokyo International Conference on African Development (TICAD VI) Summit, held in Nairobi, Kenya on August 27-28, 2016. Hiroyuki Yanagi, President, CEO, and Representative Director of Yamaha Motor, gave a speech at the meeting on the theme of "Promotion of economic structural reform through economic diversification and industrialization." In it, he described how Yamaha Motor has contributed to the development of fisheries in Africa since the 1970s, particularly by the motorization of hand-paddled fishing boats through the fitting of outboard motors, the promotion of development and local production of FRP (Fiberglass Reinforced Plastics) fishing boats suited to local conditions, and the development of local human resources and spare parts supply networks in order to maintain these products.
Moreover, at the Japan Fair 2016, hosted by the Ministry of Economy, Trade and Industry and the Japan External Trade Organization concurrently with TICAD VI, Yamaha Motor held a booth in the "Health and Hygiene Improvement (infectious diseases countermeasures, safe water supply, medicine, and pharmaceuticals)" field, showcasing its Clean Water Supply System (compact water purification system), motorcycles active in transporting vaccines, etc., conducting PR activities to interested parties from various countries in Africa.
Yamaha Motor has been active in developing the African market since introducing marine products such as outboard motors in the 1970s. Currently, Yamaha Motor operates in 52 African nations through partnerships with our local distributors. Yamaha Motor has been expanding business oriented toward locally-focused solutions, and carrying out sales and services for products including motorcycles, outboard motors, boats, generators, and compact water purification systems. The African market has high potential with its rapidly-increasing population and rising middle classes. Yamaha Motor recognizes the value of committing to this market, and aims to continue its proactive business expansion.
Examples of Yamaha Motor locally-focused solution businesses
| | | |
| --- | --- | --- |
| Outboard motors | : | Development of products that can withstand harsh usage environments as well as contributing to the development of fisheries by producing publications that provide information on fishing, processing, and preserving methods. |
| Compact fishing boats | : | Development of FRP fishing boats to replace wooden fishing boats, and providing technology to enable local production |
| Motorcycles | : | Contributing to the transport of medical supplies to remote locations, as well as for the guard and escort of VIPs. |
| Compact water purification systems | : | The development of compact water purification systems for small settlements hat utilize surface water contributes to the improvement of the water supply situation, reduction of illnesses, and reduction of medical supplies required. It also relieves women and children of the laborious task of drawing water. |
※

TICAD, or the Tokyo International Conference on African Development, is an international summit on the theme of development in Africa. Since 1993, the Government of Japan has hosted it jointly with the United Nations, the United Nations Development Programme (UNDP), the African Union Commission (AUC), and the World Bank.