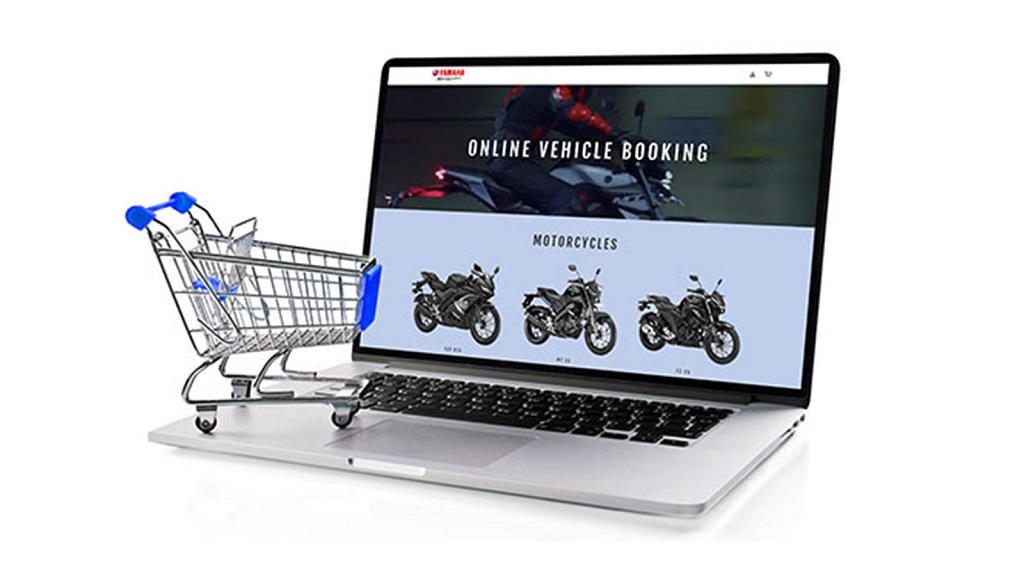 The new website of Yamaha with Virtual Store will host an end-to-end online buying platform of Yamaha two wheelers
The online sale will cover more than 300 dealerships pan India in 2020
A class-leading customer experience at https://www.yamaha-motor-india.com/ and a hassle-free booking & purchase at https://shop.yamaha-motor-india.com/
Mumbai, August 13th, 2020: The excitement of Yamaha is all set to get intensified as the company introduces the "New user friendly website with online sales facility" in India today, as a part of the brand's continued effort to provide exciting experiences to its customers under its strategic campaign "The Call of the Blue".
In the current scenario, customers are preferring to stay indoors and they want to minimize their visit to showroom. Considering the convenience of the customers, India Yamaha Motor has introduced the online sales on its website with VIRTUAL STORE to enhance the buying experiences of its customers.
The new website will have all the latest features like the VIRTUAL STORE with 360 degree view of the products along with the specification comparison between Yamaha Products bundled under the Buyers Guide option on the website. The Yamaha dealerships will also provide their support in promoting the contactless delivery and use digital communication tools like WhatsApp etc. for communication with the customers. Through this website, customers can also opt for doorstep service for their purchase related enquiries based on his/her requirements.
Speaking on the occasion, Mr. Motofumi Shitara, Chairman, Yamaha Motor India Group of companies said, "Digital is future, and our new website with VIRTUAL STORE is ready to offer an enhanced buying experience and personalized customer services (One to one service) to the two-wheeler customers in India. Yamaha's philosophy to offer excitement that goes beyond the customer expectations will unfold a new chapter with the new Yamaha website as we accelerate the digital transformation of Yamaha's retail operations through a safe, reliable and engaging online portal. Bringing more innovation to the concept, in future our customers will also be able to purchase apparels & accessories on the same platform thus providing a ready solution with enhanced buying experience. Our existing after sales activities like extended warranty offers and roadside assistance will be an added advantage to the customers."
Yamaha will start the online sales module from Chennai and will cover 300 dealerships across the nation by the end of 2020.
About Yamaha Motor India group of companies
Yamaha Motor made its initial foray into India in 1985 as a joint-venture. In August 2001, it became a 100% subsidiary of Yamaha Motor Co., Ltd, Japan (YMC). In 2008, Mitsui & Co., Ltd. entered into an agreement with YMC to become a joint-investor in India Yamaha Motor Private Limited (IYM). IYM's manufacturing facilities comprise of 3 State-of-the-art plants at Faridabad (Haryana), Surajpur (Uttar Pradesh) and Chennai (Tamil Nadu). The infrastructure at these plants support production of motorcycles and parts for the domestic as well as overseas markets.
YMC has established its subsidiaries – Yamaha Motor Research and Development India Pvt Ltd. (YMRI), Yamaha Motor India Sales Pvt Ltd. (YMIS) and Yamaha Motor India Pvt Ltd. (YMI) in India to independently support IYM in development, sales & marketing of its products and overall business planning & regional control respectively.
Presently, its product portfolio includes: YZF-R15 version 3.0 (155 cc) with ABS, MT-15 (155 cc) with ABS; Blue-Core Technology enabled models such as FZ 25 (249 cc) with ABS, FZ S 25 (249 cc) with ABS, FZ-S FI (Fuel-Injected, 149 cc) with ABS, FZ FI (Fuel-Injected, 149 cc) with ABS and UBS enabled scooters like Fascino 125 FI, Ray ZR 125 FI, Street Rally 125 FI; latest superbike MT-09 (847 cc) and YZF-R1 (998 cc).