In the footsteps of the iconic Prius that started it all, Toyota now sells 34 different hybrid models in more than 90 countries and regions across the globe
Bangalore, 14th February 2017: Toyota Motor Corporation is proud to announce cumulative global hybrid vehicle (HV) sales of 10.05 million units as of January 31, surpassing the 10 million unit mark1. More than a numerical milestone, this demonstrates the staying power of a technology that is now emerging as a mainstream solution to reduce greenhouse gas emissions and other pollutants.
Helping to mitigate the environmental effects of automobiles has long been a priority for Toyota. Based on the stance that environmentally friendly vehicles can only truly have a significant positive impact if they are widely used, Toyota has encouraged the mass-market adoption of hybrid vehicles across the globe. Toyota launched the Coaster Hybrid EV in August 1997 and the Prius—the world's first mass-produced hybrid passenger vehicle—in December of the same year. Since then, Toyota hybrid vehicles have received tremendous support from consumers around the world. This latest milestone of 10 million units was achieved just nine months after total sales reached 9 million units at the end of April 2016.
As reductions in greenhouse gas emissions increasingly became a problem of global magnitude, the first generation Prius represented Toyota's response to the resource and environment-related issues of the twenty-first century. The Prius development team was convinced that, whatever the results of their efforts, the development of a hybrid vehicle was essential for the future, and that they had to do what was necessary rather than what was simply possible. With this in mind, the team unveiled the world's first mass-production hybrid passenger vehicle to the world. The Prius proved so popular with customers that it became a byword for an "environmentally friendly vehicle." The Toyota Hybrid System (THS), which was incorporated in the first generation Prius, evolved into THS II in 2003, and was thereafter rolled out in a wide range of Toyota vehicles. The fourth-generation Prius, which became the first vehicle to be built on Toyota New Global Architecture (TNGA), was developed not only with environmental performance in mind, but also with outstanding driving performance for customers wanting to purchase a car that was fun to drive.
Toyota launched its first hybrid vehicle 20 years ago, and the circumstances surrounding environmentally friendly vehicles have since changed dramatically. The growing popularity of the Prius led to the creation of a new customer standard of choosing cars based on their environmental performance. As the number of companies developing and launching hybrid vehicles increased, so a new segment of "hybrid vehicles" was established. In addition, now that customers around the world are opting to purchase hybrid vehicles and other fuel-efficient vehicles, the entire automobile industry has been able to contribute to the solution of global environmental problems. Having passed the 10 million vehicle milestone, Toyota will continue to create ever-better cars for its customers.
"When we launched Prius, no one even knew what a hybrid was. Those who drove it were called geeks or other names. Today, thanks to those early adopters who gave Prius a chance, hybrids have grown in popularity, and have ridden a wave of success out of the unknown and into the mainstream," said Takeshi Uchiyamada, Chairman of the Board of Directors at Toyota and known as the father of the Prius. "We are grateful to each and every one of our customers who has helped us achieve this important milestone of 10 million hybrid sales. We are committed to continue working hand-in-hand with them to tackle global environmental issues."
As of January 31, Toyota estimates that the use of Toyota's HVs2 in lieu of conventional gasoline-powered vehicles of similar size and driving performance has resulted in approximately 77 million fewer tons3 of CO2 emissions and has saved approximately 29 million kiloliters of gasoline.
Toyota announced the Toyota Environmental Challenge 2050 in October 2015, setting challenges that it will undertake to help reduce the negative impacts of automobiles on the global environment to as close to zero as possible, and to contribute to the creation of a sustainable society. Toyota has positioned hybrid technologies as core environmental technologies for the twenty-first century. Hybrid encompasses all of the component technologies necessary for the development of environmentally friendly vehicles, from battery electric to fuel cell hydrogen vehicles, which facilitate the use of different fuel combinations, Toyota is committed to further expanding its lineup of environmentally friendly vehicles.
Toyota launched its first hybrid, the Prius in India in 2010. Toyota also launched the Camry Hybrid in India in 2013 which is the first and only locally manufactured strong hybrid in the country.
Commenting on the occasion, Mr. Akito Tachibana, Managing Director, Toyota Kirloskar Motor said, "This is a phenomenal achievement for Toyota globally as we firmly believe that environment-friendly vehicles can only truly have a significant positive impact if they are widely used. With an aim to contribute to resolution of social issues and sustainable growth of an automobile based society, we believe that environment-friendly vehicles will go a long way to remedy this. Implementation of environmental measures is one of the most important management goals of Toyota worldwide. It is based on the same principle that Toyota today has more than 10 million happy customers driving Toyota hybrids and we would like to thank our customers who have encouraged our efforts of hybridization. Although hybrid technology is still at a very nascent stage in India and caters to a very niche segment, the Camry Hybrid has received an overwhelming response from our customers and the market alike. The success of Camry hybrid indicates the willingness of the market to accept alternative fuel technology like hybrid which not only benefits the environment but also conserves fuel. Here we would also like to thank the government who has encouraged our efforts to promote hybrid technology in India by introducing schemes like FAME-(Faster Adoption & Manufacturing of Electric cars) under which the Camry Hybrid qualifies to receive a markdown of Rs. 70,000 in its price which is passed onto the customer.
The 4th Generation New Toyota Prius which is the first vehicle to be built on Toyota New Global Architecture (TNGA), was displayed at the Auto Expo last year. We are now looking forward to launch the new Prius in India shortly. We also think a reduction in import duty will further encourage manufacturers to import hybrid cars in India through the CBU route which will therefore encourage more Indian customers to consider hybrid cars as a purchase option", Mr. Tachibana concluded.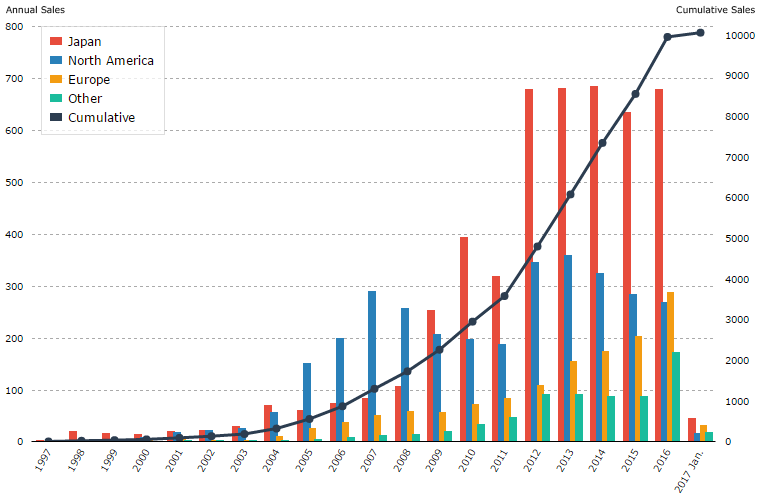 1Including plug-in hybrid vehicles, Toyota data
2Toyota's company-wide global program to structurally transform automobile design. The goal of TNGA is to dramatically improve the basic performance and marketability of Toyota vehicles by reforming and considering the overall optimization of developing new powertrain components and vehicle platforms.
3Excluding the Coaster Hybrid EV and Quick Delivery 200
4Toyota calculation based on the number of registered vehicles × distance traveled × fuel efficiency (actual fuel efficiency in each country) × CO2 conversion factor
Toyota Hybrid Vehicle Chronology
Year
Month
Milestone
1997
Mar.
Toyota Hybrid System (THS) unveiled
Aug.
Coaster Hybrid EV launched (Japan only)
Oct.
Prius unveiled (launched in December)
2000
Nov.
Cumulative global Prius sales top 50,000 vehicles
2001
Jun.
Estima Hybrid launched (Japan only)
Aug.
Crown Royal series with Mild Hybrid System launched (Japan only)
2002
Mar.
Cumulative global hybrid vehicle sales top 100,000 mark
Aug.
Cumulative global Prius sales top 100,000 vehicles
Oct.
Crown Sedan with Mild Hybrid System launched (Japan only)
2003
Apr.
Toyota Hybrid System II (THS II) unveiled
Jul.
Alphard Hybrid launched (Japan only)
Sep.
Completely redesigned second-generation Prius launched
Dyna Hybrid and Toyoace Hybrid unveiled (launched in November; Japan only)
2005
Mar.
Harrier Hybrid (Lexus RX 400h) and Kluger Hybrid (Highlander Hybrid) launched
Oct.
Cumulative global hybrid vehicle sales top 500,000 mark
Dec.
Second-generation Prius production commenced at SFTM's Changchun plant in China
2006
Mar.
Lexus GS 450h launched
Apr.
Cumulative global Prius sales top 500,000 vehicles
May
Camry Hybrid launched (for sale outside Japan)
Jun.
Completely redesigned Estima Hybrid launched (Japan only)
Oct.
Camry Hybrid production commenced at TMMK's Kentucky Plant in the U.S.; Quick Delivery 200 launched (Japan only)
2007
May
Cumulative global hybrid vehicle sales top 1 million mark; Lexus LS 600h/LS 600hL launched
2008
Feb.
Crown Hybrid unveiled (launched in May; Japan only)
Apr.
Cumulative global Prius sales top 1 million vehicles
2009
Jan.
Lexus RX 450h unveiled (launched in April)
May
Completely redesigned third-generation Prius launched
Jul.
Camry Hybrid production commenced at TMT's Gateway Plant, Thailand; Lexus HS 250h launched
Aug.
Cumulative global hybrid vehicle sales top 2 million mark
Oct.
Sai unveiled (launched in December, Japan only)
Dec.
Camry Hybrid production commenced at TMCA's Altona Plant, Australia
2010
Apr.
Camry Hybrid production commenced at GTMC's plant in China
Jun.
Auris Hybrid production commenced at TMUK's Burnaston Plant, UK; Auris Hybrid launched (for sale outside Japan)
Jul.
Cumulative sales in Japan of hybrids top 1 million vehicles
Sep.
Cumulative global Prius sales top 2 million vehicles
Nov.
Third-generation Prius production commenced at TMT's Gateway Plant, Thailand
2011
Jan.
Annual Prius sales in Japan of new vehicles in 2010 were 315,669 vehicles, the largest amount of annual sales ever recorded; Lexus CT 200h launched
Feb.
Cumulative global hybrid vehicle sales top 3 million mark
May
Prius α launched
Aug.
Prius sales in Japan top 1 million mark
Sep.
Completely redesigned Camry Hybrid launched in Japan; Alphard Hybrid and Vellfire Hybrid unveiled (launched in November, Japan only)
Oct.
TMEC of China conducts cornerstone laying ceremony and announces plan to produce and sell vehicles with hybrid systems produced in China jointly with China FAW Group and GTMC around 2015
Nov.
Prius PHV unveiled (launched in January 2012 in Japan, in March 2012 in North America, in the summer of 2012 in Europe)
Dec.
Production of third-generation Prius commenced at SFTM's Changchun Plant in China; Aqua launched
2012
Jan.
Completely redesigned Lexus GS 450h unveiled (launched in March)
Feb.
Start of Highlander Hybrid production at TMMI's Indiana Plant in the U.S. in the second half of 2013 announced
Production and sale of Camry Hybrid in Kuozui Motor's Kuanying Plant, Taiwan commenced
Apr.
Cumulative global hybrid vehicle sales top 4 million mark
May
Yaris Hybrid launched (for sale outside Japan)
Jul.
Start of Lexus RX 450h production at TMMC's Cambridge Plant in early 2014 announced; Lexus ES 300h launched (for sale outside Japan)
Oct.
Cumulative hybrid vehicle sales in Japan top 2 million mark
Nov.
Completely redesigned Auris Hybrid launched (for sale outside Japan)
Dec.
Completely redesigned Crown hybrid unveiled (launched in January 2013, Japan only); Avalon hybrid launched (for sale outside Japan)
2013
Mar.
Cumulative global hybrid vehicle sales top 5 million mark
May
Lexus IS 300h launched
Jun.
Cumulative global Prius sales top 3 million units; Auris Touring Sports Hybrid launched (for sale outside Japan)
Aug.
Corolla Axio Hybrid and Corolla Fielder Hybrid launched (Japan only)
Sep.
Crown Majesta (only hybrid version available) launched (Japan only)
Oct.
Lexus GS 300h launched
Nov.
Completely redesigned Harrier Hybrid unveiled (launched in January 2014)
Dec.
Cumulative global hybrid vehicle sales top 6 million mark
2014
Jan.
Voxy Hybrid and Noah Hybrid launched (Japan only)
Feb.
Highlander Hybrid production commenced at TMMI's Indiana Plant in the U.S.
Mar.
Lexus RX 450h production commenced at TMMC's Cambridge Plant in Canada
Cumulative hybrid vehicle sales in Japan top 3 million mark
Apr.
Plan to start sales of Corolla and Levin hybrid models equipped with China-produced major hybrid components in 2015 announced at Beijing Motor Show
Jul.
Toyota Motor (Changshu) Auto Parts Co., Ltd. In China holds opening ceremony; production of hybrid transaxles to start in 2015
Lexus NX 300h launched in Japan (sales outside Japan began in August)
Sep.
Cumulative global hybrid vehicle sales top 7 million mark
Oct.
Lexus RC 300h launched in Japan (sales outside Japan began in November); Esquire hybrid launched (Japan only)
2015
Jan.
Completely redesigned Alphard hybrid and Vellfire hybrid launched
Apr.
RAV4 Hybrid unveiled at New York International Auto Show
Jul.
Sienta hybrid launched; AWD specifications added to Lexus IS 300h; Cumulative global hybrid vehicle sales top 8 million mark
Oct.
Hybrid vehicles sales target of 1.5 million units annually and 15 million units cumulatively by 2020 announced in Toyota Environmental Challenge 2050; Corolla Hybrid and Levin Hybrid launched
Nov.
RAV4 Hybrid launched
Dec.
Completely redesigned fourth-generation Prius launched
2016
Feb.
Lexus LC 500h unveiled at the Hague in the Netherlands (Japan, North America, and Europe launch scheduled for the spring of 2017)
Mar.
Toyota C-HR unveiled at the Geneva International Motor Show (Japan launch scheduled for 2016, Europe launch scheduled for early 2017, and sales to be expanded to other countries around the world in stages); Prius PHV unveiled at the New York International Auto Show (Japan, North America, and Europe launch scheduled for the autumn of 2016)
Apr.
Introduction of Corolla PHV and Levin PHV in China announced (2018); Auris hybrid launched (Japan); Cumulative global hybrid vehicle sales top 9 million mark
Dec.
C-HR hybrid launched
2017
Jan.
Launch of the new Camry hybrid announced at the Detroit Motor Show; Vitz hybrid launched (Japan); Cumulative global hybrid vehicle sales top 10 million mark