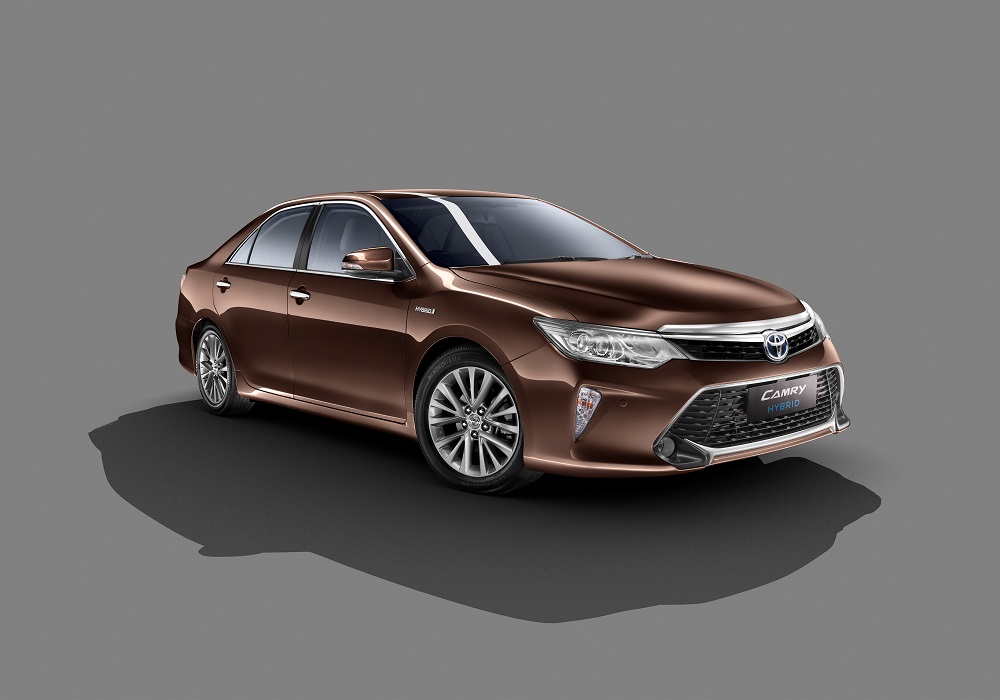 Toyota Motor Corporation Chairman Takeshi Uchiyamada likes to tell the story of how his team couldn't get the first Prius prototype to move for 49 days. According to him, "We had no idea what was wrong, so we worked late every night trying to figure it out. We finally got it to move around Christmas time, but it only went 500 meters!"
That was back in 1995, when hybrid cars were unproven, experimental machines with a very unclear future. Fast-forward twenty years, and Toyota Motor Corporation is proud to announce that it has now sold over 8 million hybrid vehicles, with just 10 months between this and the last million-unit milestone.
It can be hard to get a sense of what the number 8 million might mean for the environment and for hybrid owners. For a bit of context, Toyota calculates that as of July 31, its hybrid vehicles have resulted in approximately 58 million fewer tons of CO2 emissions than would have been emitted by gasoline-powered vehicles of similar size and driving performance. Toyota also estimates that its hybrid vehicles have saved approximately 22 million kiloliters of gasoline compared to the amount used by gasoline-powered vehicles of similar sizes. In the Indian context 58 million fewer tons of CO2 emissions is about 3.55% of total CO2 emissions in India. 22 million kiloliters of gasoline saved compared to the amount used by gasoline-powered vehicles of similar sizes., is around 13.3% of India's annual Oil import.
The message is clear: having found homes in driveways around the world, hybrids have staying power. Since the launch of the Prius in 1997, Toyota has been gradually adding hybrid models throughout its range, from the compact Yaris Hybrid to the recently announced RAV4 Hybrid. As of this month, Toyota sells 30 hybrid passenger car models and one plug-in hybrid model in more than 90 markets.
Over just the past year, Toyota has made several new hybrid models available, including the Esquire Hybrid (Japan only), the Lexus RC300h, and the recently launched Sienta Hybrid. Other new hybrid models are just around the corner, such as the Corolla Hybrid and Levin Hybrid (China only) and RAV4 Hybrid. This ongoing roll-out will only continue, with new hybrid models being added to Toyota's range and sold in more markets than ever before.
In India Toyota Kirloskar Motor (TKM) created history by launching the first ever locally manufactured hybrid – Camry Hybrid, in Aug 2013. Globally India is the 9th country and/or region to manufacture Toyota hybrid vehicles. After the launch of the all new Camry hybrid in May 2015, the popularity of the Camry Hybrid has only grown further. At present Camry Hybrid constitutes more than 80% of the total Camry sales in India (also sold with gasoline engine), testimony to hybrid's growing acceptance in India.
Hybrid technologies, which encompass all of the component technologies necessary for the development of environment-friendly cars and which facilitate the use of different fuel combinations, are positioned by Toyota as core environmental technologies for the twenty-first century. Using these technologies, Toyota is also working on improving non-hybrid cars. Across the board, Toyota aims to enhance performance, reduce costs, and expand its product lineup—including that of non-hybrid vehicles.
1 Including plug-in hybrid vehicles; Toyota data
2 Excluding the Coaster Hybrid EV and Quick Delivery 200
3 Number of registered vehicles × distance traveled × fuel efficiency (actual fuel efficiency in each country) × CO2 conversion factor
Toyota Hybrid Vehicle Sales (Based on Toyota data)
Global
Cumulative
 
Europe
Japan
North America
Others
1997
-
300
-
-
300
300
1998
-
17,600
-
-
17,600
18,000
1999
-
15,200
-
-
15,200
33,200
2000
700
12,500
5,800
-
19,000
52,300
2001
300
18,500
16,000
200
36,900
89,200
2002
800
20,000
20,300
200
41,300
130,500
2003
900
27,200
24,900
400
53,300
183,800
2004
8,100
68,700
55,900
1,900
134,700
318,500
2005
23,400
58,500
150,000
3,100
234,900
553,500
2006
36,000
72,400
197,600
6,500
312,500
866,000
2007
49,000
82,000
287,800
10,700
429,400
1,295,400
2008
57,800
104,400
255,000
12,600
429,700
1,725,100
2009
54,700
251,100
205,300
19,000
530,100
2,255,200
2010
70,200
392,200
195,900
31,900
690,200
2,945,400
2011
82,800
316,400
185,100
44,700
629,000
3,574,400
2012
106,900
678,000
344,700
89,500
1,219,100
4,793,500
2013
152,900
679,100
358,200
89,000
1,279,200
6,072,700
2014
171,800
684,200
323,600
86,500
1,266,000
7,338,700
Jan-Jul

2015

111,800
389,300
163,200
45,300
709,600
8,048,400
Total
930,100
3,887,800
2,789,100
441,400
  Cumulative Sales of Toyota Hybrid Passenger Vehicles*1 (as of July 2015)
Global
Europe
Japan
North America
Others
Prius
279,400
1,553,400
1,595,700
98,700
3,527,100
Prius α/Prius v/Prius +
32,800
401,600
142,700
5,300
582,400
Aqua/Prius c
-
901,500
150,800
29,000
1,081,200
Camry
-
49,400
356,900
122,100
528,300
Alphard*2
-
56,400
-
1,900
58,300
Auris
231,100
-
-
9,000
240,100
Yaris
172,200
-
-
4,000
176,200
Avalon
-
-
41,100
100
41,200
Highlander/Kluger *3
-
3,400
141,100
1,800
146,300
Vellfire
-
28,400
-
-
28,400
Sai
-
92,800
-
-
92,800
Estima
-
114,000
-
33
114,000
Harrier
-
55,900
-
-
55,900
Crown Hybrid
-
123,700
-
-
123,700
Crown Mild Hybrid*4
-
6,500
-
-
6,500
Crown Majesta (hybrid only)
-
10,500
-
-
10,500
Corolla Axio
-
36,300
-
-
36,300
Corolla Fielder
-
90,400
-
-
90,400
Voxy
-
57,200
-
-
57,200
Noah
-
43,600
-
-
43,600
Esquire
-
31,500
-
-
31,500
Sienta
-
3,100
-
-
3,100
Lexus LS 600h/LS 600hL
4,700
27,100
3,000
5,100
39,800
Lexus GS 450h/GS 300h
15,500
19,600
7,100
7,300
49,500
Lexus RX 400h/RX 450h
93,600
31,400
159,200
33,400
317,600
Lexus HS 250h
-
43,600
22,300
100
66,000
Lexus CT 200h
57,000
49,800
78,800
56,200
241,900
Lexus ES 300h
500
-
46,300
50,900
97,700
Lexus IS 300h
19,300
18,400
-
6,800
44,500
Lexus NX 300h
14,400
9,900
2,000
9,700
36,000
Lexus RC 300h
-
2,400
-
-
2,400
Prius PHV
9,900
21,700
42,000
100
73,600
 
*1 Figures as of July, 2015 and based on Toyota data; *2 Production ceased in 2008 and production of a new model started in 2011; *3Kluger Hybrid (for the Japanese market) production ceased in 2007; *4Crown Royal production ceased in 2003, Crown Sedan production ceased in 2008;
 Toyota Hybrid Vehicle Chronology
Year
Month
Milestone
1995
Oct.
Prius concept displayed by Toyota at Tokyo Motor Show
Nov.
First Prius prototype built
1997
Mar.
Toyota Hybrid System (THS) unveiled
Aug.
Coaster Hybrid EV launched (Japan only)
Oct.
Prius unveiled (launched in December)
Nov.
Cumulative global Prius sales top 50,000 vehicles
2001
Jun.
Estima Hybrid launched (Japan only)
Aug.
Crown Royal series with Mild Hybrid System launched (Japan only)
2002

Mar.
Cumulative global hybrid vehicle sales top 100,000 mark
Aug.
Cumulative global Prius sales top 100,000 vehicles
Oct.
Crown Sedan with Mild Hybrid System launched (Japan only)
2003
Apr.
Toyota Hybrid System II (THS II) unveiled
Jul.
Alphard Hybrid launched (Japan only)
Sep.
Completely redesigned second-generation Prius launched
Dyna Hybrid and Toyoace Hybrid unveiled (launched in November; Japan only)
2005
Mar.
Harrier Hybrid (Lexus RX 400h) and Kluger Hybrid (Highlander Hybrid) launched
Oct.
Cumulative global hybrid vehicle sales top 500,000 mark
Dec.
Second-generation Prius production commenced at SFTM's Changchun plant in China
2006
Mar.
Lexus GS 450h launched
Apr.
Cumulative global Prius sales top 500,000 vehicles
May
Camry Hybrid launched (for sale outside Japan)
Jun.
Completely redesigned Estima Hybrid launched (Japan only)
Oct.
Camry Hybrid production commenced at Kentucky Plant in the U.S.; Quick Delivery 200 launched (Japan only)
2007
May
Cumulative global hybrid vehicle sales top 1 million mark; Lexus LS 600h/LS 600hL launched
2008
Feb.
Crown Hybrid unveiled (launched in May; Japan only)
Apr.
Cumulative global Prius sales top 1 million vehicles
2009

Jan.
Lexus RX 450h unveiled (launched in April)
May
Completely redesigned third-generation Prius launched
Jul.
Camry Hybrid production commenced at TMT's Gateway Plant, Thailand; HS 250h launched
Aug.
Cumulative global hybrid vehicle sales top 2 million mark
Oct.
Sai unveiled (launched in December, Japan only)
Dec.
Camry Hybrid production commenced at TMCA's Altona Plant, Australia
2010
Apr.
Camry Hybrid production commenced at GTMC's plant in China
Jun.
Auris Hybrid production commenced at TMUK's Burnaston Plant, UK; Auris Hybrid launched (for sale outside Japan)
Jul.
Cumulative sales in Japan of hybrids top 1 million vehicles
Sep.
Cumulative global Prius sales top 2 million vehicles
Nov.
Third-generation Prius production commenced at TMT's Gateway Plant, Thailand
2011

Jan.
Annual Prius sales in Japan of new vehicles in 2010 were 315,669 vehicles, the largest amount of annual sales ever recorded; Lexus CT 200h launched
Feb.
Cumulative global hybrid vehicle sales top 3 million mark
May
Prius α launched
Aug.
Prius sales in Japan top 1 million mark
Sep.
Completely redesigned Camry Hybrid launched in Japan; Alphard Hybrid and Vellfire Hybrid unveiled (launched in November, Japan only)
Oct.
TMEC of China conducts cornerstone laying ceremony and announces plan to produce and sell vehicles with hybrid systems produced in China jointly with China FAW Group and GTMC around 2015
Nov.
Prius PHV unveiled (launched in January 2012 in Japan, in March 2012 in the U.S., in the summer of 2012 in Europe)
Dec.
Production of third-generation Prius commenced at SFTM's Changchun Plant in China; Aqua launched
2012
Jan.
Completely redesigned Lexus GS 450h unveiled (launched in March)
Feb.
Start of Highlander Hybrid production at Indiana Plant in the U.S. in the second half of 2013 announced
Production and sale of Camry Hybrid in Kuozui Motor's Kuanying Plant, Taiwan commenced
Apr.
Cumulative global hybrid vehicle sales top 4 million mark
May
Yaris Hybrid launched (for sale outside Japan)
Jul.
Start of Lexus RX 450h production at TMMC's Cambridge Plant in early 2014 announced; Lexus ES 300h launched (for sale outside Japan)
Oct.
Cumulative hybrid vehicle sales in Japan top 2 million mark
Cumulative global hybrid vehicle sales from January through October 2012 top 1 million mark
Nov.
Completely redesigned Auris Hybrid launched (for sale outside Japan)
Dec.
Completely redesigned Crown hybrid unveiled (launched in January 2013, Japan only); Avalon hybrid launched (for sale outside Japan)
Year
Month
Milestone
2013
Mar.
Cumulative global hybrid vehicle sales top 5 million mark
May
Lexus IS 300h launched
Jun.
Cumulative global Prius sales top 3 million units
Aug.
Corolla Axio Hybrid and Corolla Fielder Hybrid launched (Japan only)
Sep.
Crown Majesta (only hybrid version available) launched (Japan only)
Oct.
Lexus GS 300h launched
Nov.
Completely redesigned Harrier Hybrid unveiled (launched in January 2014)
Dec.
Cumulative global hybrid vehicle sales top 6 million mark
2014
Jan.
Voxy Hybrid and Noah Hybrid launched (Japan only)
Feb.
Highlander Hybrid production commenced at Indiana Plant in the U.S.
Mar.
Lexus RX 450h production commenced at TMMC's Cambridge Plant in the U.S.
Cumulative hybrid vehicle sales in Japan top 3 million mark
Apr.
Plan to start sales of Corolla and Levin models equipped with China-produced major hybrid components in 2015 announced at Beijing Motor Show
Jul.
Toyota Motor (Changshu) Auto Parts Co., Ltd. In China holds opening ceremony; production of hybrid transaxles to start in 2015
Lexus NX 300h launched in Japan (sales outside Japan began in October)
Sep.
Cumulative global hybrid vehicle sales top 7 million mark
Oct.
Lexus RC300h launched

Esquire hybrid launched (Japan only)

2015
Jan.
Completely redesigned Alphard hybrid and Vellfire hybrid launched
Apr.
RAV4 Hybrid announced at New York International Auto Show
Jul.
Sienta hybrid launched

Cumulative global hybrid vehicle sales top 8 million mark