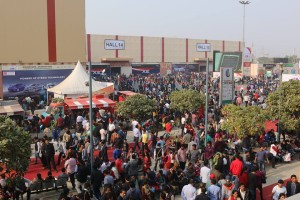 Auto Expo- The Motor Show 2016, witnessed a record footfall of 1,30,975 visitors on the 3rd public day of the biennial event. Citizens of Delhi NCR and across the country utilized the weekend effectively to watch the magnificence of wheels on display and experience the show at India Expo Mart. They were entertained by various activities around The Motor Show.
The UP police and the local authorities seamlessly managed the traffic and the crowd at the Expo ensuring smooth and cordial experience for all visitors.
Bollywood superstar Akshay Kumar spent a lot of time at The Motor Show and entertained the visitors. The stunt riders at the activity area have become a major draw with bikes flying up and creating huge excitement amongst the visitors.
Many families, with small children in their strollers, were seen relaxing at The Motor Show and soaking in the vibrant environment. The five food areas – three food courts, pedestrian stalls and the food trucks have become a huge hit with the visitors and exhibitors alike. A wide array of food brands present has provided the visitors ample choice.