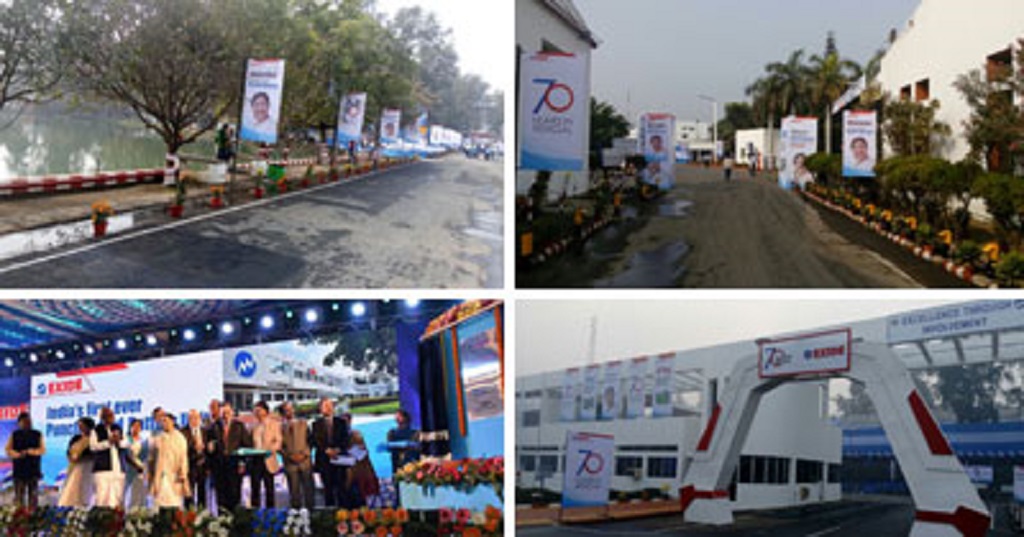 West Bengal Chief Minister, Smt Mamata Banerjee on Monday inaugurated a State-of-the-Art Battery Making Plant at the Haldia Factory of Exide Industries Ltd. Built in Technical Collaboration with East Penn Manufacturing Company of the USA, at a Capital Investment of Rs 700 crore, the new Plant will use the latest "Punched Grid Technology" to manufacture the most technically advanced Lead Acid Storage Batteries in the Country.
Speaking on the occasion, Mr Rajan B. Raheja, the Company's Vice Chairman said, ''Exide is happy to participate in the West Bengal Chief Minister's efforts to take the State ahead and give it a new position on the Industrial Map of the Country. Our decision to locate the new Factory in Haldia is in recognition of the Excellent Work Culture of our Work Force here."
"Over the last seven decades Exide has consistently led the way through pioneering Technological Advancements in the field of Lead Acid Storage Batteries in India. The new Punched Grid Technology, as opposed to the older Expanded Metal Technology, will catapult the Industry to a new height in terms of Product Reliability and Customer Satisfaction. The new Range of Batteries will not only be a lot more robust, being manufactured in a Modern Plant with Advanced Robotics and Automation, the Manufacturing Process will also eliminate human errors to a large extent," said the Company's Managing Director & CEO, Mr Gautam Chatterjee.
The Haldia Factory of Exide Industries Ltd was established in 1981. It currently produces both Automotive as well as Industrial Batteries in its sprawling 41 acre Site. The Factory contributes to more than 30 per cent of Exide's Total Business. Exide's other Battery Making Factories are located in Shamnagar (West Bengal), Hosur (Tamil Nadu), Chinchwad, Ahmednagar and Taloja in Maharashtra, Bawal (Haryana), Pune, Uttaranchal and Bangalore.
ABOUT EXIDE
Exide Industries Ltd is the Country's Largest Manufacturer of Lead Acid Storage Batteries and Power Storage Solutions Provider. With twelve International Standard Factories spread across the nation,  the company offers one of the widest Ranges of Batteries for every conceivable Application in Automotive as well as Industrial Segments. Exide also has Manufacturing Facilities in Sri Lanka and does Business Globally through its Subsidiaries and International affiliates in U.K and Singapore .
Exide's products are sold Globally, particularly in Developed Markets like South East Asia, Japan and Western Europe, under its own brand names.
Exide's strong brand pull, established in India for about a hundred years, is supplemented by its Nationwide Dealer Network and a very strong R&D Center. With the help of its Collaborators – Shin Kobe and Furukawa of Japan and East Penn of the US – Exide has consistently remained at the cutting edge of International Battery Technology and introduced various Pioneering Products and Power Storage Solutions in the Indian and Global Markets.
Exide's vast product range, that includes everything from the smallest UPS Batteries to the giant Submarine Batteries, find Applications in Automotive, Two-wheelers, Inverters, UPS, Power, Telecom and Railways, among others. Exide is also present in the Non-conventional Energy Business where it designs and integrates Solar and Wind Power Solutions for use in remote areas of the Country.
Exide's Customer List includes some of the top most International names in Industries as diverse as Automotive, Earth Moving Equipment, Telecom and UPS Manufacturers.
Exide has recently branched out into the Synergistic Business of Manufacturing and Marketing its own range of Home UPS Systems thereby offering a total End-to-End Solution to its Customers.
With an Annual Total Income of Rs 6823.71 crore (as on 31st March 2016), the Company is the largest among the branded Lead Acid Storage Battery Businesses in India. The Company has been consistently Profitable and Dividend paying ever since its inception.