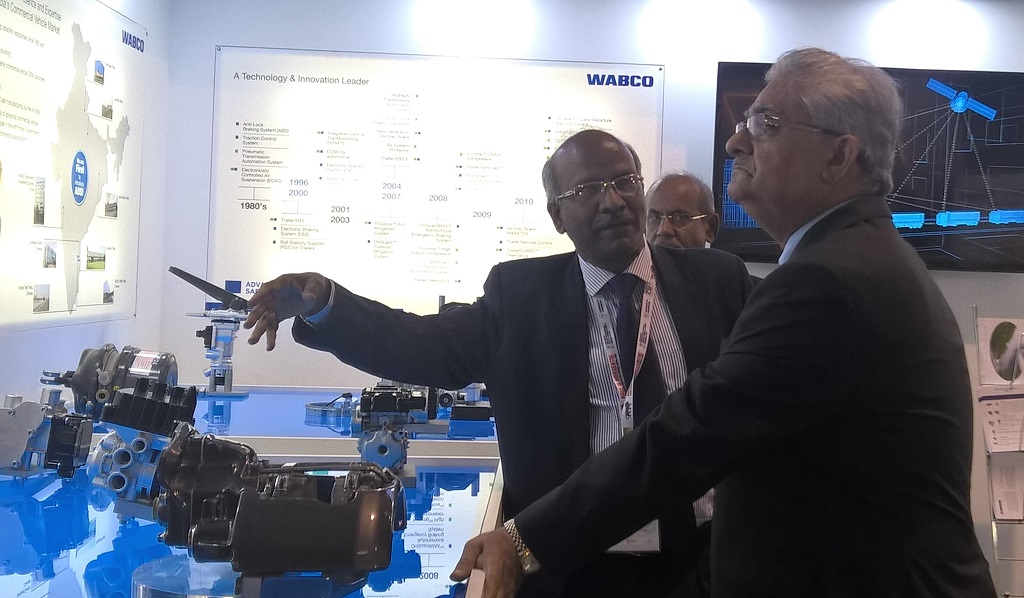 WABCO (NYSE: WBC), a leading global supplier of technologies and services that improve the safety, efficiency and connectivity of commercial vehicles, today announced that WABCO INDIA will showcase its industry-leading safety and efficiency technologies for heavy duty trucks, buses and trailers at the prestigious "Make in India Week" to be held from February 13-18, 2016 in Mumbai, India. Launched in 2014, 'Make in India' is a major national initiative, designed to facilitate investment, foster innovation and to build best-in-class manufacturing infrastructure in India.
WABCO INDIA is a subsidiary of WABCO Holdings Inc., a global technology leader and tier-one supplier to the commercial vehicle industry worldwide. Today, WABCO INDIA pioneers the engineering and manufacture of conventional, advanced braking systems and other advanced vehicle control systems for commercial vehicles in India, as well for global export.
"We are proud to bring our support to this the 'Make in India' initiative through WABCO INDIA's world-class reputation and premier market position," said Mr. P. Kaniappan, Vice President & Managing Director, WABCO INDIA LIMITED. "For over five decades WABCO INDIA's success is built on offering commercial vehicle manufacturers the benefits of our powerful systems design and frugal engineering capabilities, an outstanding manufacturing network and advanced technology solutions that are designed and made in India."
WABCO INDIA differentiates as a commercial vehicle supplier by providing high standards of service, delivering quality excellence and ensuring maximum operational efficiency. WABCO INDIA (formerly Sundaram Clayton Limited) is the first company in India and fourth company outside Japan to win the Deming award for achieving distinctive performance improvements through Total Quality Management (TQM).
With a longstanding heritage of 'Make in India', WABCO INDIA's continuous investment in local engineering and manufacturing capabilities demonstrates its commitment to anticipate and fulfill the diverse and dynamic needs of truck and bus manufacturers in India and across the globe.
Today, WABCO INDIA operates five world-class manufacturing facilities across India that includes a dedicated facility for exports that supplies products to big automobile brands worldwide, principally served by a local supplier panel, a global software development center, application engineering center, shared services center, as well as a state-of-the-art commercial vehicle test track.  WABCO INDIA exports more than 30% of the production to other major brands of automobile brands.
Building on India's leading talent pool, WABCO has more than doubled its product and software engineering team to over 500 in India. WABCO's extended aftermarket network in India also helps both local and global truck and bus manufacturers and operators to further grow their domestic and export businesses.
WABCO INDIA will display a selection of its advanced safety and efficiency technologies for commercial vehicles at the "Make in India Week", including Anti-lock Braking Systems (ABS). WABCO pioneered ABS safety technologies for commercial vehicles with more than 17 million systems sold worldwide to-date.
Based on its goal to reduce road accidents and save more than 200,000 lives over the next five years, the Indian government mandated for all heavy-duty trucks and buses to be equipped with ABS from October 2015 onward. ABS prevents wheel locking in trucks and buses during panic braking that could result in loss of vehicle control. Therefore, ABS significantly improves the stability and steerability of commercial vehicles even in the most extreme of braking conditions.
"We are deeply honored to have been invited to participate in Make in India Week," said Mr. P. Kaniappan, Vice President & Managing Director, WABCO INDIA. "India continues to be one of the fastest growing economies globally, with world-leading engineering and manufacturing capabilities available in-country. We are excited to showcase to India and the world WABCO INDIA's pioneering safety and efficiency technologies."