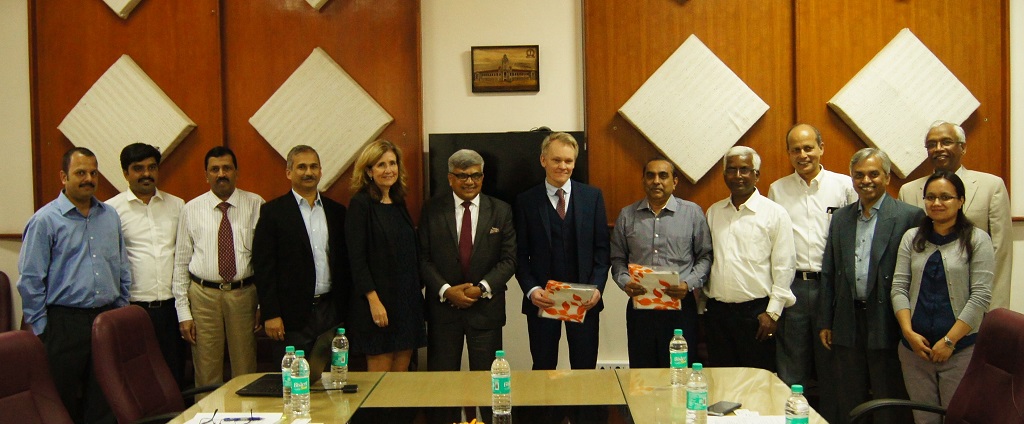 The collaboration aims to strengthen the eco-system for innovation in India while undertaking important research in the automotive sector
Speaking on the occasion, Mr. Jan-Ove Östensen, VP Advanced Technology & Research, Volvo Group said "Innovation has always been a special strength of the Volvo Group. This initiative demonstrates Volvo Group's commitment to continually work with academic institutions to innovate in research and to strengthen industry-academia collaboration globally," He also added, "With the agreement, Volvo Group and IISc will collaborate to strengthen the eco-system of innovation while undertaking important research in the automotive sector which is of mutual interest."
Prof. Y. Narahari, Chair, Division of Electrical Sciences, in supporting Volvo Group's efforts noted, "This MoU is a significant event to foster strong linkage between Volvo Group and IISc, which is mutually beneficial with an aim to transform the landscape of transportation for societal and environmental benefit".
"Volvo Group has had an impactful 18 years in India. We believe we have been able to drive change across many segments, positively affecting the lives of our customers, passengers, drivers, operators, amongst various other stakeholders. In the emerging world, the road to progress is about collaborations and our partnership with IISC symbolises our ambition to foster research and development in order to fuel innovations – creating a positive impact on our society, while addressing the future demands of sustainable mobility." Said Mr. Kamal Bali, Managing Director, Volvo India.
Volvo Group and IISc will collaborate on long-term research collaboration in selected technology areas. Other universities with which the Volvo Group collaborates globally include – Penn State University in the US; INSA in France; and Chalmers University of Technology; Mälardalen University and the University of Skövde in Sweden.