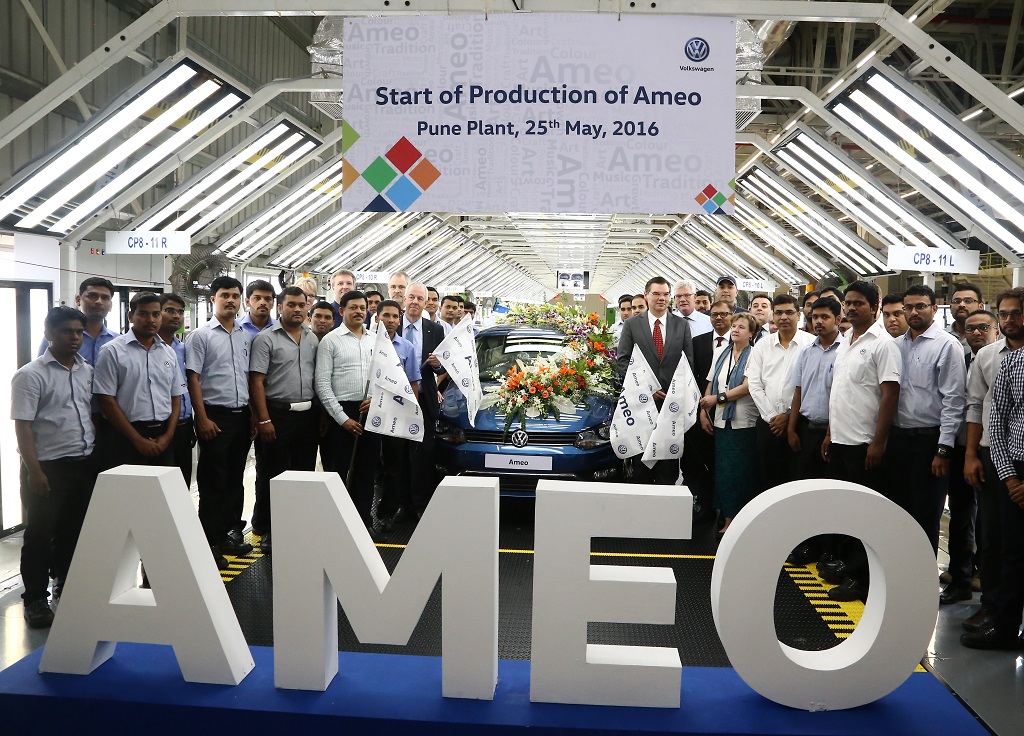 Volkswagen India kicks off the production of the all-new Ameo; Rolls-off the first Ameo out its Pune Plant
With an investment of ₹720 crore (approx. €85 Million), Volkswagen starts manufacturing the Ameo – a car developed and designed especially for India
Characterised by German engineering and made in India, Volkswagen emphasises strongly on quality, safety and customercentric product with its entry into the compact sedan segment focus
Volkswagen India today rolled out the very first Volkswagen Ameo from its Pune Plant in Chakan. After its world premiere at the Delhi Motor Show earlier this year in February, the Volkswagen Ameo starts its series production today. Volkswagen India will rapidly ramp-up the production ofAmeo to build up enough inventory before market introduction.
Blue Silk in colour, the first Ameo to roll-out of the plant comes with a 1.2-litre 3-cylinder MPI engine and marks yet another milestone in Volkswagen India's growing portfolio in the country. With this addition, Volkswagen has successfully reinforced its commitment to India where it has already invested close to ₹5,720 crore (approximately €825 Million*) since its establishment in 2007.
Available in two fuel options, 1.2-litre 3-cylinder MPI and 1.5-litre 4-cylinder TDI engine, the Volkswagen Ameo is a car designed and developed specially for the Indian market. Volkswagen has focussed intensely on customer requirements while finalising the Ameo. The requirements and needs of Indian customers have been thoroughly studied and implemented in the car. With safety being one of the top priorities for Volkswagen, the Ameo comes equipped with dual front airbags and ABS as standard fitment across all variants. The Ameo also gets segment-leading features such as cruise control, rain sensing wipers and static cornering lights.
Honourable Chief Minister of Maharashtra, Shri Devendra Fadnavis, said "Volkswagen India adds yet another feather in its hat as the all new made-for-India and made-in-India Ameo is rolled out today. It is not only a matter of pride for Volkswagen but for all of Maharashtra and I would like to share my heartiest congratulations with the company. This roll-out means a lot to us as it explains to the world what 'Make in India' actually means." He further added, "Be it in the area of skill development among the youth, employment generation and Jalyukt Shivar Abhiyan to make Maharashtra drought-free by 2019, Volkswagen is playing an active role in all aspects and I am thankful for this."
Commenting on this major development, Dr. Andreas Lauermann, President and Managing Director, Volkswagen India Private Limited, said, "This day marks an important event in the journey of Volkswagen in India. The Ameo symbolizes yet another first as it has specifically been created for the Indian customers." He continued, "Due to the expected high demand for the Ameo, we have recently added a third shift to support the extra production volumes at our plant. We are committed to ensuring that our customers get their Ameo as soon as possible."
Volkswagen has invested approximately ₹720 crore (around € 85 Million*) in the development of the Ameo, setting up new equipment for its production as well as ramping up the manufacturing of this compact sedan at its Pune Plant in Chakan. The pre-launch bookings for the Ameo have been open at all Volkswagen showrooms in India for the last two weeks and the interest has been immense.
Volkswagen Pune Plant is currently manufacturing the Volkswagen Polo and Vento as well as the ŠKODA Rapid. The current Volkswagen models are manufactured for both domestic and export markets in right-hand drive as well as left-hand drive versions. The total investment by Volkswagen in India currently stands at approximately ₹5,720 crore (around €825 Million*).
About Volkswagen Group India: The Volkswagen Group is represented by five passenger car brands in India: Audi, Lamborghini, Porsche, ŠKODA, and Volkswagen. The Volkswagen Group has been present in India for the last 14 years and began its India journey with the entry of the ŠKODA brand in 2001. The Audi brand and Volkswagen brand entered India in 2007, while Porsche brand and Lamborghini brand followed in 2012. Each brand has its own character and operates as an independent entity in the market. Volkswagen Group India has over 25 models in India, over 240 dealerships and is operating two plants – Pune and Aurangabad. The Pune Plant has a manufacturing capacity of 130,000 cars per year (in current two-shift system) and is currently manufacturing Volkswagen Polo and Vento and ŠKODA Rapid. The Aurangabad Plant assembles various premium and luxury models of Audi, ŠKODA and Volkswagen sold in India and has an annual capacity of approximately 89,000. Volkswagen Group India is a part of Volkswagen AG, which is globally represented by 12 brands – Audi, Bentley, Bugatti, Ducati, Lamborghini, Porsche, Scania, SEAT, ŠKODA, Volkswagen Commercial Vehicles, MAN and Volkswagen Passenger Cars.