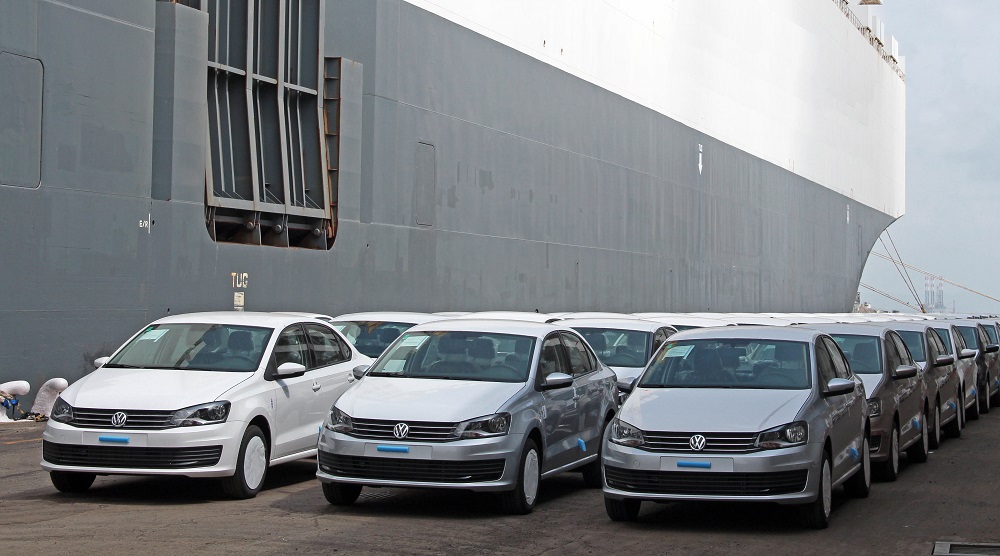 'Made-in-India' Vento arrives in the Volkswagen showrooms in Argentina, where it will be sold as the 'Polo'
Volkswagen India strengthens its export business with the entry into the important South American market
Dr. Andreas Lauermann, President and Managing Director, Volkswagen India Private Limited, commented: "We continue our endeavour to deliver top notch products to the global market from our state-of-the-art manufacturing facility in Pune, India."
Volkswagen Argentina has launched the 'Made-in-India' Vento on 10th November 2015 where it will be sold as the 'Polo'. Manufactured at Volkswagen Pune Plant, the Indian made car's entry in the South American market marks yet another major milestone for the company in its export business. This export milestone underlines Volkswagen India's commitment towards producing top-notch quality for global markets.
Volkswagen Argentina showcased the 'Made-in-India' Volkswagen for the first time at the Buenos Aires Motorshow in June 2015. The visitors at the show immediately appreciated the car for its ever-green design and top-notch build quality. Volkswagen Argentina will sell the car built at Pune Plant as the Polo with a 1.6-litre MPI petrol engine with five-speed manual as well as 6-speed automatic gearbox. The car will be made available with 105 PS peak power in the South American Market.
Dr. Andreas Lauermann, President & Managing Director, Volkswagen India Private Limited, commented: "Volkswagen India builds highest quality cars at its Pune Plant. We have been exporting to numerous markets across the continents of Asia, Africa and North America. By entering Argentina, we not only now continue our endeavour to deliver top notch products around the world, but also establish ourselves in a new region and a market which has a strong Volkswagen presence."
Volkswagen has been the market leader in Argentina for 12 consecutive years. With a market share of almost 22%, Volkswagen has a strong presence and offers a wide range of products in Argentina. The Volkswagen Vento, which is being exported from India, will be sold as Volkswagen Polo in Argentina and is expected to attract a lot of customers owing to its sedan shape which is a popular segment in the market.
Volkswagen India started exporting cars from its Pune Plant in 2011 with the first export market being South Africa. Since then, the export operations of Volkswagen India have expanded to over 35 countries across four continents of Asia, Africa, North America and South America. The range of cars being exported includes left-hand drive as well as right-hand drive cars. Additionally, Volkswagen India also exports parts and components of its cars to Malaysia which are assembled there for the Malaysian domestic market. Volkswagen Pune Plant has produced over 156,000 cars for export till date.
About Volkswagen Group India: The Volkswagen Group is represented by five passenger car brands in India: Audi, Lamborghini, Porsche, ŠKODA, and Volkswagen. The Volkswagen Group has been present in India for the last 14 years and began its India journey with the entry of the ŠKODA brand in 2001. The Audi brand and Volkswagen brand entered India in 2007, while Porsche brand and Lamborghini brand followed in 2012. Each brand has its own character and operates as an independent entity in the market. Volkswagen Group India has over 25 models in India, over 240 dealerships and is operating two plants – Pune and Aurangabad. The Pune Plant has a manufacturing capacity of 130,000 cars per year (in current two-shift system) and is currently manufacturing Volkswagen Polo and Vento and ŠKODA Rapid. The Aurangabad Plant assembles various premium and luxury models of Audi, ŠKODA and Volkswagen sold in India and has an annual capacity of approximately 89,000. Volkswagen Group India is a part of Volkswagen AG, which is globally represented by 12 brands – Audi, Bentley, Bugatti, Ducati, Lamborghini, Porsche, Scania, SEAT, ŠKODA, Volkswagen Commercial Vehicles (Volkswagen Nutzfahrzeuge), MAN and Volkswagen Passenger Cars.