Starting with South Africa as the first single export marketin 2011, Volkswagen India has expanded its exports to over 35 countries across four continents by 2016
Over the five years, Volkswagen India has ramped-up its export business to form a strong second leg of its business operations in India
In 2015, 55% of production at the Volkswagen Pune Plant was exported to support the growing demand from its global markets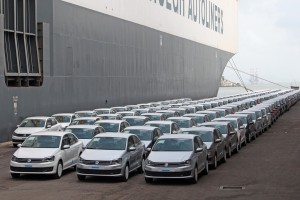 Pune, March 17, 2016: Volkswagen India is celebrating its five-year export journey in India with the shipment of over 185,000 cars made in India for the global markets. Starting with South Africa as the first single export market, Volkswagen India has rapidly grown into an exporter to over 35 countries across Asia, Africa, North America and South America.
Starting export operations from India within two years of establishing its production plant in the country in 2009, Volkswagen India has spent the last few years strengthening its domestic portfolio while also growing its export business to further strengthen its local story. The first shipment to South Africa from Volkswagen India reached its destination exactly five years ago in 2011. At that time, the export volumes only contributed approximately 6.4%of the total production.
In 2015, Volkswagen India exported over 55% of its cars produced in Pune to over 35 countries across four continents while also having served as the hub for parts and components to Malaysia. The range of cars being exported includes left-hand drive as well as right-hand drive Polo and Vento cars. Mexico has been the single largest export market for Volkswagen India where over 80% of the export volume was shipped in 2015.
Dr. Andreas Lauermann, President & Managing Director, Volkswagen India Private Limited said, "Volkswagen set up its Indian operations especially for the domestic Indian Page 2 of 2 market and we still continue to focus
market and we still continue to focus primarily on our local customers and their demands. However, with fluctuations in the domestic demand and the currency exchange, it became necessary for us to establish a second strong leg of our operations here in India. Since a Volkswagen made anywhere in the world follows the same quality and engineering standards, we were able to impress several export markets and create a demand there with our cars built in India." He further added, "The acceptance and rising demand from a variety of markets and consumers from Asia to America stands a testimony to the global standards and state-of-the-art manufacturing that we undertake here at the Pune Plant."