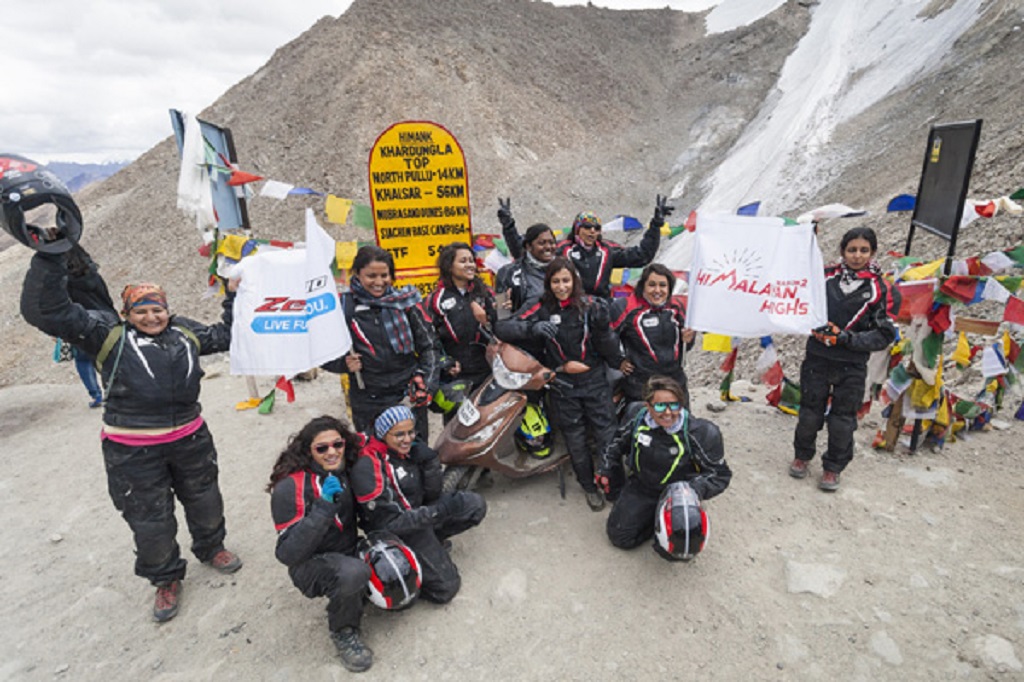 Largest group of women riders to scale the world's highest motorable road Khardung La on TVS Scooty Zest 110
TVS Motor Company announced the successful completion of Himalayan Highs Season 2 with 11 women riders from across India riding to the world's highest motorable road – Khardung La on TVS Scooty Zest 110. Led by Anam Hashim, the solo rider of Himalayan Highs Season 1, the entourage earned themselves a place in India Book of Records for being the first group of women riders to conquer Khardung La on a 110cc scooter.
Flagged off on 11th August from Mandi (Himachal Pradesh), the Season 2 concluded on 21st August when the women riders successfully scaled 18,340 feet to reach Khardung La. The 10 riders who accompanied Anam on this epic ride were Megha Chakraborty (Bilaspur), Kainoor Mistry (Mumbai), Roshni Somkuwar (Nagpur), Garima Kapoor (Lucknow), Ebronah Dorothy (Chennai), Pallavi Fauzdar (Delhi), Antara Pal (Bengaluru), Trupti Sarmalkar (Mumbai), Surbhi Tiwari (Bengaluru) and Shruthi Naidu (Bengaluru).
Aniruddha Haldar, Vice President – Marketing (Scooters), TVS Motor Company, said, "The Season 2 of Himalayan Highs has been a grand success and we are elated that the initiative was recognized by the India Book of Records. The riders showed true grit and determination battling the weather and altitude, while they rode TVS Scooty Zest 110 to the record books. This month has been a month of highs for the Indian women across the globe and we are happy our riders have also earned glory. These 11 women riders are an example of the new age Indian women and an inspiration to those who want to pursue their dreams."
Anam Hashim said, "I would like to thank TVS Motor Company for letting me lead this group of enthusiastic women riders to set a new record at Khardung La. It wasn't an easy ride to the top as our mental and physical fitness was put to the test with the unpredictable weather and harsh environment. The nimble, however strong and powerful TVS Scooty Zest 110 yet again proved to be a wonderful, able and reliable companion to the girls as they rode to Khardung La without a hitch."
"Himalayan Highs Season 2 by TVS Scooty Zest 110 was a great opportunity to live my dream. Thanks to the support from my parents and college authorities, I was lucky to be a part of this memorable ride with so many different women with shared passion. We scaled the heights together and opened our mind to new experiences and challenges. It will be one of the true HIGHS of my life and I will cherish this ride and my TVS Scooty Zest 110 forever," said Roshni Somkuwar
Ebronah Dorothy said, "The Himalayan Highs opportunity was exactly what I was looking for and setting a new record was the icing on the cake. As a passionate rider, my initial apprehensions were about braving the toughest terrains on a 110 cc scooter. However, the journey on the TVS Scooty Zest 110 provided an amazing riding experience, despite the hostile landscape."
Himalayan Highs Season 2 kicked off in June 2016 and witnessed massive response across the country with about 50,000 enquiries from women riders and enthusiasts across all 29 states and select union territories. The applicants were evaluated and shortlisted based on psychographics, physical fitness, mental strength and then they were trained as they came with different riding prowess.
About Anam Hashim:
Anam Hashim hails from Lucknow. She discovered her passion for motorsports at a young age. A self-trained motor head and automobile enthusiast, in 2015, Anam Hashim rode to Khardung La Pass on a TVS Scooty Zest 110 which earned the TVS Scooty Zest 110 a place in the India Book of Records.
About TVS Scooty Zest:
The TVS Scooty Zest 110 cc was first introduced in August 2014, with a fresh and modern design, replete in vibrant colours such as Terrific Turquoise, Pearl Peach, Spirited Silver, Powerful Pink, Daring Black and Dynamic White. Targeted at the New-age Indian Woman of today, the Scooty stands true to the DNA of a scooter, while maintaining a fun look, coupled with vibrant graphics, elegant design and a remarkable initial pick up of 0 – 60 kmph in mere 11.1 seconds. TVS Scooty Zest 110 is a remarkable lean and mean machine that boasts of strong tyres with a powerful grip even on slippery surfaces, long-running single cylinder, four-stroke, air-cooled CVTI engine and a top-notch overall ride handling. The instrument console with white background, wedge shaped rear end with boomerang turn indicators are the design highlights. Power comes from the 109.7 cc air-cooled engine, matched to a CVT, the motor puts out 8 PS (7.88 bhp) and 8.7 Nm of torque. Key features of TVS Scooty Zest include first–ever USB charger, LED taillights, open glove compartment, textured floor board, twilight lamps, backlit odometer and stainless steel muffler guard. With best in class mileage at 62 kmpl, best in class storage at 19 litres, the scooter offers outstanding ride comfort to maximize the joy of riding.