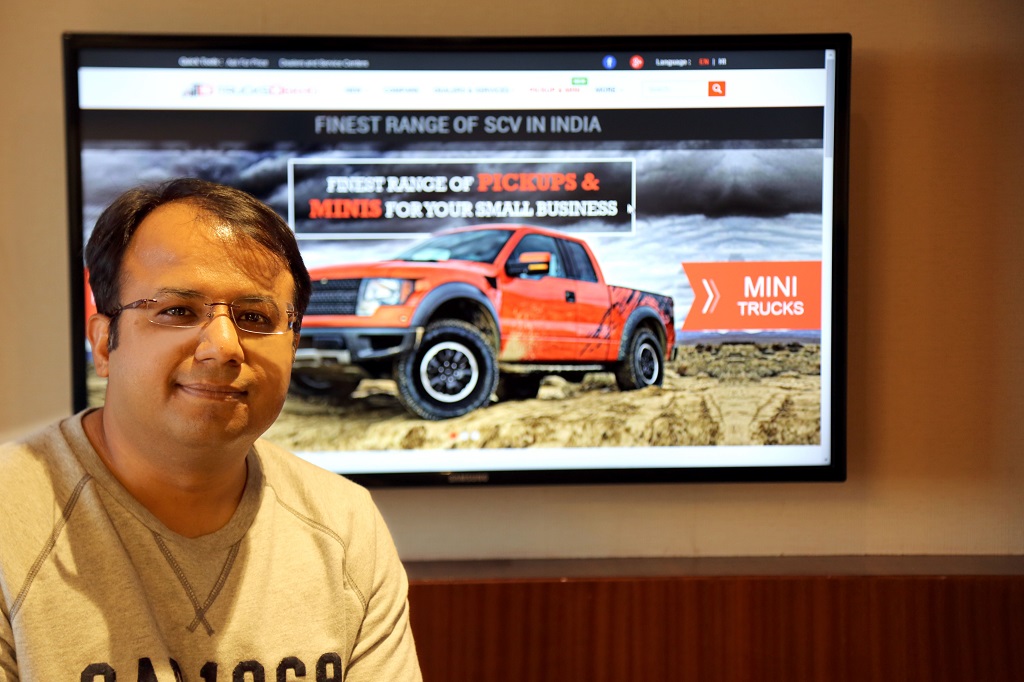 Buoyant economic activity, easy access to finance with entry of new truck financing companies, increased momentum in highway construction, better operating economics of new trucks, and a Supreme Court (SC) order prohibiting overloading of trucks – are all encouraging transporters to buy new commercial vehicles.
While demand is rapidly increasing, till now there hasn't been any consolidated platform for buyers to search for the best vehicle for a fleet owner's needs. In several instances, transporters and individual truck owners travelled to cities to gather brochures and compare. Existing online channels also proved to be inefficient. When Abhay Dagha, Maharashtra's Malkapur-based cotton trader wanted to buy trucks, he looked through ads on social media, checked out classifieds in local newspapers, and visited dealer websites. While most of these did not have a comprehensive coverage of all the commercial vehicles, some even lacked authentic information.
To serve the likes of Dagha, GirnarSoft, owners of India's premier auto portal CarDekho.com, Gaadi.com and ZigWheels.com, launched TrucksDekho.com. Last year, six lakh commercial vehicles were sold in India. TrucksDekho users are spread in small towns like Aurangabad, Ahmednagar, Sirohi, as well as metros like Mumbai, Pune, Bangalore, and Delhi. To serve this category, the site is made available in both Hindi and English languages.
"Switching to TrucksDekho.com helped me zero-in on the best vehicle for my business needs. I will also use the platform to find a suitable service centre," says Dagha.
Though it is early days, the six-month old site has started seeing some degree of success. It clocked 75,000 visits in November and 80,000 in December and received 2,600 unique leads from fleet operators across India. Not bad considering that there are one lakh fleet operators in India.
Commenting on the idea behind the venture, Robin Gauba, Vice President – Business Development & Strategy, TrucksDekho, said, "As the Indian economy grows at an unprecedented rate, there will a requirement for transportation solutions to meet the burgeoning demand. This is why we have launched TrucksDekho.com. We have leveraged the most innovative technology from the end-user perspective to provide truck buyers and sellers with refined truck information in a most engaging manner."
The site allows users to look for the latest models of commercial vehicles and compare them. Videos, news and reviews, and brochure downloads ease buying decision. Furthermore, users can ask for price quotes from the closest dealer. It also lets users search for service centers in their vicinity.
TrucksDekho.com has also launched an EMI calculator and loan facility. "A significant proportion of trucks are purchased by small truck operators in the unorganized sector, who may have to pay a relatively higher rate of interest as compared with large-fleet operators, and are more vulnerable to interest rate fluctuations and slowdown in economic activity. We want to make it a level playing field," says Robin.
The site showcases 72 models of M&H and SCVs including from large firms like Tata, Isuzu, Mahindra, Force, Piaggio, Ashok Leyland and Hindustan Motors. A variety of customer types are addressed by TrucksDekho.com including truck owners, fleet operators, small and large businesses, load carriers, applicators and all other individuals who want to buy, operate and maintain a truck.