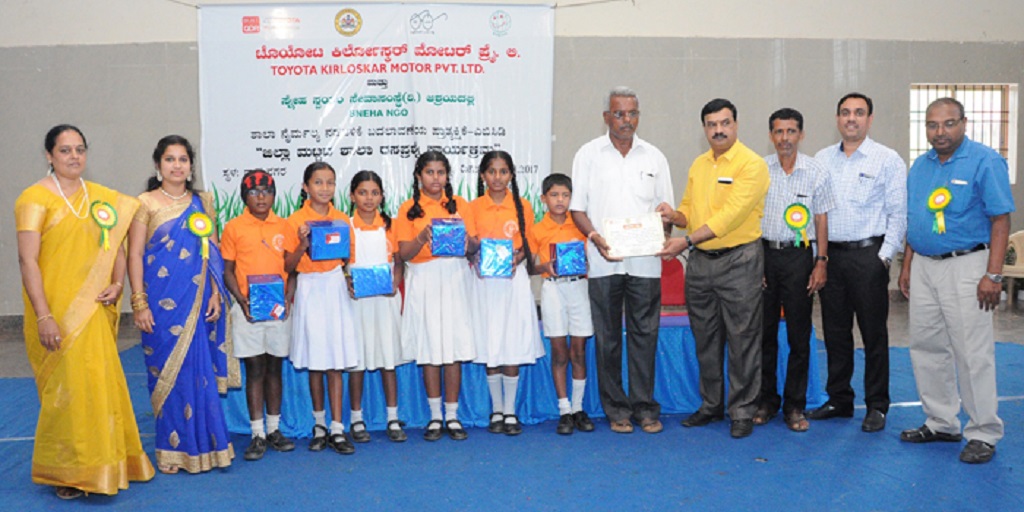 TKM's girl child sanitation initiatives and ABCD project implementation reduces girl child school missing hours to zero in Ramanagara
The project has been well accepted by UNICEF and the Education Department for its commendable contribution.
Over 2000 toilets constructed by village population post undergoing ABCD training & motivation.
TKM targets to make 40 villages open defecation free in Karnataka by 2016-17
Bangalore, 24th Jan, 2017 : Toyota Kirloskar Motor (TKM) organized a district level quiz competition under its unique CSR initiative – Project ABCD (A Behavioral Change Demonstration) which is in continuation to the company's active efforts towards the "Swacch Bharat campaign". The ABCD project primarily aims at curbing one of the grave concerns faced by our country – Open Defecation. This comprehensive project which was rolled out in 2015 has already reached out to 164 schools in 120 villages in Magadi, Kanakapura and Ramanagara to create awareness and train the teachers and children on the importance of sanitation and basic hygiene. By the year 2016-17, TKM has set a target of 40 villages to become open defecation free in Karnataka and has been already successful in ensuring 100% sanitation in 27 villages. More than 1 lakh village population have been trained on sanitation through this program and motivated to construct household toilets.
The quiz competition is structured to check the awareness level on WASH  (Water, Sanitation and Hygiene)  amongst the students, ABCD quiz program was conducted at School, Taluk and District levels covering topics that mainly focused on Swacch Bharat campaign, general knowledge about sanitation and hygiene. The district level quiz competition which is the final leg of the quiz program had participation from 300 students from across 50 schools. The winners walked away with medals, certificates and gifts.
Speaking on the unique initiative Mr. Naveen Soni, Vice President, Toyota Kirloskar Motor said, "We are happy to see the increasing awareness in the villages about importance of sanitation. The ABCD quiz competition helps us review the effectiveness of our project in raising the awareness levels amongst school children on health & sanitation from time to time. Educations is the best way to effectively bring in a constructive change in the society.  Open defecation is a serious social challenge in India. Every year 200,000 children in India die from diseases caused by fecal contamination.We strongly believe that we will be able to make more and more villages open defecation free educating people on their educating and motivating the villagers including children, parents and school teachers on the basics of hygiene and the importance of sanitation. We are happy that our project has been appreciated by Unicef and Education Department"
In the wake of the growing concerns around insufficient sanitation facilities in government schools and lack of adequate toilet training among school children,TKM initiated the ABCD project with a focus on bringing in a behavioral change. The project which mainly drives consciousness towards the use of toilets, begins from the grassroot level by identifying gaps that exists in the sanitation facilities in rural Karnataka and tries to bridge the gap with a widespread awareness drive. The project has also tremendously contributed in reduction of school hour missing cases (earlier condition- adult girl children used to go to their home for toilet usage and miss the classes (1-2 hours). Owing to the TKM's girl child sanitation initiatives and ABCD project implementation school missing hours have reduced to zero –http://unicef.in/Whatwedo/11/Eliminate-Open-Defecation
Since the inception of the Project ABCD, TKM has been able to achieve increased awareness on sanitation, in the targeted villages
Till date, TKM has constructed more than 650 units of sanitation facilities in 206 govrenmet schools across India, of which 125 units are located in Varanasi, 426 units in Ramnagara district in Karnataka and 125 units in Vaishali in Bihar.