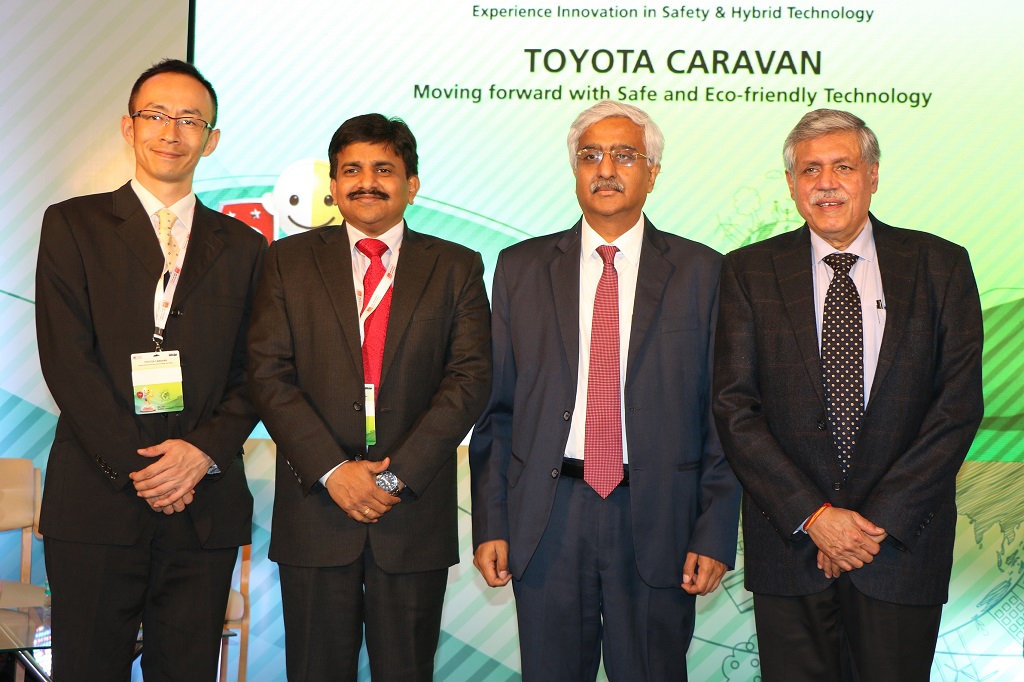 Toyota Kirloskar Motor today reaffirmed its commitment to Safety and Environment by organizing "Toyota Caravan" at the Jawaharlal Nehru Stadium in New Delhi. With the aim to create a sustainable future, TKM had organized a common platform for distinguished opinion leaders from Government and industry experts along with engineering experts from Toyota Motor Corporation Japan, Toyota Motor Asia Pacific, Singapore and the senior management of Toyota Kirloskar Motor to share knowledge and spread awareness about safety and environment friendly technology through series of interactive sessions.
Toyota ensures Safety and Environmentally sustainable future by leveraging the best technology & practices to offer safest driving experience with minimal impact on the environment in all stages of the vehicle life cycle. As a pioneer of Hybrid technology, Toyota, at the event, also showcased its Strong Hybrid brilliance in motoring the ''All New Prius" which has marked a new chapter in innovative and futuristic motoring and continues to enjoy global patronage as the world's bestselling alternative-fuel vehicle on the planet.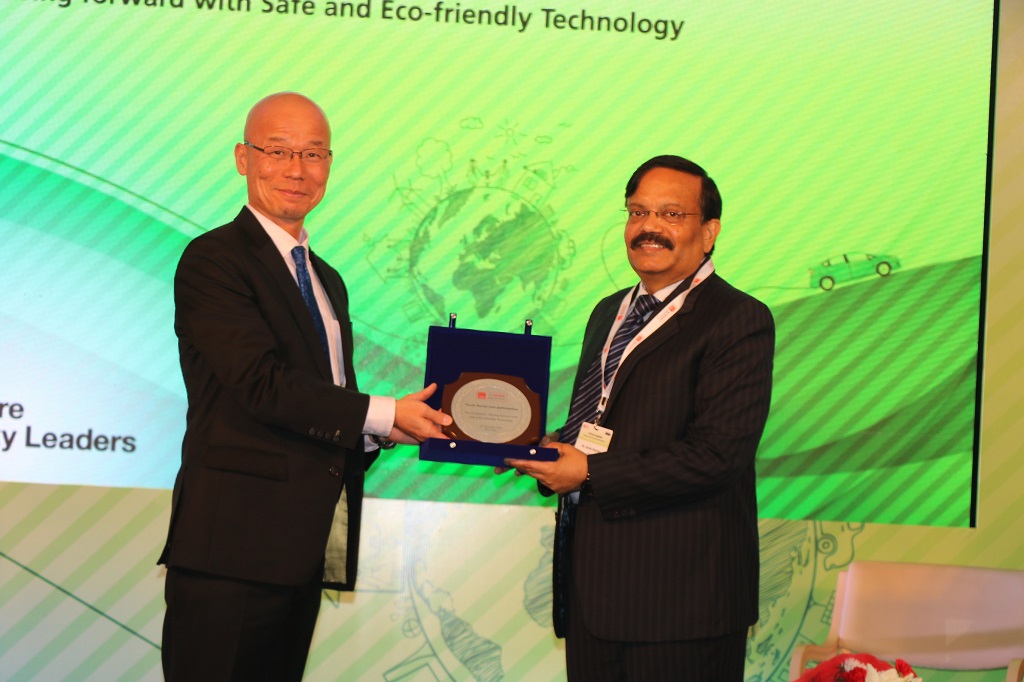 Comprising of insightful sessions on the broad themes 'Commitment to Safety with Technology & Education' and 'creating a Clean & Sustainable future through environment friendly technologies', the seminar witnessed the valuable presence and active participation of senior officials from Central and State Government which included Mr. Girish Shankar, Secretary – Ministry of Heavy Industries, Government of India, Mr. Anshu Prakash, Additional Secretary – Ministry of Heavy Industries, Government of India, Mr. Sayed Musawwir Ali, Special Secretary –  Department of Environment, Government of Delhi. Also present were representatives from Toyota Kirloskar Motor (TKM), Mr. Akito Tachibana, Managing Director – Toyota Kirloskar Motor, Mr. Shekar Viswanathan, Vice Chairman and Whole-Time Director – Toyota Kirloskar Motor, Mr. N Raja, Director & Senior Vice President – Toyota Kirloskar Motor and Mr. Raju B Ketkale, Senior Vice President – Toyota Kirloskar Motor.
Present at the event Mr. Girish Shankar, Secretary – Ministry of Heavy Industries, Government of India said "We appreciate Toyota Kirloskar Motor for adopting an encompassing approach towards its pursuit to educate and spread the importance of adopting safer & eco-friendly technology. This platform has helped to reflect, share knowledge and enhance understanding on the various challenges with regard to road safety and the need for achieving a sustained environment."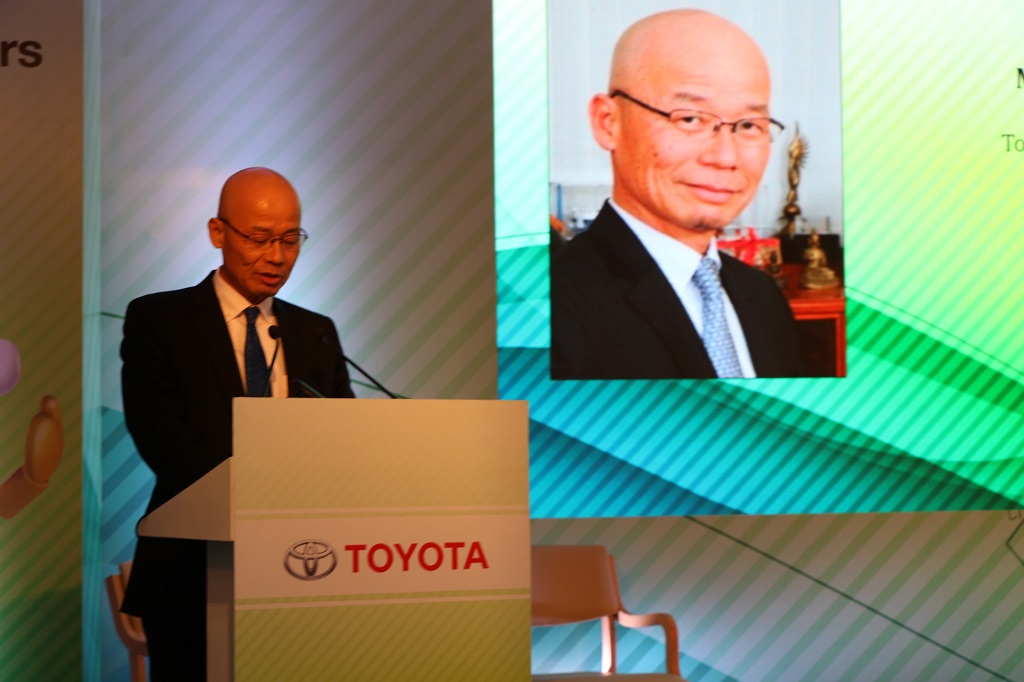 Sharing his views on this first of its kind initiative by Toyota in India Mr. Akito Tachibana, Managing Director, Toyota Kirloskar Motor said "Toyota believes that we have to play a greater role than just manufacturing world class cars. We are here to solve the bigger issues in the society leveraging our technology and innovation. We aim to offer the newest technology towards creating a sustainable earth for the next generation. Toyota takes the ownership
in building a safer, cleaner & greener world for our children".
Energy crisis and increasing pollution are some of the gravest problems faced by the world today. Toyota aims to lead the future of mobility by addressing these challenges. From fuel efficient vehicle to developing ground breaking safety technology, our focus is on leaving behind a cleaner and greener sustainable environment for our next generation. Through "Toyota Caravan" we aim to drive awareness and steer the way to future by building "safest cars ensuring the safest driving experience".  We believe road safety is significant for the sustained social and economic development of a nation, through our various safety awareness campaign, we urge every citizen to become safety brand ambassadors, by changing the prevailing mindset."
"We would like to acknowledge the support and active participation of all the distinguished guests who have joined us in this crusade of spreading the message of road safety and the crucial need for eco-friendly technology." he further added.
As makers of eco-cars that lead the way for a better tomorrow, Toyota has been a front runner by introducing the Camry Hybrid in 2013. Toyota's strong hybrid technology not only aims at creating harmony between man, nature and machine but also positioned as the future of eco-mobility world over. The Camry Hybrid is the strong hybrid and the only hybrid which is locally manufactured at Toyota Kirloskar Motor's second plant located in Bidadi, near Bangalore in Karnataka. Toyota has sold 9 million hybrids globally. The company currently sells 33 hybrid models in more than 90 global markets.
Commenting on the event, Shekar Viswanathan, Vice Chairman and Whole Time Director, Toyota Kirloskar Motor said "With "Toyota Caravan" we hope to educate and inform all stakeholders on the importance on adopting Strong Hybrid technology as the future of mobility to curtail the carbon footprint and reduce the usage of fossil fuels.   At Toyota we are constantly looking for ways to reduce the impact on environment in all stages of the vehicle life cycle including manufacturing processes in our plant. Toyota has decided to reduce vehicle CO₂ emissions to ZERO by 2050".
Also present at the event Mr. N Raja, Director & Senior Vice President, Toyota Kirloskar Motor said "Safety has always been of utmost importance to Toyota. Be it manufacturing safe cars or road users safety, Toyota has always been in the forefront in creating awareness. We were the first brand in India to standardize dual front SRS airbags across all models and in all grades. This can be further reiterated by the fact that the Toyota Etios was awarded 4-stars in the Global NCAP crash test. With the recently launched Platinum Etios we are further reinstating our safety commitment by standardizing the Anti-Lock Braking System (ABS) with Electronic Brake-force Distribution (EBD) in all our models across all grades which is the first in the industry."
"Toyota Camry Hybrid is the first ever locally manufactured strong hybrid vehicle with 48% more fuel efficiency and emits 25% lesser CO2 when compared to the car of the same size in petrol variant. Although strong hybrid technology is still at a very nascent stage in India, the Camry Hybrid has received an overwhelming response from our customers and the market alike. The success of Camry hybrid indicates the willingness of the market to accept alternative fuel technology like strong hybrid which not only benefits the environment but also conserves fuel." he further elaborated
 "Toyota Caravan" will continue it crusade across the country raising awareness and educating the society on the need for adopting Safe & Eco-friendly Technology. The next "Toyota Caravan" event is scheduled to be held at Jaipur on 26th November 2016.