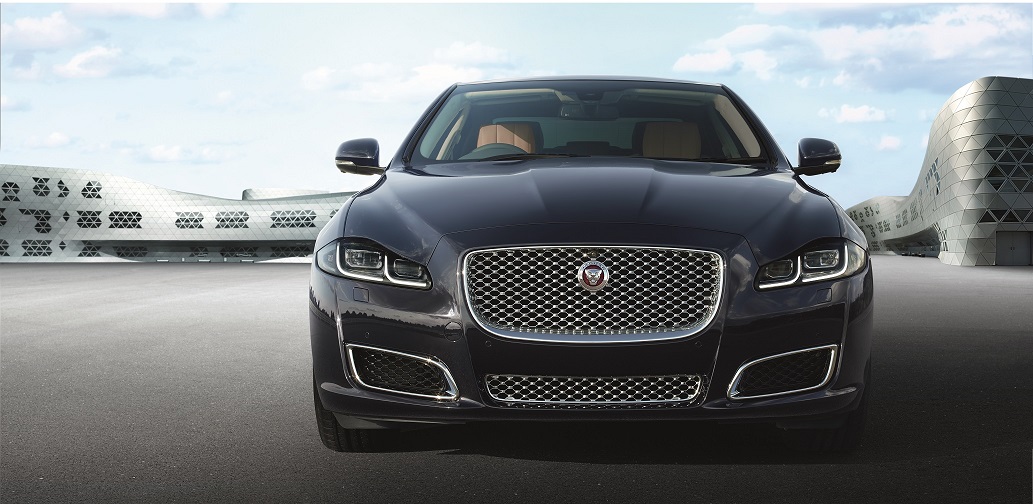 Jaguar Land Rover India Ltd. (JLRIL) today launched its flagship luxury saloon, the New Model Year 2016 Jaguar XJ in India with prices starting from INR 98.03 lacs (ex-showroom, pre-octroi in Mumbai). With a perfect combination of cutting-edge technology, craftsmanship, sporting vehicle dynamics and opulent luxury, the New Jaguar XJ is an exhilarating combination of power and beauty, available with a range of distinctive new features.
Rohit Suri, President, Jaguar Land Rover India Ltd (JLRIL), said:
"The New Jaguar XJ is designed to deliver greater levels of luxury and performance. With its even more assertive and bolder look, the New XJ has a commanding presence on the road, making it a definitive head turner. Its luxurious interiors, powerful engine and latest technology will enhance the in-car experience of our discerning customers by making it even more productive, entertaining and relaxing."
 The New Jaguar XJ is launched in India in the following derivatives:
Jaguar XJ 2.0L (177kW) Petrol Portfolio: INR 99.23 Lacs
Jaguar XJ 3.0L (221kW) Diesel Premium Luxury: INR 98.03 Lacs
Jaguar XJ 3.0L (221kW) Diesel Portfolio: INR 105.42 Lacs
Note: All prices are ex-showroom, pre-octroi in Mumbai
Performance Engines:
The New Jaguar XJ offers a choice of 177 kW turbocharged petrol engine and 221kW turbocharged diesel engine. The new uprated Jaguar 3.0L, 221 kW turbocharged diesel engine offers improved performance, capable of 0-100km/h in 6.2 seconds with 700 Nm of torque, while the 2.0L, 177 kW turbocharged petrol engine achieves 0-100km/h in 7.9 seconds due to its 340 Nm of torque.
Exteriors:
The New Jaguar XJ's teardrop shape is formed for optimum aerodynamic efficiency, reducing air resistance to a minimum, thus improving acceleration. The chrome outlined side windows emphasize XJ's pure, elongated form. Its low, wide stance and long taut waistline create a commanding presence, while inside the cabin still feels airy and spacious due to its panoramic roof and smart design.
The XJ's newly remodeled front includes a more upright front grille design with mesh detail. The grille is framed by new energy efficient full-LED headlights, sporting Jaguar's unique 'Double J' Daytime Running Light design. Producing a light with colour temperature closer to natural daylight, in which objects can be better recognized, helping increase comfort and safety during night driving.
At the rear, updates continue with elliptical tailpipes, a revised bumper design and new tail lights incorporating LED technology. The LED light pipes are brighter and more efficient and use less energy. They also provide a striking, smooth uninterrupted 'ribbon of light', pinstripe graphic and combine with LED light chips to make the New XJ even more distinctive.
The New Jaguar XJ's high-definition Instrument Panel Display:
It puts everything one needs to know about their driving right in front of them. The 31.24 cm TFT screen displays the speed, fuel and temperature gauges and it can be set to display the most relevant information, depending on the situation and set up. This multi-layered virtual display has been remodeled and combines a new design and graphical interface, adding advanced functionality to ensure that the right settings are selected. The Instrument Panel Display is fully integrated with the 20.32 cm Touch-screen to put all information behind the wheel or on the centre console.
Interior Comfort:
The New Jaguar XJ's multi-functional seating gives one complete control of their comfort. Both front seats feature fine-tuned electric adjustment and 5 different massage programmes. The rear features airline-style reclining seats complete with 3massage programmes and memory. They can be programmed to return to an upright position when the door is opened and a 'front passenger seat away' function allows rear occupants to move the empty front passenger seat forward to increase legroom and aid access.
The Long Wheel Base (LWB) derivatives feature over a metre of legroom for rear seat passengers and provide the perfect environment to work, enjoy a host of entertainment options, or simply stretch out and relax. They also feature a unique 'limousine' ride with revised air suspension settings for even more refined comfort.
The rear cabin is further enhanced with individual 25.90 cm HD screens. The centre armrest houses the multimedia remote and front and rear seat controls, as well as providing useful storage. Folding business tables, LED reading lights, drop-in footrests and electric side rear window blinds are also available to add comfort, convenience and privacy.
Technology Enhanced:
Adaptive Dynamics:The New Jaguar XJ delivers the comfort and refinement of a luxury car with the responsiveness and driver involvement of a sports car. Whether cornering, navigating uneven surfaces or accelerating, XJ's Adaptive Dynamics system continually monitors the car up to 500 times a second. Working in conjunction with the air suspension, it constantly varies the damping to suit the conditions.
All Surface Progress Control: The New Jaguar XJ's All Surface Progress Control (ASPC) technology is a low speed cruise control that helps the car to cope with low traction situations. ASPC allows one to concentrate onsteering the vehicle and when activated, one can use the cruise control buttons to set a 'target' speed between 3.6km/h and 30km/h. The system then works to achieve and maintain that speed while exerting optimumtraction control.
 State-of-the-art InControl Touch Pro: It enhances the New Jaguar XJ's entertainment to the very highest level. The 20.32 cm Touch-screen at the heart of the centre console is large and highly-responsive with a customizable home screen and lightning fast response time.Pinpoint touch control allows one to manipulate and interact with information swiftly and seamlessly. The Touch-screen responds in the same manner as a smartphone or tablet computer, providing multi-touch gestures such as pinch, zoom and swipe.
MeridianTMSurround Sound System:The New Jaguar XJ Portfolio derivatives come equipped with the MeridianTM 825W Digital Surround Sound System which uses 20 speakers including 2 subwoofers.
Exterior Colours: Customers have a wide variety of 8 colour options to choose from on the New Jaguar XJ such as Polaris White, Rhodium Silver, Ammonite Grey, Dark Sapphire, Odyssey Red, Aurora Red, British Racing Green and Ultimate Black.
 Jaguar Product Portfolio in India
The Jaguar range in India also includes F–TYPE (starting at INR 126 Lacs in CBU form) and locally manufactured XF (starting at INR 47.7 Lacs). All prices mentioned are ex – Mumbai (Pre Octroi).
Jaguar Retailer Network in India
Jaguar vehicles are available in India through 22 authorised outlets in Ahmedabad, Aurangabad, Bengaluru,Mangalore, Bhubaneswar, Chandigarh, Chennai, Coimbatore, Delhi, Gurgaon, Hyderabad, Indore, Jaipur, Kolkata, Kochi, Karnal, Ludhiana, Mumbai, Nagpur, Pune and Raipur.