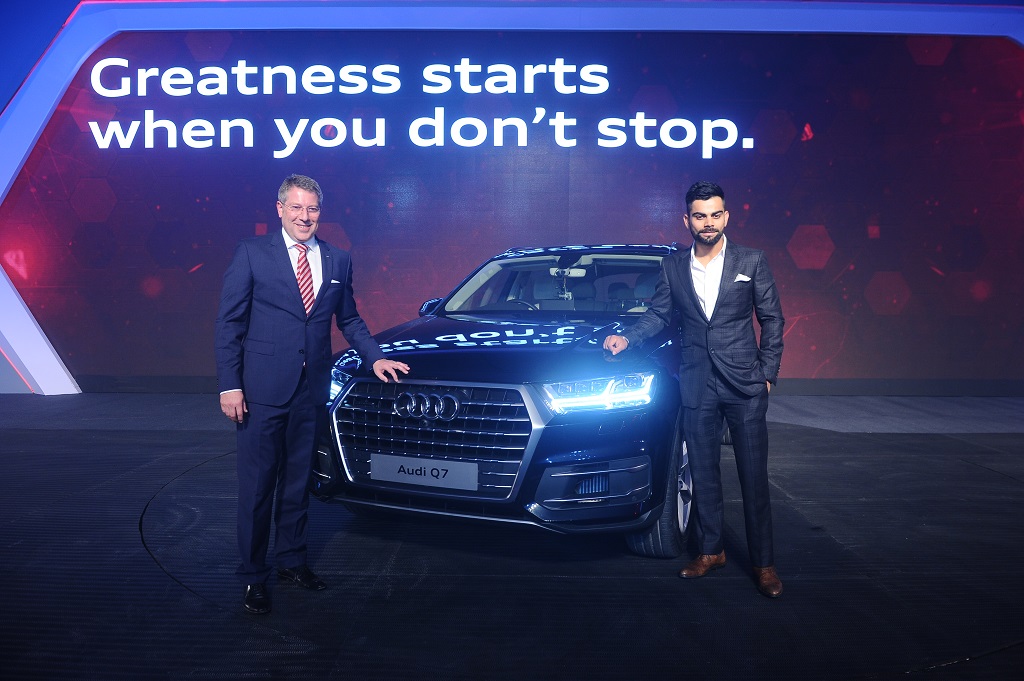 The all-new Audi Q7 drives into India:#GreatnessStarts
Lightweight, Sporty and Powerful
Powerful 45 TDI (3.0 TDI) engine churns out 249 hp (183 kW) of power and 600 Nm of torque
All-new chassis and multi-material body for enhanced performance and comfort
Weighs 325 kg less than its predecessor
Accelerates 0 to 100 km/h in 7.1 seconds with top speed of 234 kmph
22 percent improvement in fuel efficiency, best in class-14.75 kmpl
Lightning-fast power redistribution through quattro® permanent all-wheel drive
Audi Drive Select for regulating the power steering, engine management and automatic transmission
The all-new Audi Q7 range starts from INR 72,00,000 and the fully-loaded topend variant is priced at INR 77,50,000 ex-showroom Mumbai and New Delhi
Audi, the German luxury car manufacturer, today announced the introduction of the all-new Audi Q7 in India equipped with class defining features. The powerful 45 TDI (3.0 TDI) engine churns out 249 hp (183 kW) of power and 600 Nm of torque, propelling the Audi Q7 from 0 to 100 kmph in 7.1 seconds. The all-new Audi Q7 sets new standards in terms of efficiency with fuel consumption figures that are best in class – 14.75 kmpl. Up to 325 kgs lighter than its predecessor, all-new Audi Q7 Premium Plus is priced at INR 72,00,000 and the all-new Audi Q7 Technology is priced at INR 77,50,000 ex-showroom Mumbai and New Delhi.
"India is a land of quattro, and SUVs owing to their high degree of functionality are the preferred choice of mobility here. The all-new Audi Q7 encapsulates the cutting-edge technology that is at the very heart of the Audi brand. It is an efficient and sporty superlative offering, with even better dynamics than its predecessor. Lightweight yet extremely powerful, the class-defining SUV offers unprecedented performance with exceptional fuel efficiency.
The all-new chassis made up of multi-material body provides excellent comfort while its eight-speed tiptronic transmission, allows drivability that is both agile and comfortable.
Combined with a striking imposing design with great road presence and performance, the all new Audi Q7 is poised to emulate the success of its predecessor," said Mr. Joe King, Head, Audi India.
More agile, more powerful yet efficient:
The all-new Audi Q7 allows you to go further for less. It's substantially lighter than the previous generation Q7 with a weight saving equivalent to a grand piano – it's shed a staggering 325kg.
22 percent better fuel consumption
0-100 kmph in 7.1 seconds
7 kmpl
10 percent increase in acceleration
45 TDI Engine
The TDI® engine of the Audi Q7 brings unprecedented energy onto the road. The powerful 45 TDI (3.0 TDI) engine churns out 249 hp (183 kW) of power and 600 Nm of torque which propels the new Audi Q7 from 0 to 100 kmph in 7.1 seconds with a top speed of 234 kmph. The TDI® engine harmoniously delivers power to the road practically loss-free through a superior chassis. This interplay of components provides the ideal basis for dynamic handling. A quick-shifting eight speed tiptronic transmission and the low overall weight coupled with the quattro® drive, allows the all-new Audi Q7 to perform impressively on any terrain, whether it is the freeway or winding roads.
Impressive athletic Exterior:
A sculpturally moulded Single frame grille with a solid frame is the defining element of the all-new Audi Q7. The Matrix LED headlights featuring striking double arrow graphics, intense wheel arches and the shoulder line emphasizing the wheels are some of the new design elements of the all-new Audi Q7. The tailgate extending around the D-pillars are complemented by new highlights such as inlay strips at the bottom of the doors with quattro® embossing.
Dynamic and interactive Audi Matrix LED headlights
The all-new Audi Q7 offers the progressive Matrix LED technology with the daytime running lights featuring striking double-arrow graphics. Each Matrix LED headlight divides its high beam into 30 individual light emitting diodes paired with three reflectors. The control unit, which communicates with the camera on the rear view mirror, can switch the individual diodes off and on and dim them in 64 stages as needed. Strength of the Matrix LED headlights is the intelligent cornering light, which is created by a shift in the light center position. With millions of different resultant beam patterns, the Matrix LED headlights always superbly light up the road, without dazzling other road users.
Spacious and luxurious Interiors:
Boot Space – Growing families will find plenty of space in Audi's flagship SUV. Luggage space on demand is possible with the electrically folding third row seats. Total luggage space of 1,955 liters can be obtained by folding the second row seats which splits in the ratio of 35:30:35 for flexibility of the storage space.
Exceptional detailing
The all-new Audi Q7 boasts of the most spacious interior in the segment conveying a feeling of expanse, generosity, and sophisticated elegance in a luxurious lounge. The clearly defined architecture and the logical operating concept interplay perfectly: all lines are taut with a strict horizontal orientation. As in our flagship A8 L sedan, the inlays come in two parts, with the different materials forming effective contrasts- Upper inlay in brushed aluminium and lower in walnut terra brown.
A driving experience with intelligent technology:
Virtual Cockpit – Feel in control at all times by having your navigation, speed information and media on a 31.24 centimeter razor-sharp and high-contrast customizable display.
MMI Navigation Plus – Reach your destination with ease by using voice command, the integrated steering wheel controls or the extra-large touchpad next to the gearstick. The all-in-touch control panel has multi-touch capability with haptic feedback, thus enhancing functionality such as zooming in by pinching like a smartphone.
Bose® 3D Sound System – BOSE® 3D sound system with sound reproduction through 19 speakers including 3D sound speakers, center speaker and subwoofer; 3D sound is reproduced through speakers in the Apillars.
Four-Zone Climate Control – A newly developed luxurious four-zone climate control system is standard on the all-new Audi Q7 with the temperature display integrated in the rotary control.
Four spoke steering wheel – A four spoke steering wheel with an electrical adjuster along with the multifunction plus controls and shift paddles are the other characteristics of the new Audi Q7. The high-quality cockpit has been designed with the driver in mind and is colour coordinated, with the centre console raised and easy to operate.
quattro® – The self-locking center differential – the heart of the quattro® all-wheel drive system – is integrated into the housing of eight-speed tiptronic transmission. The design with center differential and front axle drive integrated in the tiptronic transmission is significantly more compact and lighter in weight than the predecessor model.
Audi Drive Select – Audi Drive Select provides Comfort, Auto, Dynamic, Individual and Off-road as standard modes. In conjunction with adaptive air suspension the All-road and lift/off road mode is added. The all-new Audi Q7 displays the tilt angle of the car when in the all road or lift/off road.
Audi Drive Select Assistance Systems – The all-new Audi Q7 is equipped with assistance systems like the auto park assist and 360 degree surround camera with birds eye view.
The Audi model range in India includes the Audi A3 Sedan, Audi A3 Cabriolet, Audi A4, Audi A6, Audi A7 Sportback, Audi A8 L, Audi Q3, Audi Q5, new Audi Q7, Audi TT Coupé, Audi S4, Audi S5 Sportback, Audi S6, Audi RS 5 Coupé, Audi RS 6 Avant, Audi RS 7 Sportback, Audi R8, Audi R8 Spyder, Audi R8 V10 plus and Audi R8 LMX available across the country: in Ahmedabad, Bengaluru, Bengaluru Central, Bhopal, Bhubaneswar, Chandigarh, Chennai, Coimbatore, Delhi Central, Delhi South, Delhi West, Goa, Gurgaon, Guwahati, Hyderabad, Indore, Jaipur, Kanpur, Karnal, Kochi, Kolkata, Kozhikode, Lucknow, Ludhiana, Madurai, Mangalore, Mumbai South, Mumbai West, Nagpur, Nashik, Navi Mumbai, Noida, Pune, Rajkot, Raipur, Ranchi, Surat, Udaipur, Vadodara and Visakhapatnam.
In 2014, the Audi Group delivered approximately 1,741,100 cars of the Audi brand to its customers. The company achieved revenue of €53.8 billion and an operating profit of €5.15 billion in 2014. Audi operates globally in more than 100 markets and has production facilities in Ingolstadt and Neckarsulm (Germany), Győr (Hungary), Brussels (Belgium), Bratislava (Slovakia), Martorell (Spain), Kaluga (Russia), Aurangabad (India), Changchun and Foshan (China) as well as Jakarta (Indonesia). The brand with the Four Rings will start producing cars in Curitiba (Brazil) this year and in San José Chiapa (Mexico) in 2016. Wholly owned subsidiaries of AUDI AG include quattro GmbH (Neckarsulm), Automobili Lamborghini S.p.A. (Sant'Agata Bolognese, Italy) and sports motorcycle manufacturer Ducati Motor Holding S.p.A. (Bologna, Italy). The company currently employs approximately 80,000 people worldwide, thereof around 58,000 in Germany. Total investment of about €24 billion is planned from 2015 to 2019 – primarily in new products and sustainable technologies. Audi is committed to its corporate responsibility and has anchored the principle of sustainability for its products and processes in its strategy. The long-term goal is CO2-neutral mobility.