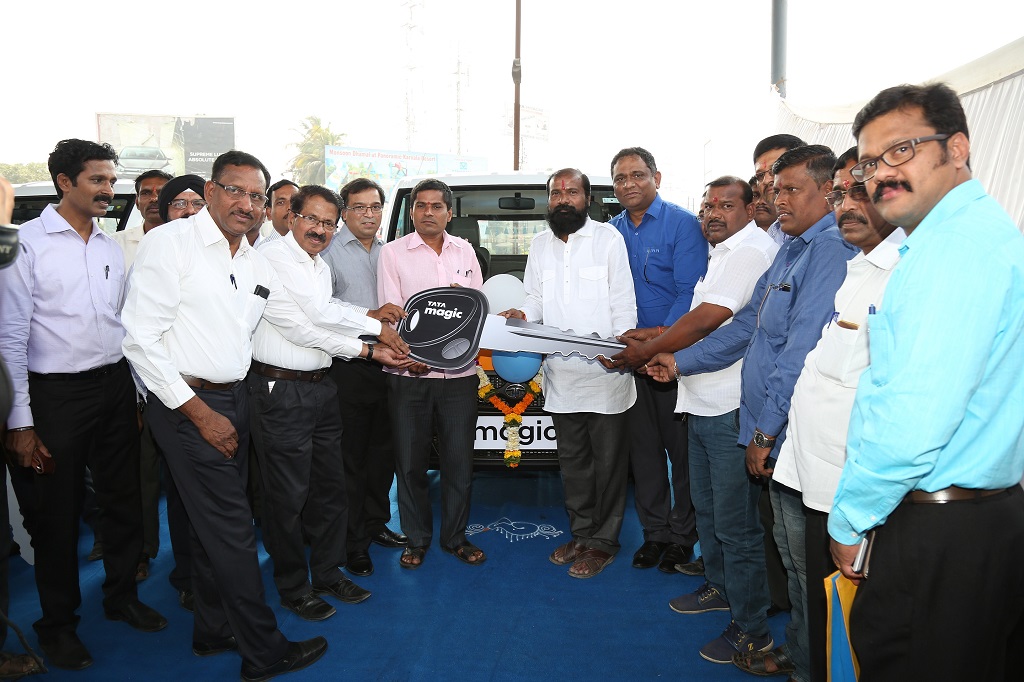 Mumbai, February 13, 2017: Tata Motors has successfully delivered 6 units of Tata Magic subsequent to the launch of "Shiv Gramin Taxi Scheme" for Maharashtra on 5th January, 2017. On this special occasion, Mr. Vijay Bhau Patil, President- Vikram Chalak Malak Sanghathana, Raigarh highlighted the importance of replacing these aging vehicles and adopting modern safe reliable, comfortable and economical vehicles.
Tata Motors has extensive range of vehicles in BS3, BS4, and CNG fuel options like Tata Magic, Magic Mantra and Iris for promotion under the "Shiv Gramin Taxi Scheme". These vehicles have all steel body with hard top making it safe vehicle, offering complete protection from heat, dust and rain. With wide doors for easy entry and exit, comfortable seating, more headroom & legroom and seatbelts, the vehicle ensures passengers have a safe and comfortable ride. These vehicles are fuel efficient which helps in enhanced earnings for the operator. Tata range delivers superior performance. The strong and reliable aggregates come with an assurance of lower maintenance costs and longer life. More than 3 Lakh Tata Magic, Mantra and Iris are successfully plying on Indian roads. These vehicles are manufactured with seating configuration and Layout as per the guidelines of MMVR. Tata Motors is fully geared up with customer support across the state with 165 + service centers across the state. The driver experience is enhanced by class defining features such as stylish instrument panel, ergonomically designed seats, big windshield, side mirrors, glass windows.
Introduced in June 2007 as the country's first small commercial four-wheeler the Tata Magic has earned appreciations from various government stakeholders – district authorities' / transport authorities, including the Ministry of Urban Development, with the idea of replacing old three wheelers and uplift the face of last mile public transport in urban & rural markets in India.