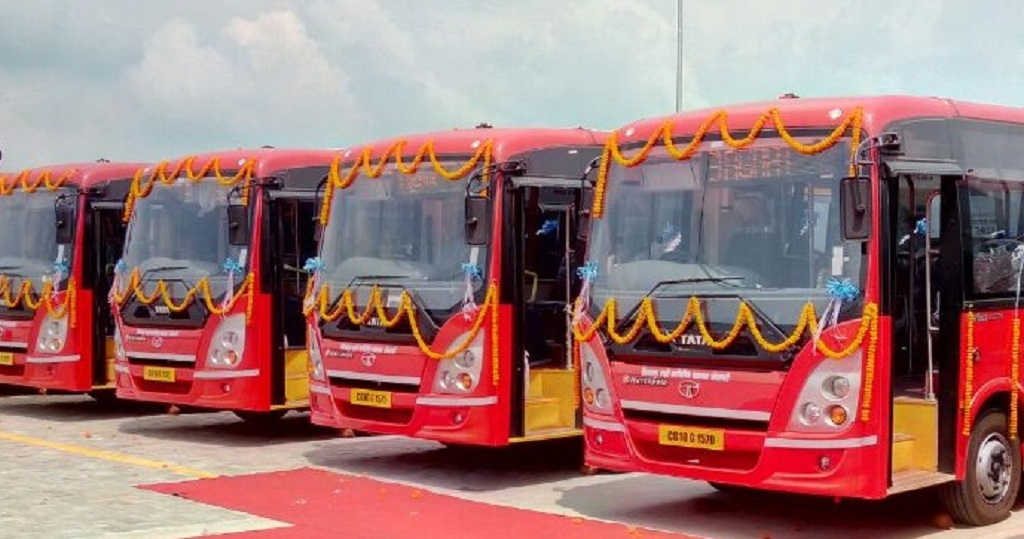 Tata Motors, the country's largest commercial vehicles manufacturer, today delivered 10 new fully integrated air-conditioned midi buses, to the city of Bilaspur, flagged off by Hon' Chief Minister of Chhattisgarh, Shri. Raman Singh.
With the order placed under the Jawaharlal Nehru National Urban Renewal Mission (JNNURM) scheme, private operators registered under Bilaspur Urban Public Transport Society (BUPTS) will regulate the daily functioning of these air-conditioned midi buses plying in the city of Bilaspur, for the very first time. Besides Bilaspur, Tata Motors will shortly also deliver a total of 42 new Midi buses to the city of Raipur, Korba and Durg-Bhilai. Under JnNURM, Tata Motors bagged orders for 178 buses, from 5 cities in Chhattisgarh.
Designed with a body length of 9 meters' and a floor height of 900 MM, will permit swifter movement of these buses through traffic and by-lanes and are a perfect solution for feeder services.
Being built at the Tata Marcopolo Motors Ltd. (TMML) facility in Dharwad, the new BS III 9-meters bus is equipped with ITS (Intelligent Transport System) which hosts an inbuilt OBITS (On Board Intelligent Transport System) framework, as per the UBS II norms, meeting global safety standards. The buses are also fitted with the latest fire detection and fire suppression systems. The midi buses from Tata Motors also houses the following sub-systems for better commuter safety, better passenger comfort and connectivity:
Passenger Information System (LED destination boards)
Automatic vehicle location system
Security camera network system (CCTV)
On-board vehicle health monitoring and diagnostics
Single controller unit
As one of the country's largest bus manufacturers, Tata Motors has the most comprehensive range of public transport vehicles that meets every need – from last mile to intra city / intercity, school and tourist applications. It has continued to be a leader in this segment not just by setting technological benchmarks, but also by adapting innovations effectively to suit Indian travel conditions.