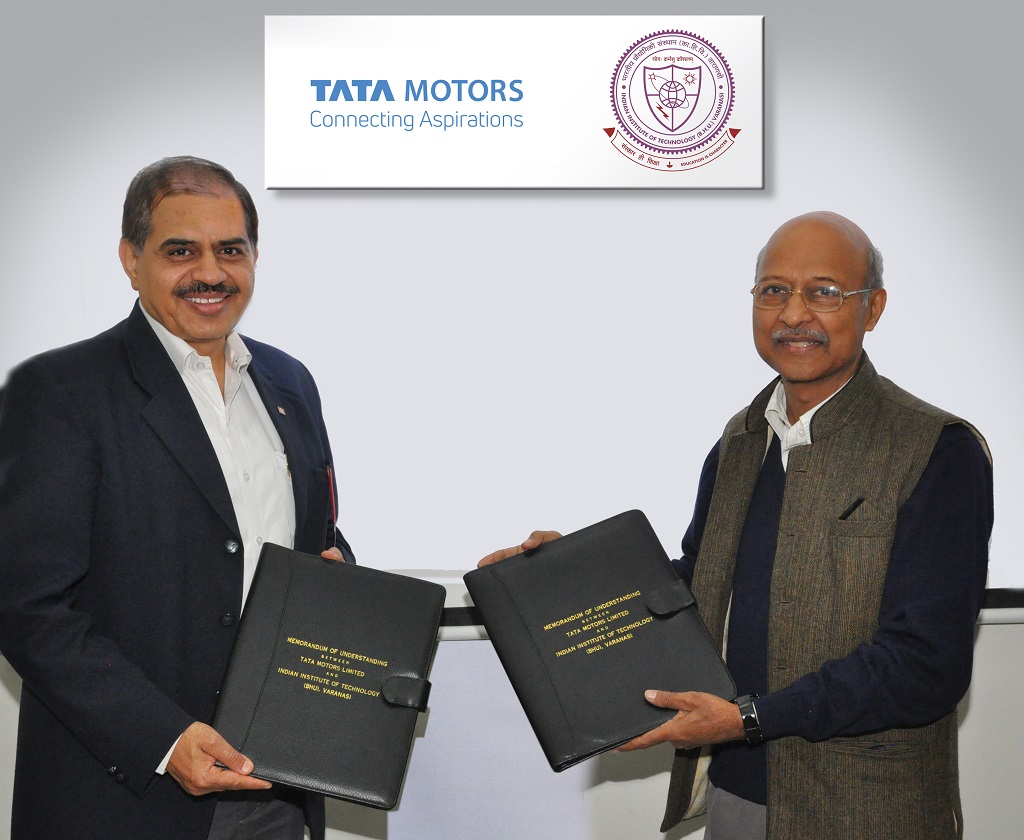 Mumbai, December 7, 2017: Tata Motors Ltd. signed a Memorandum of Understanding with the Indian Institute of Technology (BHU), Varanasi, for the introduction of innovative programs in education and research. Taking their first steps towards a long journey of technological collaboration, both entities will be working in areas of mutual interest, with an aim to cater to the future engineering needs of the industry and academia.
The MoU has been signed for a period of five years, under which joint R&D projects will also be undertaken towards the development of new technologies in various engineering domains. The signing of the MoU was conducted in the presence of Mr. Gajendra Chandel, Chief Human Resource Officer, Tata Motors Ltd., and Professor Rajeev Sangal, Director, IIT (BHU).
Speaking on this association, Mr. Gajendra Chandel, Chief Human Resources Officer, Tata Motors, said, "The automotive industry in India is continuously evolving with a rapid shift towards Digital, Analytics, AI, AR, VR etc. which means making connected vehicles and driverless vehicles a reality. With such fast-changing technologies and market conditions, we understand the need to articulate a clear roadmap towards a world-class, competent, talented and innovative workforce. Through this MoU, we intend to have a multi-dimensional partnership with IIT BHU, which will help us retain our competitive edge and develop next-gen engineering skills, not only within the company but also that of our academic partners with future ready faculties while simultaneously fulfilling our Vision & Mission to create a Future Ready organization."
He further added, "This partnership will help us bridge the gap between academic excellence and business know-how, to create industry ready resources. This also supports the Government's 'Make in India', 'Skill India' and 'Startup India' program, preparing the Indian industry to compete at a global platform."
Speaking on the occasion, Prof. Rajeev Sangal, IIT (BHU) Varanasi Director, said, "We look forward to partnering with Tata Motors in this uniquely collaborative program. The partnership will enable joint research in specific areas which will feed into the future products of Tata Motors, as well as advanced training of students. The faculty and students will greatly benefit by exposure to current industry practices and the roadmap of the future growth of the industry. We are looking that at the end of the program we will have created a talent pool which is ahead of the curve, acquiring advanced knowledge, and narrowing the skills-gap."
Recognizing the scope to further strengthen its talent base, this partnership will help the company to not only build its functional expertise and provide developmental opportunities for its employees, but also contribute to strengthening the industry readiness of the talent stepping out of campuses through curricula building, live projects and various engagement activities
About IIT BHU
The Indian Institute of Technology (Banaras Hindu University) Varanasi owes its existence to the far-sighted vision and relentless efforts of its founder Bharat Ratna, Mahamana Pandit Madan Mohan Malviya. In the beginning three engineering colleges viz., The Banaras Engineering College (BENCO), the College of Mining and Metallurgy (MINMET) and the College of Technology (TECHNO) were established by Malviya Ji in 1919, 1923 and 1932, respectively. The first-ever degree course in Mining, Metallurgy, Silicate Technology and Pharmaceutics in India were pioneered at BHU. The three colleges were merged together and renamed as Institute of Technology in 1971. With the passing of the Institute of Technology (Amendment) Act, 2012 the erstwhile Institute of Technology, BHU has become Indian Institute of Technology (Banaras Hindu University), Varanasi w.e.f. June 29, 2012.
About Tata Motors
Tata Motors Limited, a USD 42 billion organisation, is a leading global automobile manufacturer of cars, utility vehicles, buses, trucks and defence vehicles. As India's largest automobile company and part of the USD 100 billion Tata group, Tata Motors has operations in the UK, South Korea, Thailand, South Africa, and Indonesia through a strong global network of 76 subsidiary and associate companies, including Jaguar Land Rover in the UK and Tata Daewoo in South Korea. In India, Tata Motors has an industrial joint venture with Fiat. Engaged in engineering and automotive solutions, with a focus on future-readiness and a pipeline of tech-enabled products, Tata Motors is India's market leader in commercial vehicles and among the top in passenger vehicles with 9 million vehicles on Indian roads. The company's innovation efforts are focused on developing auto technologies that are sustainable as well as suited. With design and R&D centres located in India, the UK, Italy and Korea, Tata Motors strives to pioneer new products that fire the imagination of GenNext customers. Abroad, Tata cars, buses, and trucks are being marketed in Europe, Africa, the Middle East, South Asia, South East Asia, South America, Australia, CIS, and Russia.