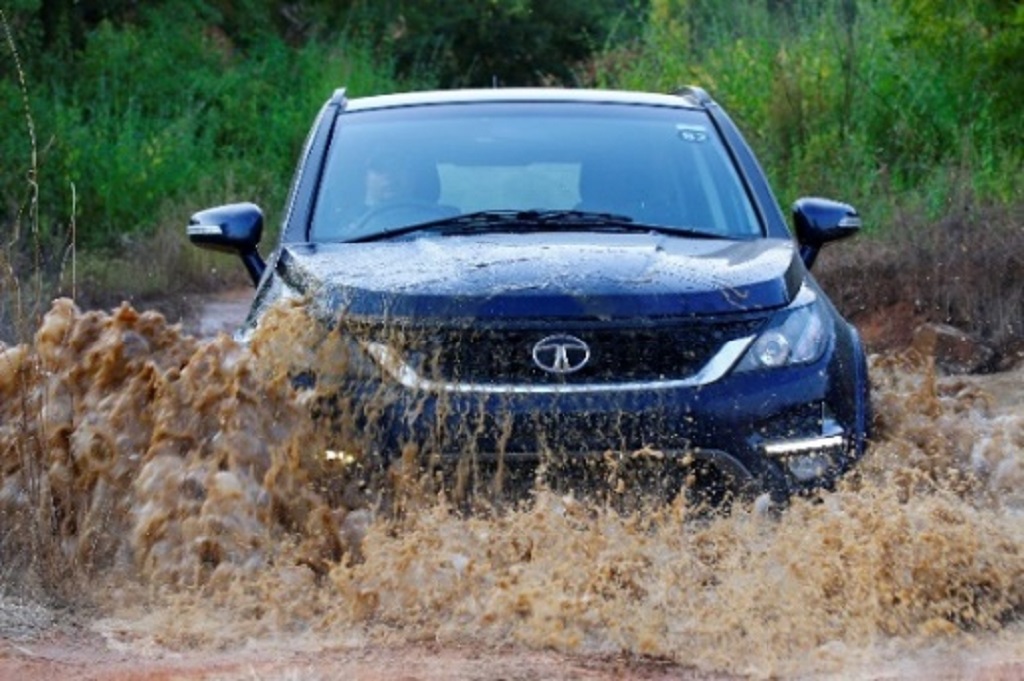 Kicks off three-day 'Hexa Experience Centre' for customers and enthusiasts to experience the 'HEXTRAORDINARY' Tata Hexa
Mumbai, January 13, 2017: After an awe-inspiring response from over 4900 customers, enthusiasts and their families in Chennai, Bangalore and Gurugram, Tata Motors today kicked-off the 'Hexa Experience Centre' initiative in Mumbai. Designed for customers to get a first-hand experience of the Tata Hexa's prowess on and off the road, the premium set-up is made up of a challenging off-roading course, a customer lounge and a dining area, giving customers an opportunity to take the Hexa to its limits. Customers also have the opportunity to book the vehicle at the venue, ahead of its launch later this month.
A fun-filled event, the 'Hexa Experience Centre' will reach out to customers, along with their families, giving them an opportunity to experience and indulge in a host of exciting experiences from Tata Motors and other Tata brands. The Hexa Experience Centre also has a special kids' zone, a pet adoption zone and other engaging activities.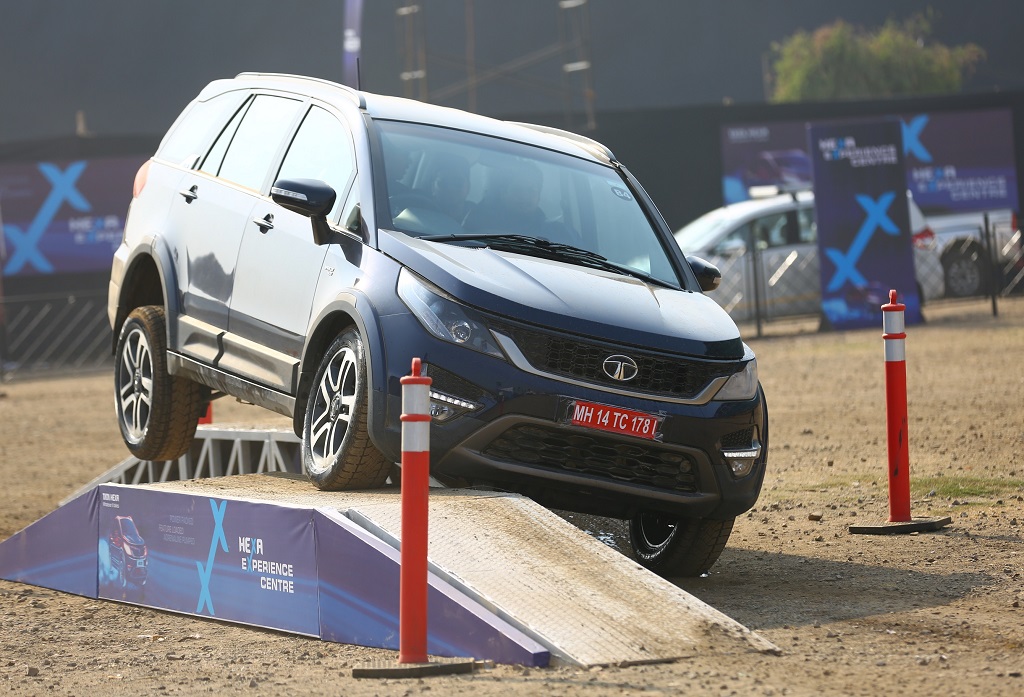 With the first Hexa Experience Centre having kicked-off from Gurugram, followed by the second leg in Bangalore, and the third in Chennai, the Mumbai activity spread over three-days from January 13-15, will be held at MMRDA Grounds, Bandra Kurla Complex. A Similar set-up has been planned in Hyderabad, serving as an exclusive platform for customers and enthusiasts, to experience the Tata Hexa.
Visitors and enthusiasts can log in to www.hexa.tatamotors.com, to attend the Hexa Experience Drive, in addition to on-spot registrations, at the venue.
Mr. Vivek Srivatsa, Head – Marketing, Passenger Vehicle Business Unit, Tata Motors said, "The Hexa is a capable on and off roader and we are supremely confident about its performance and effortless driving abilities. 'Hexa Experience Centre' is an initiative to provide an opportunity to our discerning customers with a comfortable and dynamic driving experience of the vehicle, in an off road set up. As we gear up for the launch on January 18th, our motive is to deliver an unforgettable experience to our customers across the country. Besides experiencing the Hexa, customers and their families can also enjoy the attention and hospitality of other Tata brands "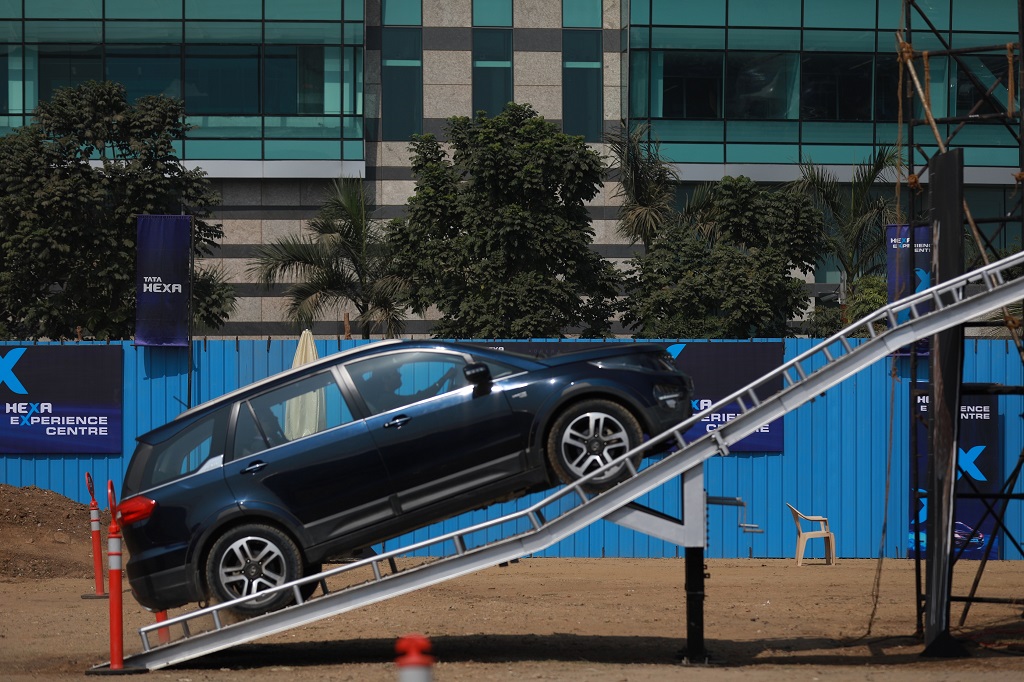 The off-roading course of the Hexa Experience Centre is HEXTRAORDINARY, with inclines, declines, side slopes, axle twisters and alternate rumblers. Each one of these is designed to test the power, stability and the driving experience of the HEXA. Adding further excitement, visitors can also experience the Hexa, at the hands of a professional stunt drivers.
The Tata Hexa is a lifestyle vehicle from Tata Motors which was first showcased as a concept, at the Geneva Motor Show 2015. Unveiled later as a production version at the Delhi Auto Expo 2016, Tata Hexa will soon be available in showrooms across the country. Developed by Tata Motors in collaboration with its technology partners, the much awaited Tata Hexa is a power packed, feature loaded and adrenaline pumped vehicle, designed for those with an active and dynamic lifestyle. With Tata Motors emphasis on design and drivability, the Tata Hexa packs an aggressive attitude and delivers absolute comfort, with a confident design. Tata Hexa comes with host of connectivity and performance related features, enhancing the functionality.
The Tata Hexa is based on a new versatile platform – a complete vehicle package, with an exceptional combination of design, luxury and off-road and on-road capabilities. Boasting modern and exciting architecture, plush interiors and class leading features, the vehicle is designed for customers with an active lifestyle. The Tata HEXA is also equipped with first-in-segment race-car mapping that provides a revving experience similar to performance cars.
Powered by an advanced next-gen 2.2L VARICOR 400 diesel engine, the Tata Hexa delivers class leading 400 Nm torque and 156 PS power. The Hexa manual transmission variant, boasts first-in-segment 'SUPER DRIVE MODES' allowing the driver to seamlessly switch between the four different driving modes – Auto, Comfort, Dynamic and Rough Road, for enhanced ride comfort & stability over different terrains. The All-Wheel Drive (AWD) system is electronically controlled via an adaptive system by Borg Warner™, with torque on demand feature. The new 'Super Drive Modes' system is easy to use, with the advanced technology continuously monitoring the vehicle across different terrains. It provides instant feedback and timely alerts to the driver, with enhanced traction, better vehicle composure and handling, thus enabling smooth, effortless and seamless driving conditions – from heavy traffic to wide open roads.